WHAT IS IT?
Botulism refers to neurotoxic condition that is characterized by the lack of muscle contraction (floppy paralysis).
WHAT CAUSES IT?
Ingestion of the botulinum toxin is ultimately responsible for this condition. This toxin is produced by the organism Clostridium botulinum. Colonized foodstuffs (cans of food, juice, honey) will have a high amount of this toxin present, and will cause this condition when it is ingested.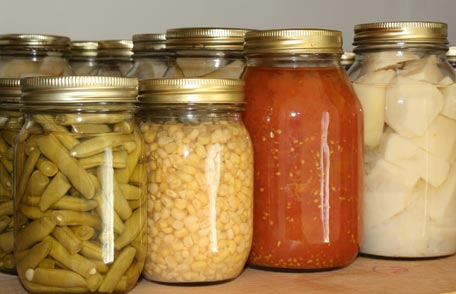 The botulinum toxin will prevent the release of stimulatory acetylcholine, leading to decreased acetylcholine signaling.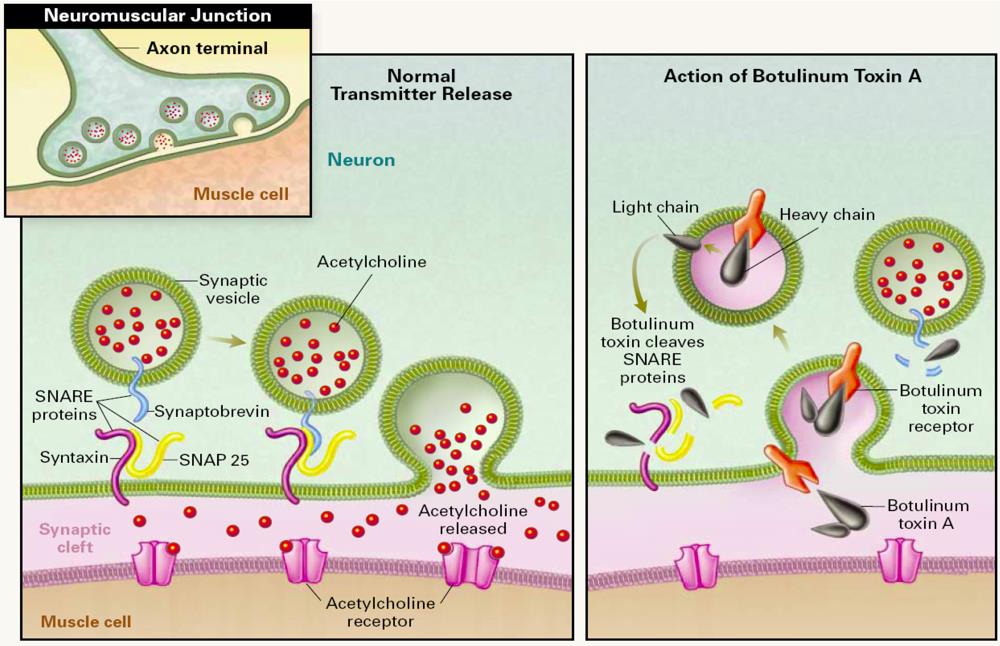 WHY IS IT A PROBLEM?
Acetylcholine is a very important stimulatory neurotransmitter. It its absence muscle contraction can not occur, and patients will begin to lose their ability to contract and use their muscles.
WHAT MAKES US SUSPECT IT?
Risk factors
Ingestion of high risk foods: home canned food, raw honey, cured fish
Common Chief Complaints:
Flaccid paralysis
Difficulty swallowing 
Blurred vision
History Of Present Illness

For foodborne botulism neurological symptoms will arise ~12-36 hours after toxin ingestion.
Symptoms of nicotinic and muscarninic acetylcholine blockage: given the nature of this toxin, both acetylcholine pathways will be blocked
Nicotinic blockade:

diplopia/blurred vision, dysphagia

Muscarinic blockade:

dry mouth  
Physical Exam Findings
HEENT Exam:
Dilated pupils that react sluggishly to light
Weakness in neck muscles (difficult holding head up)
Symmetrical cranial nerve palsies are common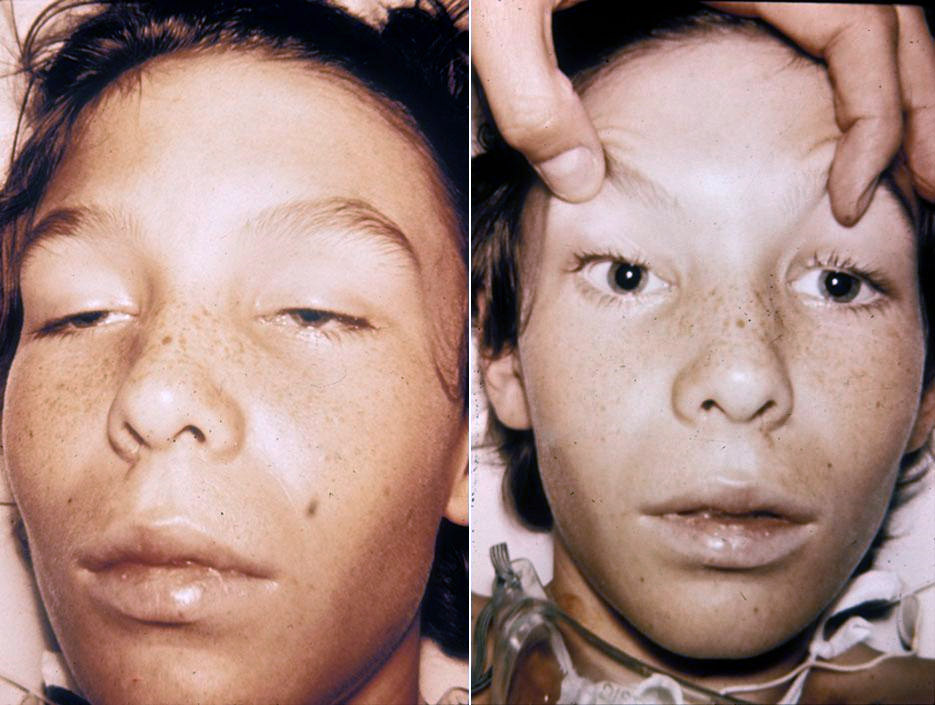 Motor exam can reveal muscle weakness and decreased tone (floppy paralysis)
Sensory exam should not reveal any abnormalities
CLINICAL WORKUP
Serum analysis for botulinum toxin will ultimately identify the presence of the casual toxin in the patient's blood.
AT WHAT POINT DO WE CONFIDENT IN MAKING THE DIAGNOSIS?
A clinical presentation of floppy paralysis as well as confirmation of botulinum toxin in the serum will help make the diagnosis of botulism.
WHAT ELSE ARE WE WORRIED ABOUT?
Respiratory paralysis (and eventual arrest) is a dangerous complication of this condition.
HOW DO WE TREAT IT? 
Antitoxin (equine serum heptavalent botulinum antitoxin) is used to treat botulism.
HOW WELL DO THE PATIENTS DO?
This condition used to be very dangerous, however the development of the anti-toxin has significantly decreased mortality.
WAS THERE A WAY TO PREVENT IT?
Avoiding eating contaminated food will effectively prevent this condition from occurring.
OTHER FACTS?
Botox injections are the injection of this botulin toxin into the skin to promote relaxation of the muscles (and reduce the presence of wrinkles). These injections can also be used to treat focal dystonia, achalasia, and muscle spasms.
ARCHIVE OF STANDARDIZED EXAM QUESTIONS
This page serves as an archive of test questions about this topic.
FURTHER READING
Page Updated: 08.05.2016