WHAT IS IT?
Epidural abscess refers to a contained purulent infection of the central nervous system. It lies above the dura matter, and can occur tier in the cranium (intracranial epidural abscess) or the spine (spinal epidural abscess).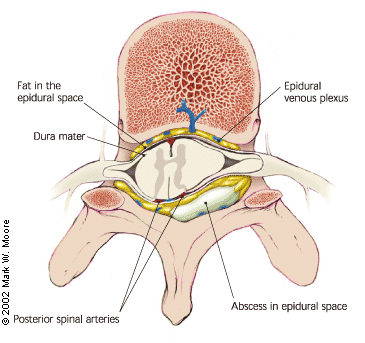 WHAT CAUSES IT?
Most often this is caused by local or hematogenous spread of skin flora. Staphylococcus aureus is the most common pathogen by far however other organisms can also be responsible:
Escherichia coli often arising from urinary tract infections
Pseudomonas aeruginosa from IV drug use or hospital acquired infections
Fungal, mycobacterial, or atypical bacteria can be the cause in immunocompromised patients.
WHY IS IT A PROBLEM?
Not only is this an infectious process, however the mass effect of the abscess will compress neural tissues (the brain/spinal cord depending on the location of the abscess) and can lead to irreversible neural damage.
WHAT MAKES US SUSPECT IT?
Risk factors
IV drug use, iatrogenic immunosuppression, usage if indwelling IV catheters, recent spinal surgery/interventions
Initial Presentation will depend on the location of the abscess.
Intracranial epidural abscess (initial signs/symptoms): 
Headache
Altered mental status
Seizures
Hemiparesis
Cranial neuropathies
Spinal epidural abscess (initial signs/symptoms): 
Back pain
Parasthesias
Neurological deficits can occur as abscess grows (bladder/bowel incontinence, sensory/motor deficits, radicular pain)
Physical Exam Findings will depend on the location of the abscess. 
Vital signs may show the presence of a fever (although usage of anti-inflammatory medications may mask this)
HEENT exam: these findings will be specific to intracranial abscesses
Cranial nerve palsies 
Source of infection may be observed (sinus tenderness, periorbital cellulitis, frontal edema, mastoid tenderness, otitis media)
Motor exam: can reveal patterns of weakness/paralysis (that can be localized to the spine/cranium).
Hemiparesis might suggest an intracranial abscess affecting the entire motor cortex.
Isolated paralysis below a level of the spinal cord is more likely caused by a spinal abscess
Sensory exam: can reveal patterns of numbness/sensory loss (that can be localized to the spine/cranium).
Musculoskeletal exam may reveal spinal process tenderness
CLINICAL WORKUP
Neuroimaging (MRI) will help visualize the abscess in question. It is important to appreciate that the constellation of symptoms above will dictate where one should image:
Intracranial epidural abscesses can be seen on MRI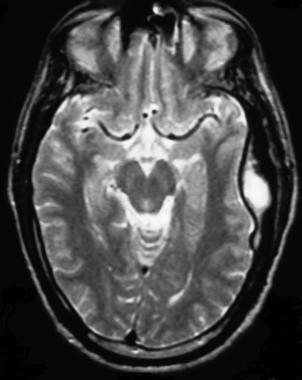 Spinal epidural abscesses can also be seen on MRI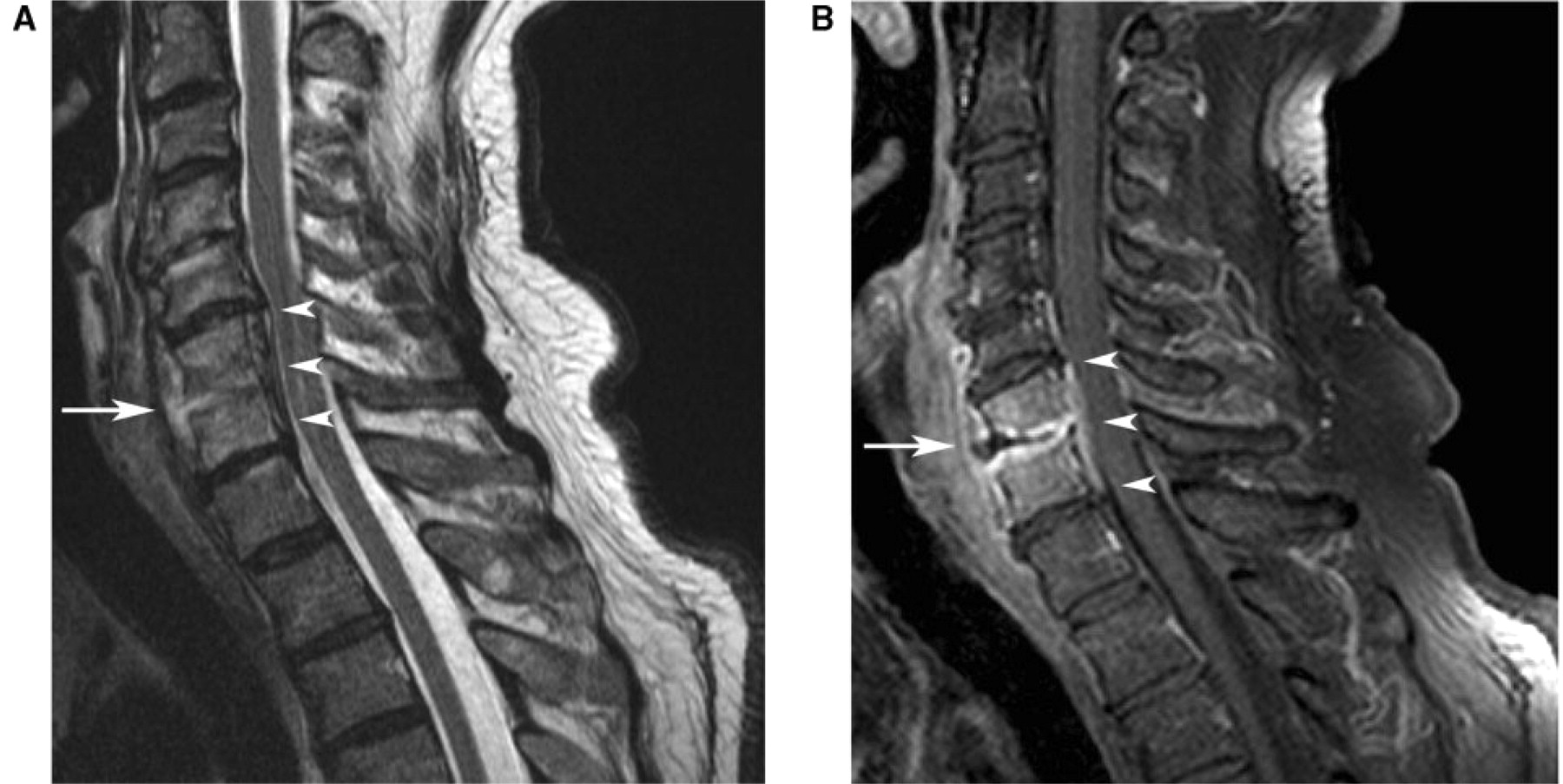 HOW DO WE TREAT IT? 
Generally combined surgical and medical treatment is required:
Antibiotic therapy (often empiric) must be started as soon as possible to control the infection.
Surgical decompression for patients with neurological compromise.
Laminectomy common for spinal abscesses.
HOW WELL DO THE PATIENTS DO?
This will depend on the extent of the nerve damage/infection when the patient begins treatment. This is a very serious condition and can be life threatening if the infection is not controlled.
WAS THERE A WAY TO PREVENT IT? 
Controlling/avoiding the initial infection could in theory prevent this serious process from occurring (however is easier said then done).
Avoiding IV drug use is always a good recommendation
WHAT ELSE ARE WE WORRIED ABOUT?
Irreversible nerve damage due to compression of neural structures.
FURTHER READING
Page Updated: 07.25.2016