WHAT IS IT?
Neurofibromatosis type 2 (central neurofibromatosis/NF2) is a neurocutaneous syndrome that is characterized by tumor formation in various locations of the body.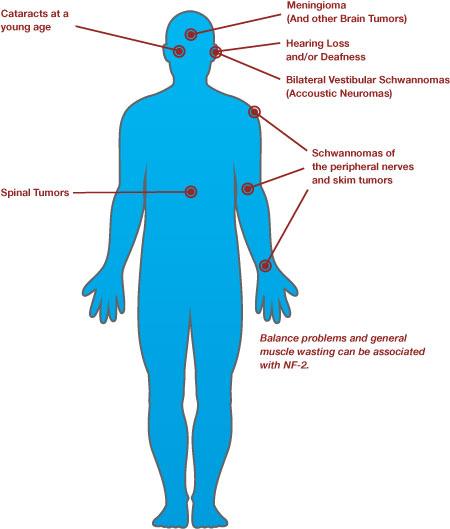 WHAT CAUSES IT?
An autosomal dominant mutation of the NF2 gene on chromosome 22 is ultimately responsible for this condition. It codes for Merlin (schwannomin) protein (which is a tumor suppressor).
The Wishart (severe) variant of NF2 is caused by a a frameshift or nonsense mutation.
WHY IS IT A PROBLEM?
The loss of this tumor suppressor will result in the formation of multiple tumors, including:
Bilateral acoustic schwannomas (acoustic neuromas)
Juvenile cataracts
Ependymomas
WHAT MAKES US SUSPECT IT?
Risk factors
Adolescent age group, family history of disease
Initial Presentation
Common Chief Complaints:
Hearing loss/tinnitus can be heard by the patient (schwannomas)
Seizures (meningiomas)
Vision problems (cataracts)
Headaches 
Nausea/vomiting 
Physical Exam Findings
Neurological hearing exam: can reveal sensorineural hearing loss (can be unilateral/bilateral)
Rinne test: Vibrating tuning fork will not be heard well when held on the mastoid bone
CLINICAL WORKUP
Formal auditory testing can reveal sensorineural hearing loss (either unilaterally/bilaterally)
Head MRI can help visualize acoustic neuromas and meningiomas. An MRI with gadolinium contrast is the preferred imaging modality for visualizing an acoustic neuroma.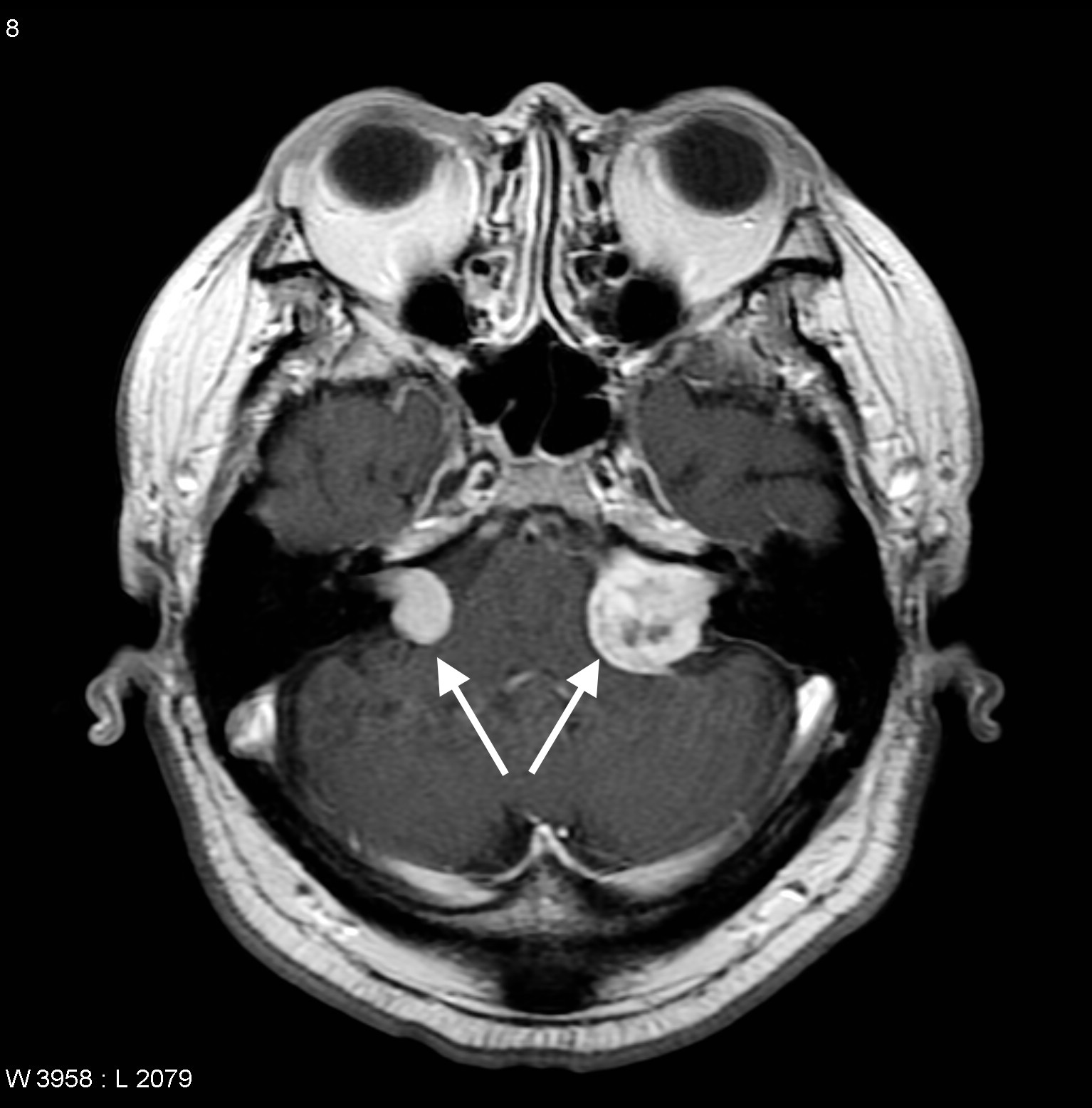 Genetic testing can demonstrate the presence of a mutation on the NF2 gene
Diagnostic criteria requires one of the followig:
Bilateral acoustic neuromas
A first-degree relative with NF2 and with a unilateral acoustic neuroma or two of the following: glioma, meningioma, schwannoma, neurofibroma, juvenile cataracts
HOW DO WE TREAT IT? 
Surgery/radiation can be used to treat the acoustic neuromas.
HOW WELL DO THE PATIENTS DO?
There is a significant risk of deafness with surgical removal of acoustic neuromas.
WAS THERE A WAY TO PREVENT IT? 
N/A
WHAT ELSE ARE WE WORRIED ABOUT?
Hearing loss both from the acoustic neuromas as well as their surgical removal.
OTHER HY FACTS?
This condition is less common than neurofibromatosis type 1
FURTHER READING
Page Updated: 07.25.2016