WHAT IS IT?
Cervical spondylosis: refers to a the progressive degeneration of the cervical vertebral bodies/intervertebral disks that can lead to the stenosis of the central spinal cord. This in turn can produce a syndrome of spinal cord dysfunction that is called spondylotic cervical myelopathy due to the muscle symptoms caused.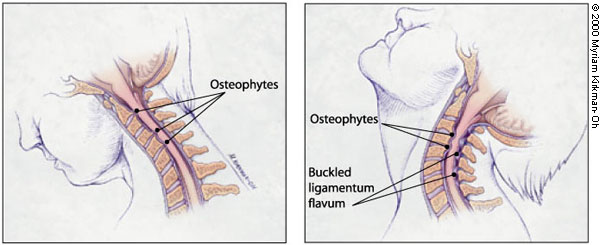 WHAT CAUSES IT?
This is caused by old age and degeneration of the structures within the cervical spine.
WHY IS IT A PROBLEM?
As the spinal canal is narrowed, the spinal cord will become compressed. This can lead to nerve damage/loss, which in turn causes the clinical scenario elaborated below. This is a very common cause of myelopathy in older adults and causes progressive disability/impaired quality of life.
WHAT MAKES US SUSPECT IT?
Risk factors
Old age
Initial Presentation
Common Chief Complaints:
Neck stiffness/pain that can radiate to the arms/hands
Numbness in the arms
Urinary incontinence 
Difficulty walking 
History Of Present Illness

Progressive onset of symptoms that can occur over a longer time period. The pattern of symptoms is a result of where the spinal canal is narrowing. Pain/numbness can occur in the arms and the lower extremities can become weak due to damage to the cervical spinal cord.
Bladder dysfunction can manifest as urgency, frequency, and/or retention.
Physical Exam Findings
Lower motor neuron findings are generally observed in the arms/hands (C5-C7 myotomes most affected):
Weakness
Atrophy
Decreased reflexes (biceps/triceps, radial)
Upper motor neuron findings are often detected in the lower extremities:
Weakness
Increased tone
Increased reflexes
Babinski sign 
Sensory deficits may also be present in both the arms and legs
In the arms this can follow a dermatomal pattern.
In the legs this will not follow a dermatomal pattern.
Gait disturbances can also be appreciated (due to loos of motor/sensory function in the lower extremities)
Lhermitte phenomenon may also be present in these patients.
CLINICAL WORKUP
MRI/CT imaging modalities can be used to visualize the narrowing of the central canal.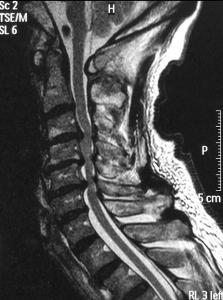 HOW DO WE RULE OTHER DIAGNOSES OUT?
Amyotrophic lateral sclerosis is not implicated in the above workup because sensory deficits are also present.
Guillain-Barré syndrome will not present with upper motor neuron findings
Normal pressure hydrocephalus will have urinary issues and gait disturbances, but also classical presents with cognitive impairment.
HOW DO WE TREAT IT? 
Surgical decompression may be explored in patients who are symptomatic.
HOW WELL DO THE PATIENTS DO?
Prognosis is variable depending on the extent of spinal canal stenosis.
WAS THERE A WAY TO PREVENT IT? 
N/A
WHAT ELSE ARE WE WORRIED ABOUT?
Permanent neurological damage can be the result of this condition.
FURTHER READING
Page Updated: 07.24.2016