WHAT IS IT?
Herpes zoster (shingles) refers to the re-activaiton of the varicella zoster virus (VZV), the same virus whose primary infection causes chicken pox (varicella). This can occur in peripheral nerves (dermatomal pattern of reactivation) or in cranial nerves.
WHY IS IT A PROBLEM?
Reactivation of this virus will cause inflammation and pain/discomfort in the affected areas.If cranial nerves are affected their function may be impaired as well.
WHAT MAKES US SUSPECT IT?
Risk factors: past history of chicken pox, male, caucasian, older age, immune system suppression,
Dermatomal rash: a painful rash seen on the skin is common with shingles, and as is the case with a dermatome, will not cross the midline.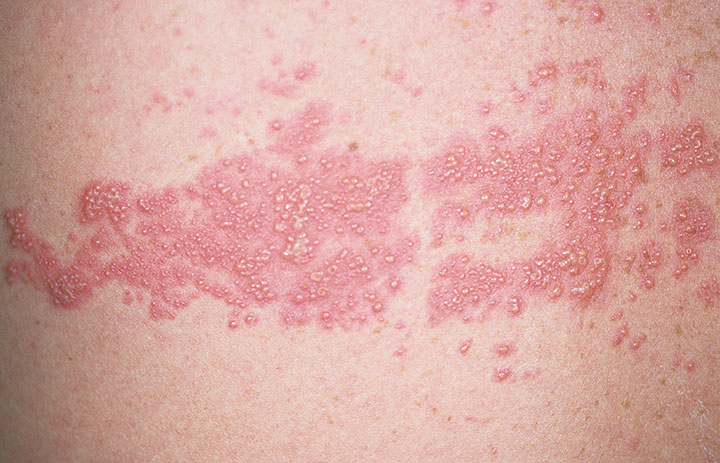 HOW DO WE CONFIRM A DIAGNOSIS?
Tzank smear: scraping suspect lesions/ulcers and visualizing them under the microscope will demonstrate the present of Tzank cells (giant multinucleate cells) if VZV is the causal virus (other viruses like HSV will also have Tzank cells).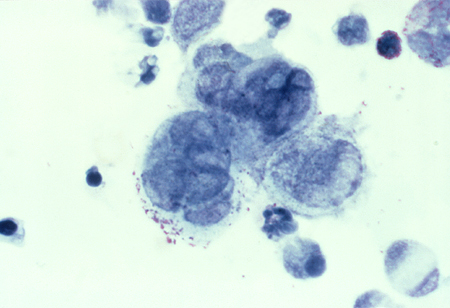 Skin biopsy: eosinophilic nuclear inclusions which are composed of nucleic acid/protein seen in cells infected with VZV, HSV, and CMV. There are called Cowdry bodies and can be seen on skin biopsies.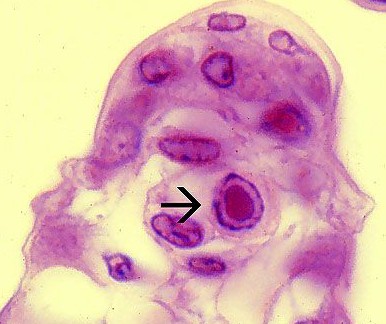 Viral PCR: ultimately conducting PCR can help diagnose this condition definitively (given that other herpes strains can have similar clinical findings).
HOW DO WE TREAT IT?
Guanosine analogs: examples include acyclovir, famciclovir, valacyclovir. These analogs are monophosphorylated by HSV/VZV thymidine kinase and not phosphorylated in uninfected cells, ultimately inhibiting viral DNA polymerase by chain termination.
Oral valacyclovir is typically first line treatment.
HOW WELL DO THE PATIENTS DO?
Skin lesions typically heal in ~2-4 weeks.
WAS THERE A WAY TO PREVENT IT?
The VZV virus is transmitted by respiratory secretions or direct contact with varicella lesion so repository/contact precautions can help prevent transmission of the virus.
Vaccine: there are VZV vaccines that can be used to lower the chance of both primary infection as well as secondary reactivation. It may be recommended that older patients (greater than 60 years of age) receive a single dose of the zoster vaccine (Zostavax) regardless of previous episode of herpes zoster (source).
WHAT ELSE ARE WE WORRIED ABOUT?
Herpes zoster ophthalmicus: herpes zoster which involves first division of the trigeminal nerve (ophthalmic nerve). Can involve the whole eye and can cause scarring/vision loss.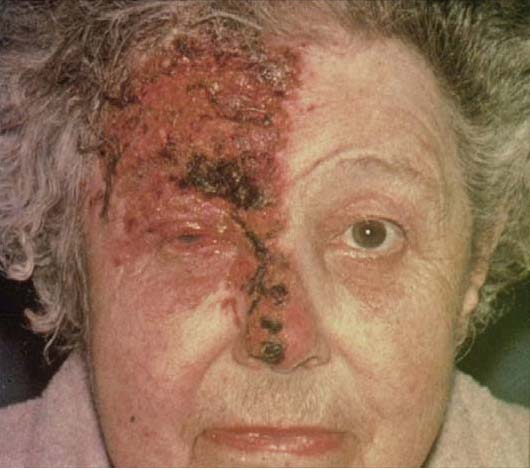 Ramsay Hunt syndrome (type II): this is re-activation of the herpes zoster virus along nerve fibers of the facial nerve, and can also involve the vestibulocochlear nerve as well. It can have a variable presentation which may include a lower motor neuron lesion of the facial nerve (paralysis of the forehead and the lower face), deafness, vertigo, and pain (usually in the ear canal).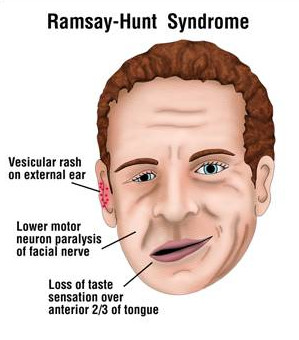 OTHER HY FACTS?
The virus remains dormant either in the dorsal roots or the trigeminal nerve.
VZV is also referred to as the HH-3 (Herpesvirus 3).
ARCHIVE OF STANDARDIZED EXAM QUESTIONS
This archive compiles standardized exam questions that relate to this topic.
Page Updated: 12.26.15