WHAT IS IT?
Macular degeneration refers quite literally to the degeneration of the macula. Wet macular degeneration has a specific etiology (described below) and is less common then dry macular degeneration.
WHAT CAUSES IT?
Wet macular degneration (exudative) is less common and is caused by bleeding secondary to choroidal neovascularization.
WHY IS IT A PROBLEM?
The degeneration of the macula will cause distortion (metamorphopsia) and eventually can lead to the loss of central vision (scotomas)
WHAT MAKES US SUSPECT IT?
Risk factors
Caucasian race, female sex, smoking, family history of macular degeneration
Initial Presentation
Common Chief Complaints:
Loss of vision that is rapid and painless
Physical Exam Findings
Vision exam can reveal:
HOW DO WE CONFIRM A DIAGNOSIS?
Fundoscopy will reveal hemorrhagic disturbances (vessel bleeding) in the macular region.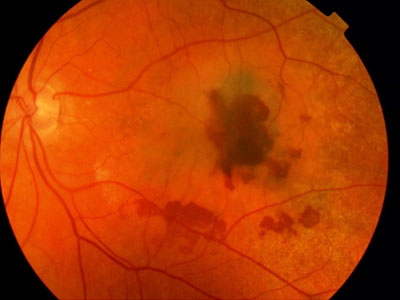 HOW DO WE TREAT IT?
Anti-VEGF therapies such as ranibizumab and bevacizumab are used to combat against the neovascularization.
Laser photocoagulation can delay the loss of central vision
HOW WELL DO THE PATIENTS DO?
Prognosis can vary, but in may cases macular degeneration will lead to blindness.
WAS THERE A WAY TO PREVENT IT?
This is an area of investigation, the data is too extensive to discuss on this page but can be explored more here.
WHAT ELSE ARE WE WORRIED ABOUT?
Permanent blindness is often caused by macular degeneration.
OTHER HY FACTS?
Macular degeneration (wet and dry combined) is the leading cause of permanent blindness in the elderly (within the United States).
FURTHER READING
Page Updated: 07.16.2016