WHAT IS IT?
Neurocysticercosis is a infectious cyst within the brain tissue.
WHAT CAUSES IT?
This condition is caused by the ingestion of the eggs of the pork tapeworm Taenia solium. Ingested eggs hatch in the intestine and pass through the intestinal wall. They migrate preferentially toward the brain/muscles where they form cysts that can remain dormant for years.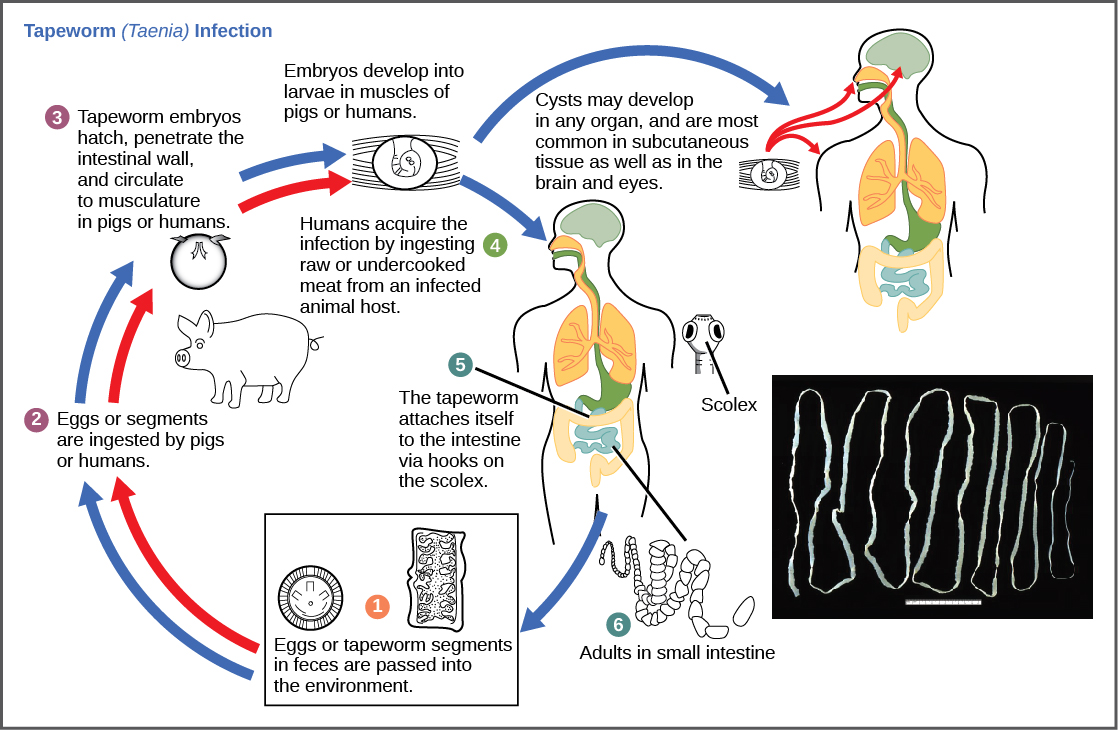 WHY IS IT A PROBLEM?
As the cysts activate, they can cause local inflammation which ultimately can lead to seizures/neurological symptoms in the patient.
WHAT MAKES US SUSPECT IT?
Risk Factors
Recent travel to/from Central America
Initial Presentation
Common Chief Complaints:
Seizures
Cognitive changes/mental status changes
Physical Exam Findings
This will vary depending on the location and number of cysts present.
HOW DO WE CONFIRM A DIAGNOSIS?
CT scan and MRI imaging can be useful in detecting lesions and parenchymal cysts (ringed lesions).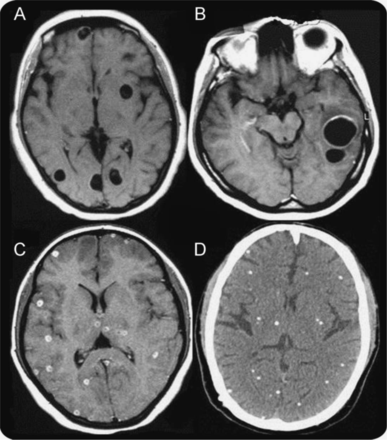 HOW DO WE RULE OTHER DIAGNOSES OUT?
Serological testing can be useful when imaging is not clear/diagnostic. Negative serologies do not necessarily EXCLUDE the diagnosis of neurocysticercosis. The detection of the Taenia solium antibody can be done in either serum or CSF.
HOW DO WE TREAT IT?
Praziquantel is first-line for this parasite.
Albendazole/steroids is used for neurocysticercosis that is symptomatic.
HOW WELL DO THE PATIENTS DO?
This will depend on the location and extent of infection.
WAS THERE A WAY TO PREVENT IT?
Avoiding ingestion of the tapeworm eggs.
WHAT ELSE ARE WE WORRIED ABOUT?
Permanent damage being caused by this infection.
OTHER HY FACTS?
Most common cause of seizures in the developing world.
ARCHIVE OF STANDARDIZED EXAM QUESTIONS
This archive compiles standardized exam questions that relate to this topic.
FURTHER READING
Page Updated: 07.15.2016