WHAT IS IT?
Wernicke encephalopathy refers to an acute neuropsychiatric condition that is caused by thiamine (vitamin B1) deficiency.
WHY IS IT A PROBLEM?
This deficiency in thiamine will result in impaired glucose utilization by the brain (because glucose metabolism requires thiamine, see figure below). The inability to metabolize glucose within the brain tissues causes a reliance on local lactic acid production (resulting in lactic acidosis). This ultimately will cause cellular damage in certain areas within the brain (explained more below) and a variety of neurological symptoms (detailed more below).

WHAT MAKES US SUSPECT IT?
Risk factors: alcohol abuse, hyperemesis, starvation, renal dialysis. AIDS
Presentation often involves the classic triad of:
Nystagmus and/or ophthalmoplegia: can include lateral rectus palsy, conjugate-gaze palsy, bilateral INOs, upbeat nystagmus, Argyll Robertson pupil
Mental status changes that often manifests as confusion. This can present as dementia or delirium.
Ataxia: that can present as difficulty standing or walking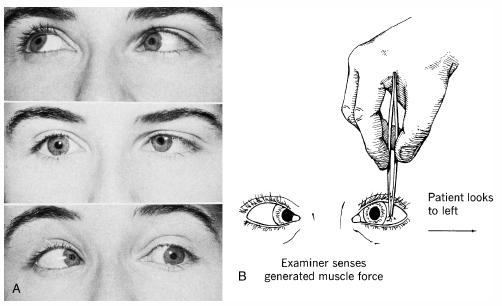 *Symptoms typically develop over the course of days to weeks. 
**Not all symptoms may be present at a given time.
HOW DO WE CONFIRM A DIAGNOSIS?
This is often a clinical diagnosis given a patient with risk factors (such as a long history of ethanol abuse) and the above clinical symptoms.
Low serum thiamine levels are consistent with this diagnosis however lack specificity.
Ultimately treatment with IV thiamine should lead to resolution of symptoms and will more strongly confirm the clinical diagnosis.
HOW DO WE TREAT IT?
IV thiamine (vitamin B1) can be used to quickly restore thiamine levels within the body. This encephalopathy is almost always reversible with administration of thiamine.
100 mg as an IV dose is generally the standard.
*Always give thiamine BEFORE giving glucose to thiamine deficient patients because glucose metabolism requires/consumes thiamine. 
HOW WELL DO THE PATIENTS DO?
This condition is usually reversible. Patients who are given thiamine are expected to recover.
WAS THERE A WAY TO PREVENT IT?
Preventing the initial thiamine defiance would prevent this condition from occurring.
WHAT ELSE ARE WE WORRIED ABOUT?
Korsakoff psychosis (usually irreversible): Wernicke encephalopathy can progress to irreversible memory loss, confabulation, and personality changes (which is referred to as Korsakoff psychosis). Together these two conditions are called Wernicke-Korsakoff syndrome.
Coma can also be the end result of untreated Wernicke encephalopathy.
Periventricular hemorrhage is associated with this condition.
Neuronal death/necrosis of mammillary bodies is an associated finding with this condition (and most likely explains the problems patients experience with memory). Within the brain neuronal death can also be observed medial thalamus and cerebellar vermis pathologically.
Beriberi is also a complication of thiamine deficiency. This is characterized by polyneuritis, dilated cardiomyopathy, high-output CHF, and edema.
OTHER HY FACTS?
Glucose administration to a thiamine deficient patient can precipitate Wernicke encephalopathy. This is because glucose metabolism involves the action of pyruvate dehydrogenase (this is an enzyme that requires/consumes thiamine).
Alcoholics are predisposed to this condition because of 2 major reasons.
Alcoholics have high rates of general malnutrition (their source of calories are the alcoholic beverages they imbibe)
Associated liver diseases (such as liver cirrhosis) lead to decreased activation of thiamine to thiamine pyrophosphate.
FURTHER READING
Page Updated: 07.02.2016