WHAT IS IT?
Polymyalgia rheumatica (PMR) is an autoimmune condition that is characterized by proximal muscle pains. The cause is unknown.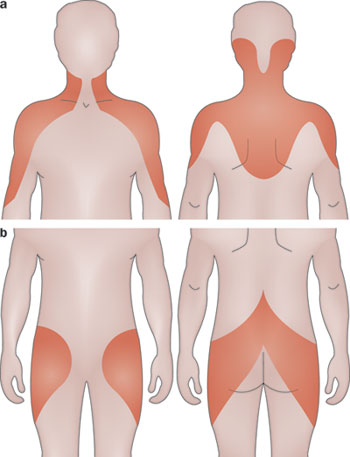 WHY IS IT A PROBLEM?
This can be very bothersome to patients.
WHAT MAKES US SUSPECT IT?
Risk factors: older individuals (>50), female
Chief complaints include:
Pain/stiffness in the shoulders/neck and hips (worse in the mornings)
Fever
Malaise
Weight loss
Symptoms of giant cell arteritis may also be present (given how associated these two conditions are). This can include:
Ocular symptoms (such as blindness)
Headaches
Jaw claudication
HOW DO WE CONFIRM A DIAGNOSIS?
Elevated ESR and CRP will be present in this condition.
One of few conditions that can elevate ESR above 100
*No universal diagnostic criteria: diagnosis generally made clinically in combination with the elevated ESR/CRP values.
HOW DO WE RULE OTHER DIAGNOSES OUT?
In this condition it is important to remember that there should be:
NO MUSCLE WEAKNESS
NORMAL SERUM CK VALUES
If the above is not the case, PMR is not likely the diagnosis.
HOW DO WE TREAT IT?
Low dose corticosteroids (ex. prednisone) are the treatment of choice.
HOW WELL DO THE PATIENTS DO?
Patients are generally well controlled with steroids.
WAS THERE A WAY TO PREVENT IT?
N/A
WHAT ELSE ARE WE WORRIED ABOUT?
OTHER HY FACTS?
FURTHER READING
Page Updated: 06.28.2016