WHAT IS IT?
Carotid artery stenosis is a self descriptive condition. It refers to the narrowing of the carotid artery, that is most often caused by atherosclerosis of the vessel.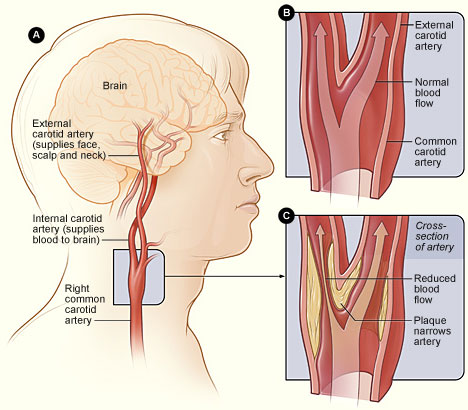 This condition belongs to broader category of disease called "extracranial carotid artery disease" that refers to any disease process that involves the carotid arteries (such as aneurysms).
WHY IS IT A PROBLEM?
Narrowing of the carotid artery will lead to impaired blood flow downstream. This increases the risk of transient ischemic attack and stroke.
WHAT MAKES US SUSPECT IT?
Risk factors: male, hypertension, diabetes, smoking, dyslipidemia
Carotid bruit can be heard on physical exam (sometimes the only symptom)
Transient Ischemic Attack/Stroke presentation can include the following (that can happen multiple times/come and go):
Transient monocular blindness (amaurosis fugax)
Retinal infarction (can affect an area of monocular vision [branch occlusion] or entire retina [central occlusion])
Unilateral numbness and/or weakness of face, arm, and/or leg
Homonymous hemianopia
Visuospatial neglect
Aphasia (expressive, receptive, or mixed)
Dysarthria that is often caused due to facial droop
Transient episodes of limb shaking or flapping ("shaking TIA") more characteristic of severe stenosis.
HOW DO WE CONFIRM A DIAGNOSIS?
Doppler ultrasound of the carotid arteries should be able to confirm the carotid stenosis (and is the first test of choice).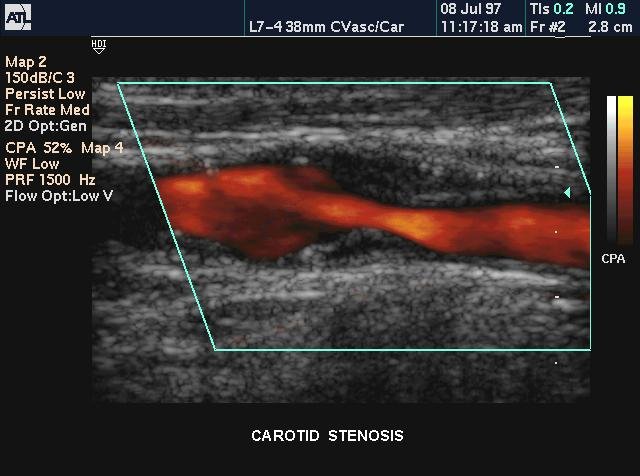 Angiography (MR, CT, and catheter based) can also be used to visualize the stenosis.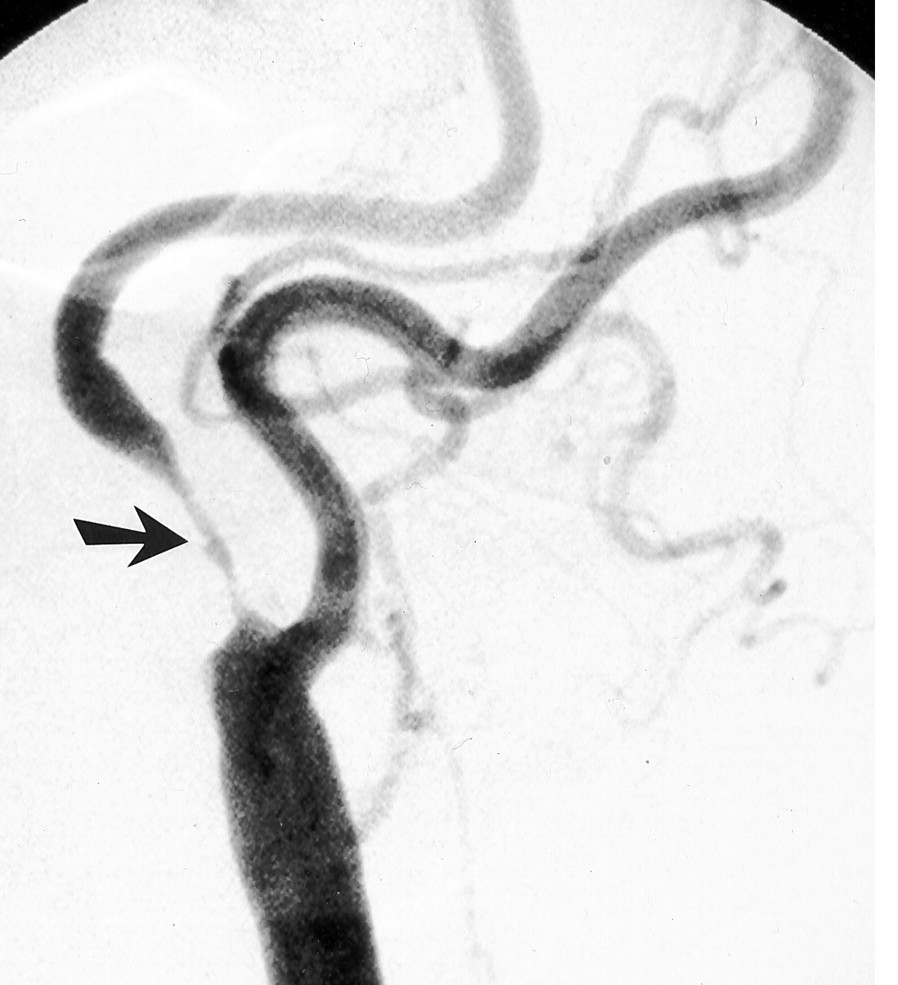 HOW DO WE TREAT IT?
Lifestyle changes includes:
Quitting smoking
Exercise (weight loss, lipid lowering, and glucose control for stroke risk reduction)
Asymptomatic patients are managed with:
Hypertensive mediations
Statins
Symptomatic patients/those with more severe disease may require surgical carotid endarterectomy (CEA).
HOW WELL DO THE PATIENTS DO?
Prognosis of patients depends on the severity of the stenosis. This can be either an asymptomatic or symptomatic condition. If a stroke is caused it can lead to permanent damage.
WAS THERE A WAY TO PREVENT IT?
Avoiding the development of atherosclerosis is often times the means of preventing this condition. This involves exercise and proper diet.
WHAT ELSE ARE WE WORRIED ABOUT?
Transient ischemic attacks/strokes become more and more likely as the severity of the stenosis increases.
Embolization of plaques from the carotid artery can travel to the ophthalmic, MCA, or ACA territories.
OTHER HY FACTS?
Angiography can help diagnose this condition, but is invasive and can actually increase the risk of causing a stroke.
FURTHER READING
Page Updated: 06.20.2016