WHAT IS IT?
Kawasaki disease is a type of medium vessel vasculitis that has an unknown etiology.
WHY IS IT A PROBLEM?
Vasculitis, by definition, refers to a type of condition that destroys blood vessels by inflammatory processes. In Kawasaki disease this inflammation of vessels can lead to a variety of clinical symptoms, but most seriously can lead to aneurysms in the cardiac arteries that can be fatal.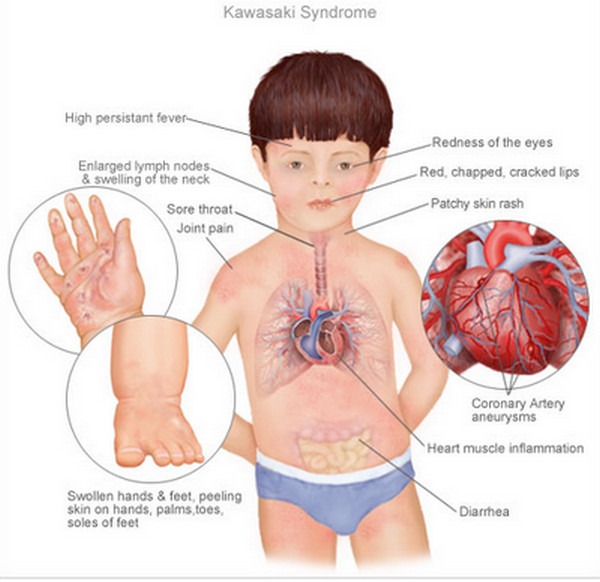 WHAT MAKES US SUSPECT IT?
Risk factors: young asian children,
Fever: KAWASAKI SHOULD BE SUSPECTED IN ANY CHILD WITH A FEVER >5 DAYS
Mucocutaneous lymph node syndrome can be observed that is characterized by the 5 following princiapl clinical features:
Conjunctival injection without exudate and usually bilateral
Rash that is polymorphous and sometimes leads to loss of skin (desquamating)
Cervical lymphadenopathy (usually unilateral)
Oral changes that include strawberry tongue, oral mucositis, and/or red cracked lips
Hand/foot changes: edema, erythema of palms/soles, desquamation of skin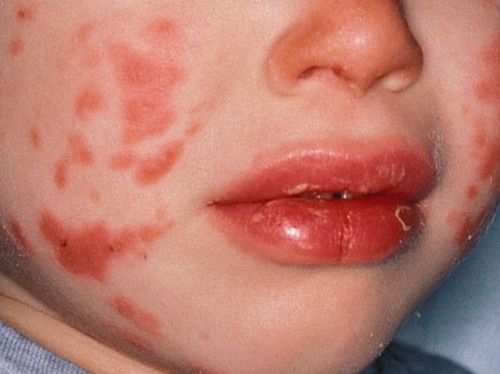 HOW DO WE CONFIRM A DIAGNOSIS?
Clinical diagnosis includes fever for greater then 5 days and at least 4 out of 5 principle features outlined above
*All of the clinical features may not be present at once!
Elevated CRP/ESR will support a diagnosis of Kawasaki given the clinal diagnosis
Echo can detect cardiac artery aneurysms as well (and should be done in all of those with suspected Kawasaki disease).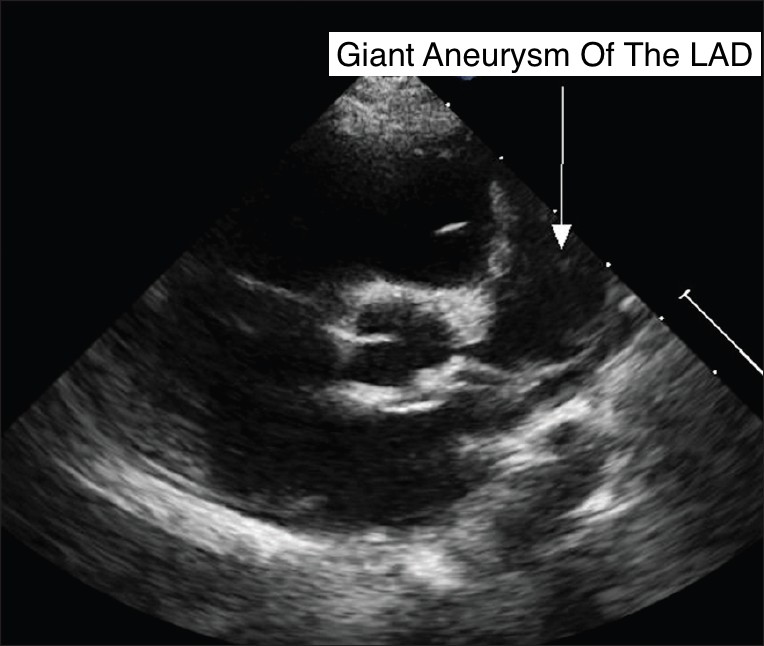 HOW DO WE RULE OTHER DIAGNOSES OUT?
This is a diagnosis of exclusion as well. Viral infections (such as EBV) and bacterial infections (such as scarlet fever) can be ruled out with pathogen specific tests/serologies (given that they may cause similar presentations).
HOW DO WE TREAT IT?
Aspirin is used as initial therapy for this condition.
IVIG therapy is used as more aggressive therapy in patients with Kawasaki disease (in those with more advanced disease)
HOW WELL DO THE PATIENTS DO?
This condition is usually self limited, however it is important that it is diagnosed early on and treatment is begun.
WAS THERE A WAY TO PREVENT IT?
N/A
WHAT ELSE ARE WE WORRIED ABOUT?
Coronary artery aneurysms may develop in patients with Kawasaki disease. This is a serous complication because thrombosis (causing MI) or rupture can cause death.
OTHER HY FACTS?
This disease is an exception to the "never give kids aspirin" rule
ARCHIVE OF STANDARDIZED EXAM QUESTIONS
This archive compiles standardized exam questions that relate to this topic.
FURTHER READING
Page Updated: 06.20.2016