WHAT IS IT?
Wallenberg syndrome (lateral medullary syndrome/stroke) refers to a cerebrovascular occlusion that occurs in either the vertebral artery or the posterior inferior cerebral artery (PICA). This condition is often caused by thrombosis or embolism, however other causes such as syphilitic arteritis and vertebral artery dissection are also possible.
WHY IS IT A PROBLEM?
Blockage of the PICA (or the vertebral artery which is upstream) will lead to infarction of the lateral medulla which will result in neurological deficits (explained more below).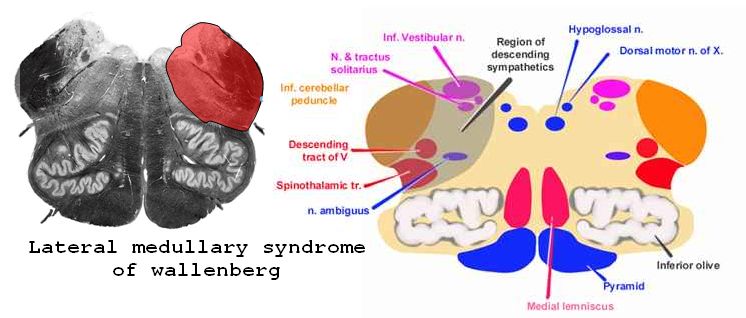 WHAT MAKES US SUSPECT IT?
Risk factors:
atherosclerosis
Chief complaints:
Vertigo
Difficulty walking
Facial pain
Difficulty swallowing
Difficulty speaking
History Of Present Illness:
Onset of symptoms will be sudden (given the pathophysiology of this condition)
Nature of vertigo: patients will fall to the side of the lesion.
Physical exam:
General observation: dysphagia may be observed when speaking with the patient.
HEENT exam:
Horner syndrome can be caused by this condition. A classic triad of unilateral symptoms (ptosis, anhidrosis, and miosis) might be seen.
Nystagmus can be observed when testing ocular movements
Diplopia may be experienced by the patient during the eye exam
Sensory deficits will be present in a very unique distribution relative to the site of the occlusion:
Contralateral loss of pain and temperature in the torso/extremities
Ipsilateral facial pain and temperature (sensory signs and symptoms only)
HOW DO WE CONFIRM A DIAGNOSIS?
MRI can confirm the clinical diagnosis characterized above by visualizing the infarction.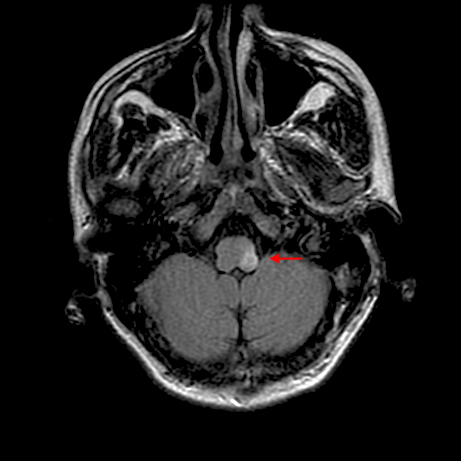 HOW DO WE TREAT IT?
Anti-platelet therapy with medications such as aspirin and clopidogrel are often the initial management for patients with ischemic stroke or transient ischemic attack associated with extracranial vertebral atherosclerosis.
HOW WELL DO THE PATIENTS DO?
The level of the lateral medullary infarct will dictate prognosis in patients, however irreversibly infarcted tissue will result in permeant damage and loss of neurological function.
WAS THERE A WAY TO PREVENT IT?
Prevention may be difficult in most cases, however avoiding the development of atherosclerosis initially may prevent some cases of Wallenberg syndrome.
WHAT ELSE ARE WE WORRIED ABOUT?
Autonomic dysfunction may develop and may result in:
tachycardia
bradycardia
labile blood pressure

respiratory failure

(especially during sleep)
contralateral hyperhidrosis
vomiting
OTHER HY FACTS?
Infarction involves some or all of the structures located in the lateral medulla: the nucleus and descending tract of the fifth nerve, the nucleus ambiguus, lateral spinothalamic tracts, inferior cerebellar peduncle, descending sympathetic fibers, vagus, and glossopharyngeal nerves.
FURTHER READING
Page Updated: 06.19.2016