WHAT IS IT?
Dermatomyositis is a inflammatory condition of the skin and skeletal muscle (it involves perimysial inflammation). It is similar to polymyositis clinically however also involves the skin.
WHY IS IT A PROBLEM?
The chronic inflammation of the perimysium of the muscles will lead to their damage/atrophy, and will eventually cause muscle weakness.
WHAT MAKES US SUSPECT IT?
Risk factors: autoantibodies (anti-Jo-1, anti-SRP, anti-Mi-2)
Facial rash is often present that can take a few forms:
Malar rash that is similar those seen in SLE
Heliotrope rash that is periorbital and erythematous
Shawl rash that looks exactly as it sounds and involves the neck/upper chest, back, and shoulders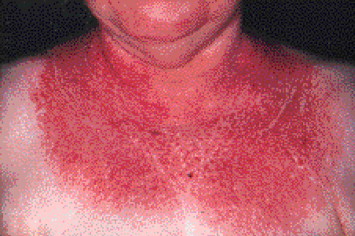 Dermatological hand findings can include:
Gottron papules can be seen
"Mechanic's hands" can be observed that are rough, cracked skin at the tips and lateral aspects of the fingers forming irregular dirty-appearing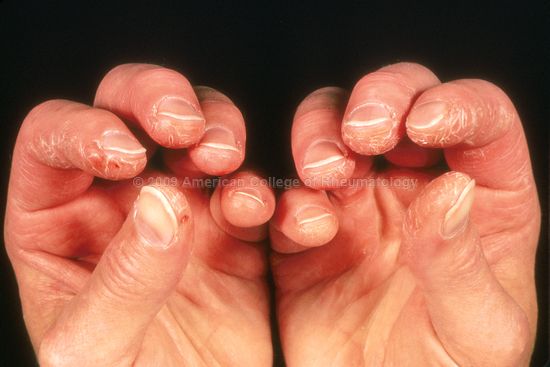 Muscle weakness that is progressive and symmetrical in nature. It often involves the shoulders. Can begin as proximal weakness and then progress distally.
HOW DO WE CONFIRM A DIAGNOSIS?
Serum analysis can reveal the following:
Increased creatine phosphokinase as a result of muscle damage.
Present ANA antibody
Present anti-Jo-1 antibody
Present anti-SRP antibody
Present anti-Mi-2 antibody
EMG: Electromyography can show brief, low-voltage action potentials, fibrillation potentials, positive sharp waves, polyphasic units, and also some evidence of denervation.
Muscle biopsy is ultimately diagnostic and will reveal perimysial inflammation and atrophy with CD4+ T cells.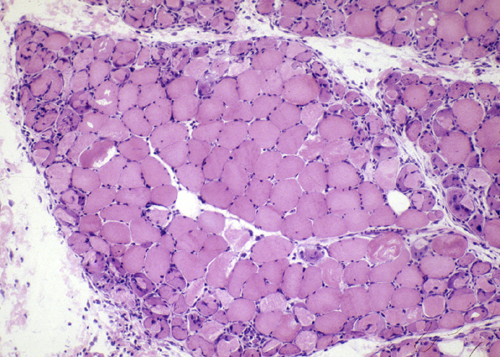 HOW DO WE TREAT IT?
Steroids are often the initial treatment used
Long term immunosuppressive therapy is also used (with medications such as methotrexate)
HOW WELL DO THE PATIENTS DO?
The prognosis of the patient depends on a variety of factors, however many patients respond well to therapy.
WAS THERE A WAY TO PREVENT IT?
N/A
WHAT ELSE ARE WE WORRIED ABOUT?
Internal malignancy such as gastric carcinoma is associated with some cases of this condition.
OTHER HY FACTS?
ARCHIVE OF STANDARDIZED EXAM QUESTIONS
This archive compiles standardized exam questions that relate to this topic.
FURTHER READING
Page Updated: 06.19.2016