WHAT IS IT? 
Polymyositis is a inflammatory disorder of skeletal muscle that primarily involves the endomysium. It is identical to dermatomyositis clinically but does not involve the skin.
WHY IS IT A PROBLEM?
This condition of chronic inflammation progressively destroys muscle tissues (namely the endomysium) leading to necrosis of  muscle and eventually weakness.
WHAT MAKES US SUSPECT IT?
Risk factors: autoantibodies (anti-Jo-1, anti-SRP, anti-Mi-2)
Muscle weakness that is progressive and symmetrical in nature. It often involves the shoulders.
HOW DO WE CONFIRM A DIAGNOSIS?
Serum analysis can reveal the following:
Increased creatine phosphokinase as a result of muscle damage.
Present ANA antibody
Present anti-Jo-1 antibody
Present anti-SRP antibody
Present anti-Mi-2 antibody
EMG: Electromyography can show brief, low-voltage action potentials, fibrillation potentials, positive sharp waves, polyphasic units, and also some evidence of denervation.
Muscle biopsy is ultimately diagnostic and will reveal endomysial inflammation with CD8+ T cells. Necrotic muscle fibers can be seen.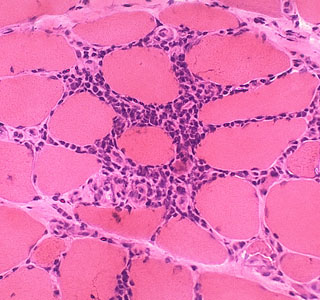 HOW DO WE TREAT IT?
Steroids are often the initial treatment used
Long term immunosuppressive therapy is also used (with medications such as methotrexate)
HOW WELL DO THE PATIENTS DO?
The prognosis of the patient depends on a variety of factors. Some patients will respond to therapy, but others will have a relapse of the condition.
WAS THERE A WAY TO PREVENT IT?
N/A
WHAT ELSE ARE WE WORRIED ABOUT?
Visceral malignancies are more likely in patients with polymyositis (particularly genitourinary).
ARCHIVE OF STANDARDIZED EXAM QUESTIONS 
This archive compiles standardized exam questions that relate to this topic.
FURTHER READING
Page Updated: 06.19.2016