WHAT IS IT?
Lichen planus are inflammatory lesions of the skin. It is thought to be an autoimmune condition.
WHY IS IT A PROBLEM?
This dermatological condition can affect the skin, scalp, nails, oral mucosa, and genital mucosa and can be very uncomfortable. Patients with genital mucosa involvement can have dysuria and even may be unable to engage in sexual intercourse.
WHAT MAKES US SUSPECT IT?
Risk factors: Hepatitis C,
Presentation involves pruritic polygonal planar papules and plaques. These commonly involve the wrists, elbows, and oral mucosa.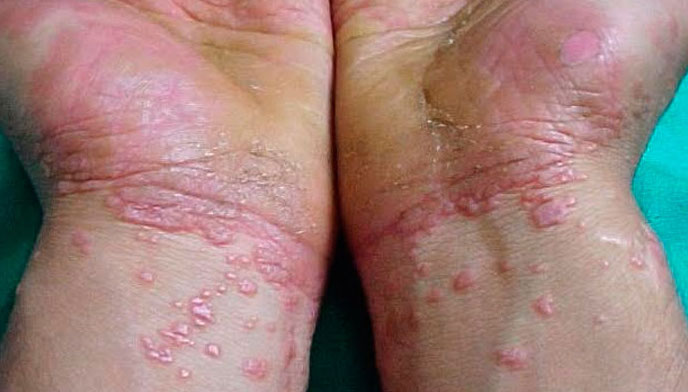 Mucosal involvement manifests as Wickham striae.
Koebner phenomenon may also be present.
HOW DO WE CONFIRM A DIAGNOSIS?
Biopsy of lesions will reveal a saw-tooth lymphocyte infiltrate at the dermal/epidermal junction.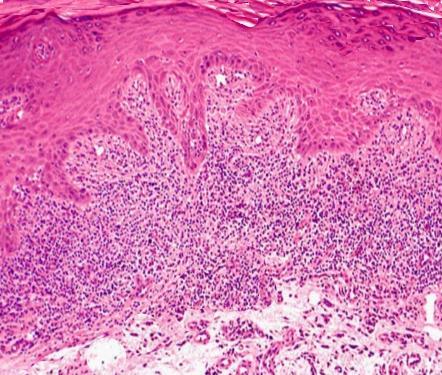 HOW DO WE RULE OTHER DIAGNOSES OUT?
Biopsy is ultimately required to clarify the actual diagnosis.
HOW DO WE TREAT IT?
Topical steroids are a common treatment option.
HOW WELL DO THE PATIENTS DO?
This is not a life threatening condition, however it can be quite irritation to patients. It also can be very treatment resistant.
WAS THERE A WAY TO PREVENT IT? 
N/A
WHAT ELSE ARE WE WORRIED ABOUT?
This condition is associated with chronic hepatitis C infection.
OTHER HY FACTS?
6 P's of Lichen Planus: Pruritic, Purple, Polygonal Planar Papules and Plaques
FURTHER READING
Page Updated: 06.18.2016