WHAT IS IT?
Azithromycin is a antibiotic that belongs to a class called macrolides. It works by inhibiting translation (blocks translocation).
WHEN DO WE USE IT?
Prophylaxis for Mycobacterium avian-intracellulare in AIDS patients (CD4+ count < 50 cells/mm3) AND for Pertussis post exposure.
Infectious pathogens: including Babesia, Neisseria gonorrhoeae, Chlamydia trachomatis, Legionella pneumophila
Avoid inhibition of Cytochrome P450: most macrolides inhibit these liver enzymes, however azithromycin does not!
WHEN DO WE AVOID USING IT?
In pathogens that are drug resistant: Drug resistance can occur when the methylation of 23S rRNA-binding site prevents binding of drug.
HOW IS IT ADMINISTERED?
Administered either orally or IV infusion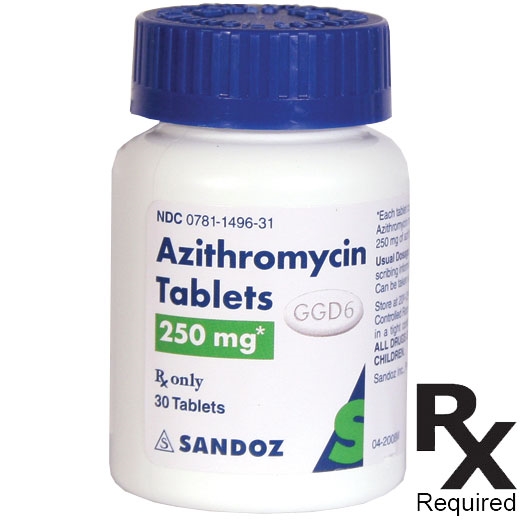 WHAT ARE THE SIDE EFFECTS/TOXICITY?
Cardiac: arrhythmia caused by prolonged QT interval
GI: motility issues, cholestatic hepatitis
Dermatological: rash secondary to eosinophilia
Other: can increase serum concentrations of theophylline and oral anticoagulants
ANYTHING ELSE TO KEEP IN MIND?
"-thromycin" ending is specific to macrolide antibiotics.
FURTHER READING
Page Updated: 06.10.2016