WHAT IS IT?
A meningioma is a brain tumor that originates from the meningeal layers (it originates from arachnoid cells). It often occurs in the convexities of the hemispheres (near the surface of the brain) however is external to the brain parenchyma (extra-axial).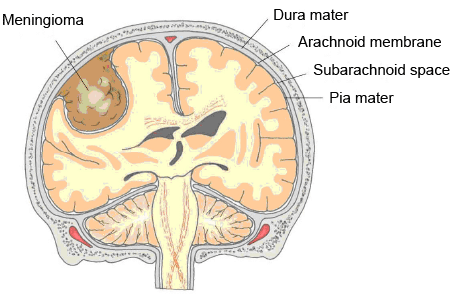 WHY IS IT A PROBLEM?
The tumor can compress the brain leading to neurological signs and symptoms. It typically does not invade the brain parenchyma.
WHAT MAKES US SUSPECT IT?
Risk factors:
Female sex, neurofibromatosis type 2
Initial Presentation:
Often asymptomatic (may be found on a head scan ordered for a different medical issue).
Seizures
Focal neurological signs can be observed (exact sign depends on location of the tumor).
HOW DO WE CONFIRM A DIAGNOSIS?
MRI is the preferred diagnostic imaging modality. These tumors are often well circumscribed, extra-axial, homogeneously enhancing, and dural based. They may also have calcifications.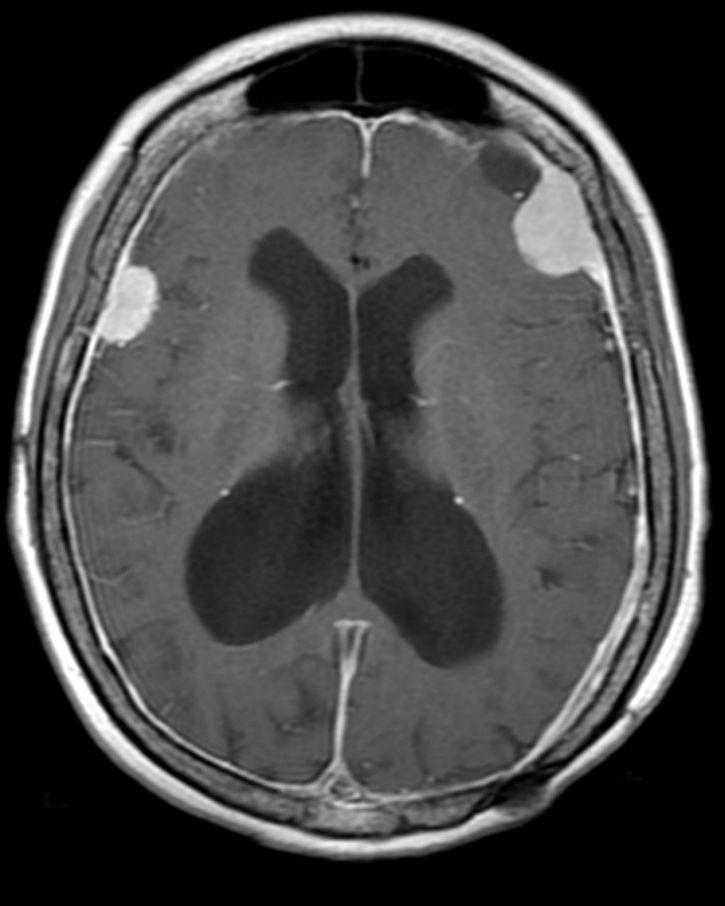 Histology can reveal the presence of spindle cells concentrically arranged in a whorled pattern. Psammoma bodies can also be seen.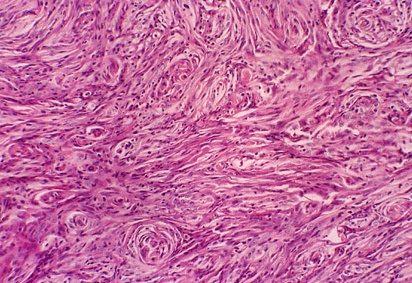 HOW DO WE TREAT IT?
Surgical resection is generally the most accepted treatment for this type of malignancy.
Radiation therapy is controversial because some tumors become more anapestic after radiation (however there is evidence to support irradiation in some circumstances).
HOW WELL DO THE PATIENTS DO?
This is commonly a benign tumor that is not aggressive. Patients can do well.
WAS THERE A WAY TO PREVENT IT?
N/A
WHAT ELSE ARE WE WORRIED ABOUT?
Compression of structures within the brain.
OTHER HY FACTS?
Sometimes the meningioma may have a dural attachment ("tail")
One of the most common brain tumors
FURTHER READING
Condition Specific Radiology: Cranial Meningioma
Page Updated: 06.08.2016