WHAT IS IT?
Familial hypercholesterolemia (FH) is an autosomal codominant genetic condition caused by mutations in 1 of 3 genes:
LDL receptor (most common)
Apolipoprotein B (ApoB)
PCSK9
There are different types of this condition that include the heterozygous form, compound heterozygous form, and homozygous form.
WHY IS IT A PROBLEM?
The LDL receptor,apoB, and PCSK9 are important for clearing levels of LDL out of the blood. When it is defective high levels of LDL will remain in circulation, and this can lead to severe atherosclerotic disease early in life.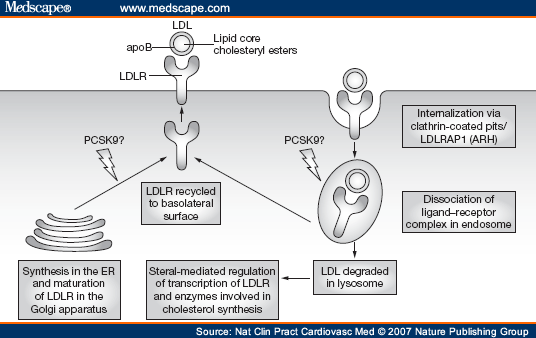 WHAT MAKES US SUSPECT IT?
Risk factors: family history of hypercholesterolemia
**There are no clinical signs of this disease!
Elevated levels of cholesterol (especially in children) with a family history and normal tirglycerides are suspicious for FH
HOW DO WE CONFIRM A DIAGNOSIS?
Genetic testing ultimately will confirm a suspected diagnosis.
HOW DO WE TREAT IT?
Lipid lowering medications (such as statins)
HOW WELL DO THE PATIENTS DO?
This will depend on the type of FH the patient has, however these patients are at significantly greater risk for MI.
WAS THERE A WAY TO PREVENT IT? 
This genetic condition is not preventible.
WHAT ELSE ARE WE WORRIED ABOUT?
Myocardial infarction: these patients are predisposed to an MI earlier in life.
Corneal arcus
Tendon xanthomas can occur (classically seen in the Achilles tendon).
OTHER HY FACTS?
Elevated CRP seems predictive of cardiovascular disease (it is thought to be involved in this disease process)
FURTHER READING
Page Updated: 06.07.2016