WHAT IS IT?
Syphilis is an infectious condition caused by the spirochete Treponema palladium.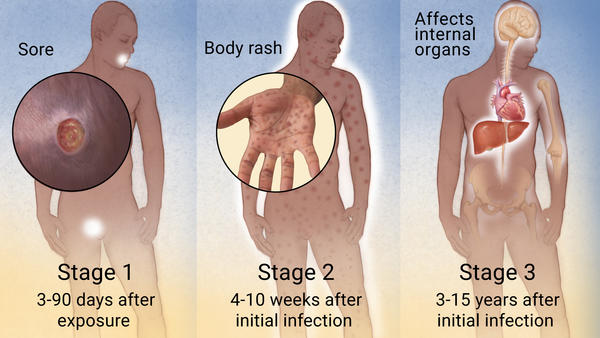 There are a few important classifications of syphilis given that this is a progressive condition:
Primary syphilis: upon initial inoculation, the disease will be localized to single skin lesion.
Secondary syphilis: at this point the disease has become disseminated (systemic) across the skin (large rash).

Latent syphilis

refers to progressed patient who is serologically positive for the disease but no longer has symptoms.
Tertiary syphilis: once the disease has progressed even more, it will begin to involve internal organs.
Congenital syphilis: syphilis of the newborn that has been transmitted by an infected mother.
WHY IS IT A PROBLEM?
When syphilis progresses to the point of tertiary syphilis, many different organ systems can be seriously affected:
Neurosyphilis occurs when the disease spreads within the nervous system destroying structures and causing many different neurological symptoms.
Syphilitic heart disease can be causes by the destruction of the vasa vasorum (vessels supplying the aorta) of the aorta with consequent atrophy of the vessel wall. This can lead to TAA and/or aortic insufficiency.
WHAT MAKES US SUSPECT IT?
Risk factors: high risk sexual behavior (many partners, no usage of protection)
PRESENTATION WILL DEPEND ON THE STAGE OF SYPHILIS
Primary syphilis patients will present with a painless chancre (punched out base) and associated lymphadenopathy.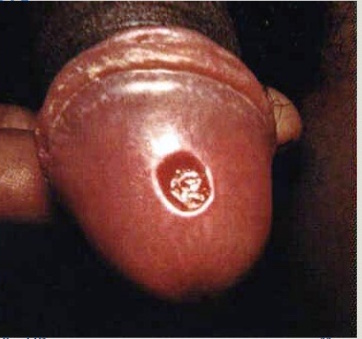 Secondary syphilis patients will present with constitutional symptoms, a maculopapular rash (that does not spare the palms/soles), and condylomata late.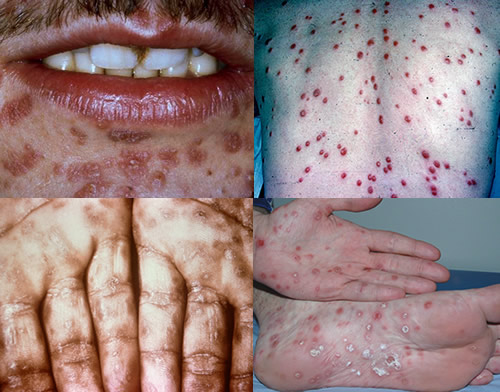 Tertiary syphilis patients will present with a variety of different symptoms/findings. These include:
Gummas
Aortitis (murmur may be heard on auscultation)
Argyll Robertson pupil
Charcot joint
Signs on neurosyphilis which can include:
Signs of tabes dorsalis (such as a positive Romberg test and absent deep tendon reflexes)
General paresis: deterioration of brain cells leading to mental status changes and psychiatric problems
Broad based ataxia
Sub-acute meningitis: fever, stiff neck, headache
Congenital syphilis patients are newborns that present with:
Rhagades (linear scars at the angel of the mouth)
Nasal dischage (snuffles)
Saddle nose
Notched (Hutchinson) teeth.
Mulberry molars
Short maxilla
Saber shins
CN VIII deafness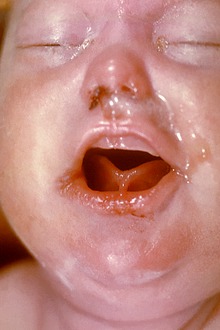 HOW DO WE CONFIRM A DIAGNOSIS?
Dark field microscopy can conducted on fluid from chancre/lesions/rash to visualize Treponema pallidum. This can also done on the CSF of an individual with neurosyphilis.
Serological testing can be conducted which can inlcude:
VDRL test (nonspecific)
RPR test (non specific)
FTA-ABS test (specific test)
Spinal fluid can also be tested with the above serological tests to assess for neurosyphilis
HOW DO WE RULE OTHER DIAGNOSES OUT?
FTA-ABS test ultimately will be the most specific for syphilis.
HOW DO WE TREAT IT?
Penicillin is used to treat infected patients (including pregnant women).
Erythromycin and doxycycline can be used in non-pregnant patients if there is a penicillin allergy.
*Pregnant women with penicillin allergies must be desensitized to it because other antibiotic options are not safe for the fetus
HOW WELL DO THE PATIENTS DO?
Prognosis depends entirely on what stage the syphilis is diagnosed and treated. The longer the patient remains infected, the more irreversible damage may be caused by the pathogen.
WAS THERE A WAY TO PREVENT IT?
Congenital syphilis can be prevented if the mother is treated early in pregnancy (given that placental transmission occurs after the first trimester).
Safe sexual practices can help prevent sexual transmission of this condition.
Exposure prophylaxis can be given to patients who believe they have been exposed (benzathine penicillin G)
WHAT ELSE ARE WE WORRIED ABOUT?
Pregnant mothers who pass this on to newborns often will have a stillbirth, hydrous fettles, or a disfigured child.
Thoracic aortic aneurysm can be caused by tertiary syphilis
Dementia can be caused by syphilis
Jarisch-Herxheimer reaction: this presents as fever, chills, headache, myalgia following antibiotic for syphilis. Rapid lysis of the spirochetes result in endotoxin release.
OTHER HY FACTS?
Lupus can lead to a false positive syphilis test (VDR) because patients possess anticardiolipin antibodies.
Palms/soles rash is not seen in many conditions. Namely secondary syphilis, Coxsackievirus A infection, and Rocky Mountain spotted fever
Tree bark aorta will be seen in those damaged by syphilis (on gross exam).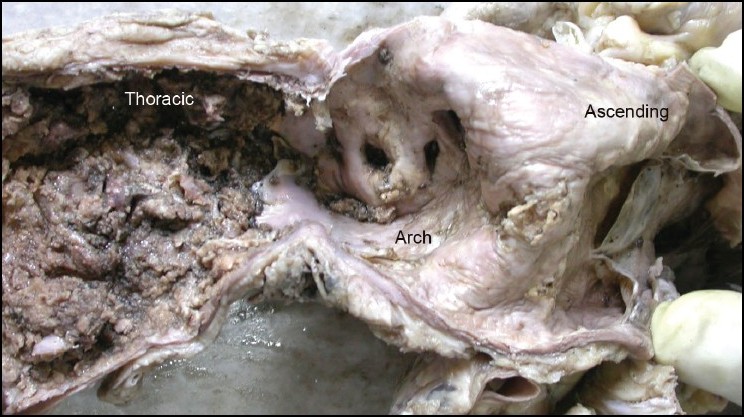 *Syphilis is a reportable disease that needs to be reported to the local authorities and the patient's sexual partners.
ToRCHeS is an acronym that stands for infections that cross the blood-placenta barrier: Toxoplasmosis, Rubella, Cytomegalovirus, Herpes simplex/HIV, and syphilis
ARCHIVE OF STANDARDIZED EXAM QUESTIONS
This archive compiles standardized exam questions that relate to this topic.
FURTHER READING
Page Updated: 05.28.2016