WHAT IS IT?
Meniere's disease is a cause of vertigo that is thought to be the result of excess endolymph buildup in the inner ear (with can lead to dilation and blockage of cochlear structures). While the etiology is mysterious, the herpesvirus has been linked to the disease.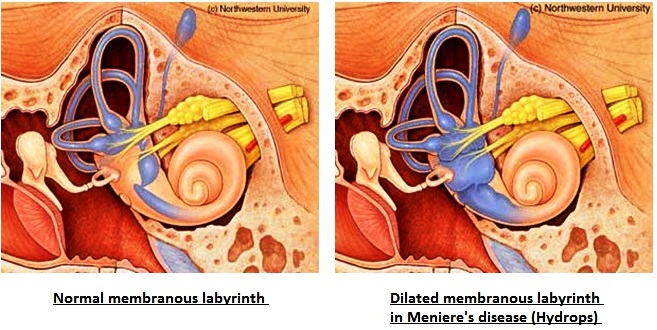 WHY IS IT A PROBLEM?
Vertigo (while not life threatening on its own) can greatly impact the quality of life of patients.
WHAT MAKES US SUSPECT IT?
Risk factors: family history of Meniere disease
Presentation can be variable but can include the following (in one/both ears):
Vertigo
Tinnitus
Hearing loss (that is often fluctuating)
Pressure/fullness
HOW DO WE CONFIRM A DIAGNOSIS?
Diagnosis of exclusion! the following should be done to rule out other entities (such as a schwannoma):
Careful physical exam (especially neurological exam).
Brain MRI
Audiometry
HOW DO WE TREAT IT?
Goal of treatment is to reduce the buildup of fluid:
Low salt diet
Diuretics (such as acetazolamide)
Symptomatic relief of nausea/vomiting
Surgery is the last resort and can be destructive (vestibular neurectomy) or nondestructive (shunt placement)
HOW WELL DO THE PATIENTS DO?
There is no cure for Meniere's disease, and the current therapies in place are palliative and try to reduce symptoms. Most patients will gradually lose hearing in their affected ear.
WAS THERE A WAY TO PREVENT IT?
N/A
WHAT ELSE ARE WE WORRIED ABOUT?
Progressive sensorineural hearing loss can be seen in patients with this condition.
OTHER HY FACTS?
FURTHER READING
Page Updated: 05.28.2016