WHAT IS IT?
Pulmonary embolism (PE) is a medical condition where an embolus has lodged into the vasculature of the pulmonary system. This happens most often due to a thromboembolus whose original source was a deep vent thrombus in the lower extremities (usually in the femoral, iliac, or popliteal veins). With that in mind, other conditions (such as HIT) can cuase a PE.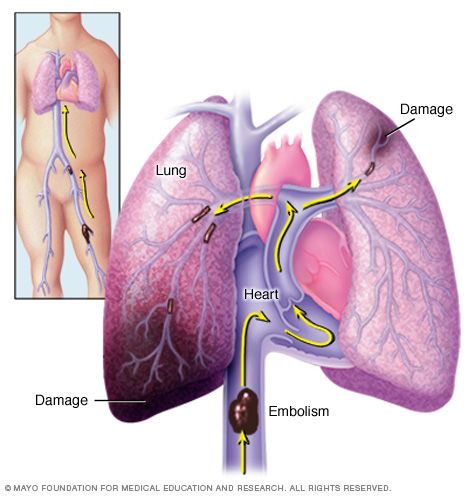 While thromboembolism is the most common cause of PE, other emboli can also be to blame. These include:
Fat emboli from fractures of long bones
Air emboli from accidental infusion of air into the vasculature of patients
Septic pulmonary emboli can be caused by right sided bacterial endocarditis
Amniotic fluid emboli may occur in pregnant women during delivery or immediately postpartum.
WHY IS IT A PROBLEM?
If the PE is preventing the delivery of blood from the heart to the lung, then the ability of the respiratory system to oxygenate the blood is compromised.
WHAT MAKES US SUSPECT IT?
Risk factors: Virchow's triad, DVT, blood stasis, hyper-coagulability (i.e. loss of ATIII), oral contraceptive use, Raloxifene use.
MOST OFTEN CLINICALLY SILENT because the lungs have a dual blood supply (from both the pulmonary and bronchial arteries). Also, many PEs are small and will self resolve.
When symptomatic patients can present with:
SOB
Hemoptysis
Pleuritic chest pain (worsens on inspiration)
Physical signs of DVT might be present in some patients. This can include a single lower limb that is swollen and appears to have insufficient venous draining.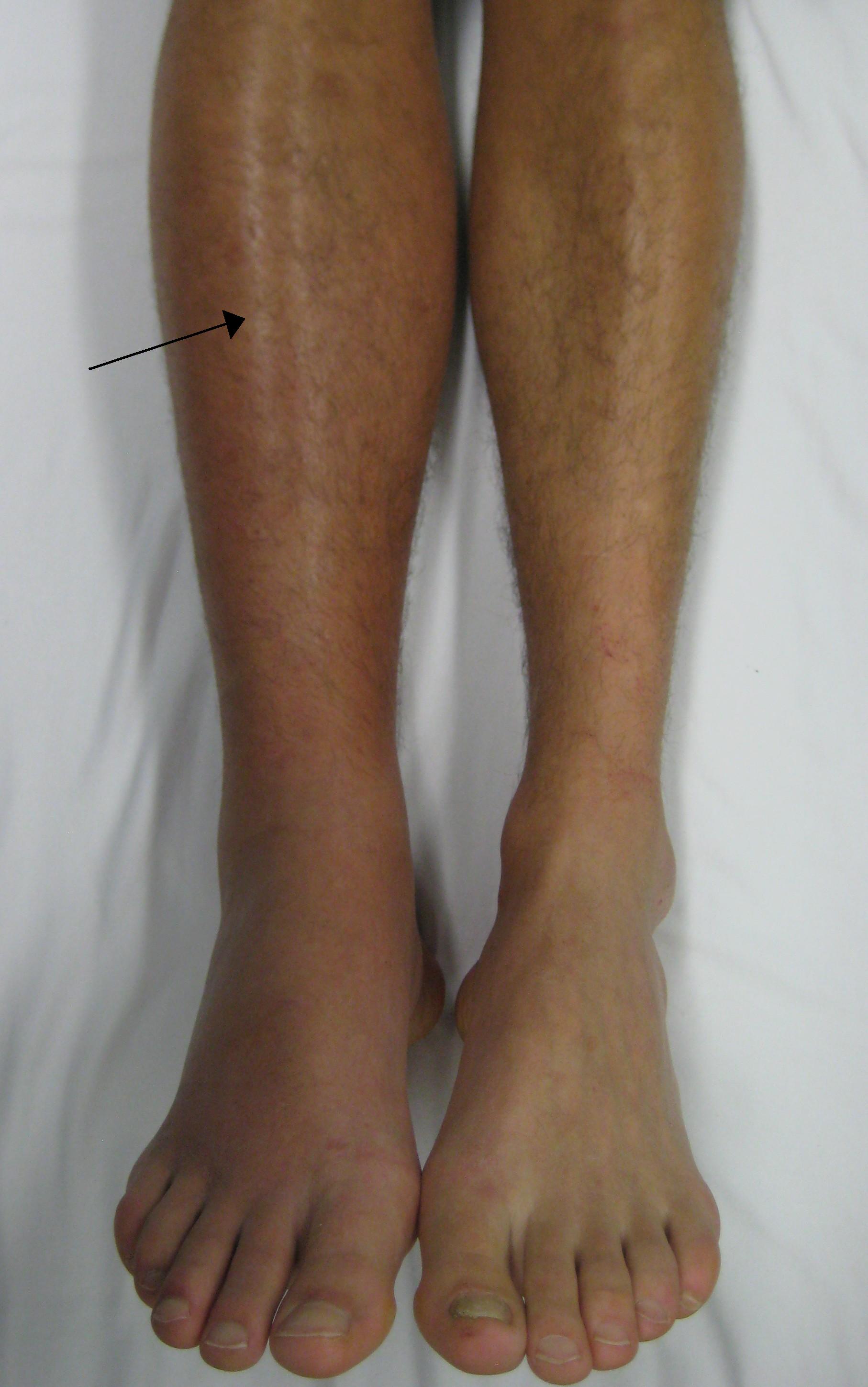 Well's Criteria/score can be used to help risk stratify patients who are at high risk for PE. High risk patients generally should be worked up further for PE.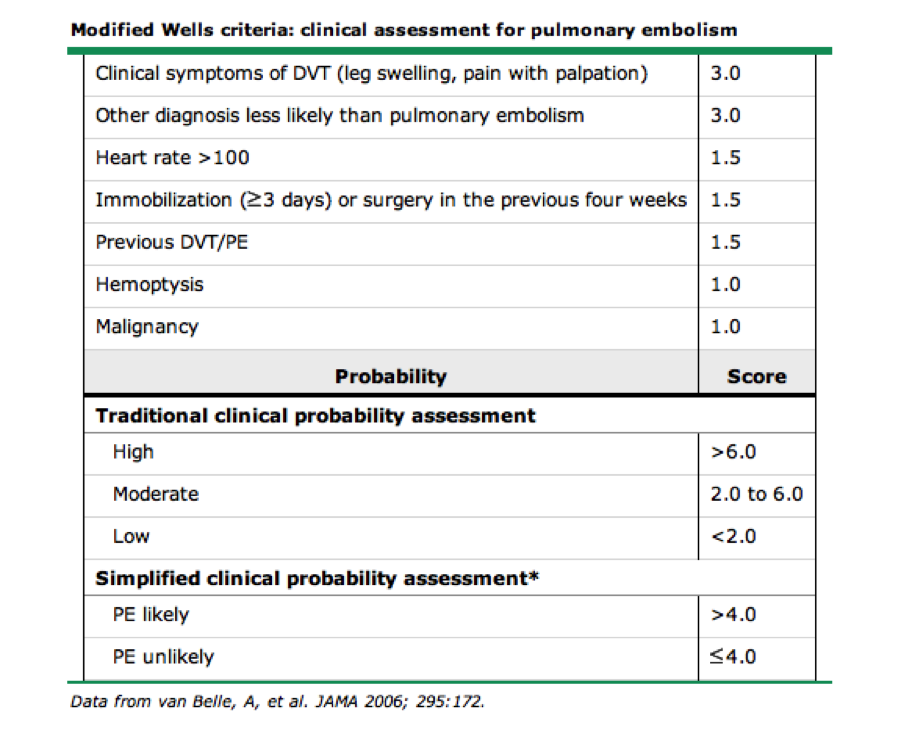 HOW DO WE CONFIRM A DIAGNOSIS?
Respiratory alkalosis is consistent with the presentation of a PE (but is not specific to it).
Blood pH > 7.45
PC02 < 40 mmHg
D-dimer will be elevated in those with PE.
Doppler ultrasound can be used to detect DVT (which can increase suspicion of PE and justify further workup).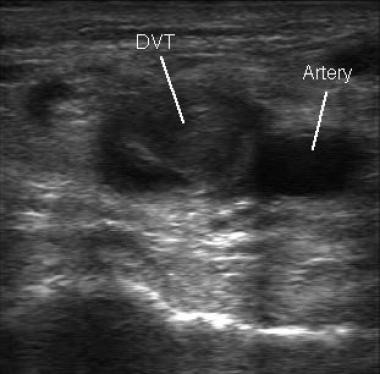 Pleural effusion can be present in some patients with PE (which can be seen on imaging).
V/Q lung scan can show a mismatch indicating that perfusion is abnormal.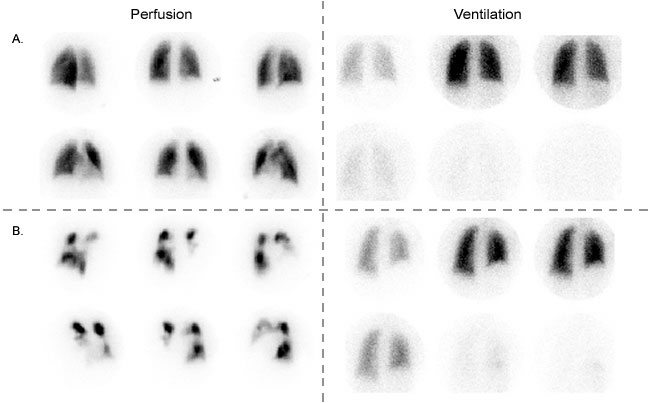 Spiral CT angiography can show a vascular filling defect in the lung.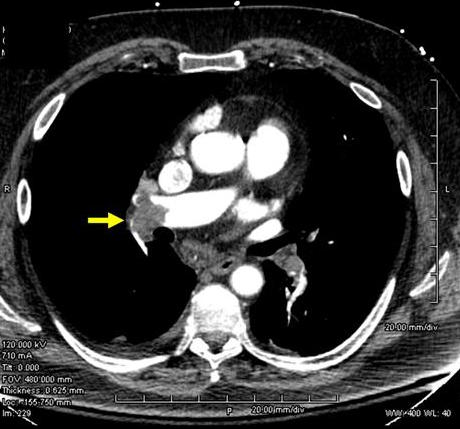 HOW DO WE RULE OTHER DIAGNOSES OUT?
The CT scan ultimately will be the most useful in definitively locating the embolus in the pulmonary artery and ruling out other diagnosis from the differential.
HOW DO WE TREAT IT?
Heparin (unfractioned or low-molecular weight) can be given as immediate anticoagulation for PE.
Warfarin is used for longer term therapy.
Thrombolytics can be used for more severe PEs.
Surgical thrombectomy may be warranted in severe cases of PE
HOW WELL DO THE PATIENTS DO?
Most PEs are asymptomatic and self resolve. Those with a large PE however are at significant risk for sequelae.
WAS THERE A WAY TO PREVENT IT?
Proper coagulation prophylaxis (i.e the usage of Warfarin/heprain when appropriate) can prevent the formation of thrombi and can potentially prevent PE.
WHAT ELSE ARE WE WORRIED ABOUT?
Pulmonary hypertension can occur with chronic PEs that are not recognized over time. This can even lead to cor pulmonale.
Pulmonary infarction: if a large/medium sized artery is obstructed in patients (especially those with pre-existing conditions that compromise the cardiopulmonary system) the lung can become infarcted.
Death can occur with a large saddle embolus that occludes both left and right pulmonary arteries (or with significant occlusion of the right pulmonary artery).
OTHER HY FACTS?
Hospital patients often have PEs, so many of them are now given prophylactic doses of heparin to prevent this from occurring.
ARCHIVE OF STANDARDIZED EXAM QUESTIONS 
This archive compiles standardized exam questions that relate to this topic.
FURTHER READING
Page Updated: 05.21.2016