WHAT IS IT?
Troponin I is a cardiac enzyme that under normal circumstances inhibits contraction. It is inhibited by calcium bound Troponin C.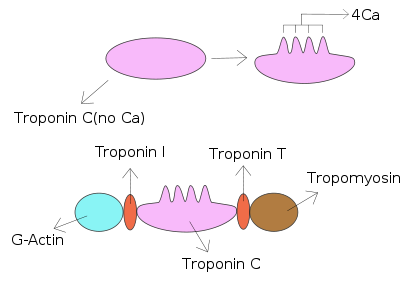 WHY DO WE DO IT?
Cardiac troponin is leaked into the serum when plasma membranes of myocytes are destroyed. This often occurs when there is an infarct in the myocardium (MI) and the cardiac tissue begins to undergo necrosis as a result.
HOW IS IT DONE?
A troponin I test done by detecting the amount of troponin in the blood of a patient.
WHAT ARE THE REFERENCE VALUES?
The upper limit for "normal" individuals is <0.01 ng/mL which is usually undetectable by most measuring methods.
WHAT DOES IT TELL US?
An elevated troponin I value tells us that within the past 10 days cardiac damage (likely secondary to MI) has occurred.
WHAT CAN'T IT TELL US?
A positive troponin I can not tell us exactly WHEN the cardiac damage occurred.
The timeline of troponin elevation is very important to keep in mind. It will rise after 2-4 hours of an infarction, peak at 24 hours, and will remain elevated for 7-10 days.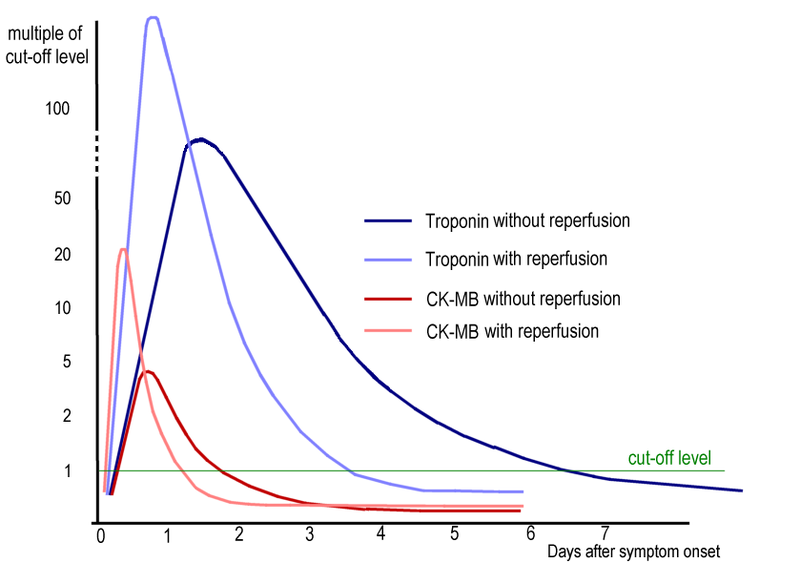 With this in mind, ECG is the gold standard for diagnosing MI within the first 6 hours of the onset of symptoms.
OTHER FACTS?
It is the most sensitive/specific marker for MI.
Reprofusion injury can lead to continued rise in cardiac enzymes within the blood.
Page Updated: 05.21.2016