WHAT IS IT?
Necrotizing fascitis is often referred to as "flesh eating bacteria". It is a deeper tissue injury that is defined to be a rapidly progressive infection of subcutaneous (tissue including
fat and fascia that spreads along fascial planes. It often spreads from a site of local trauma, injury, and can even develop from cellulitis.
Causes: Streptococcus pyogenes (group A streptococci), anaerobic bacteria
WHY IS IT A PROBLEM?
The fascia of the body has a poor blood supply and infections in this plane are difficult to mount an immune response against. As the fascia becomes damaged it will not heal easily, and can lead to the loss of structures (such as one's limbs) and even death.
WHAT MAKES US SUSPECT IT?
Risk factors: diabetes mellitus, IV drug use, cellulitis, trauma
Bullae and a purple color to the skin is often present.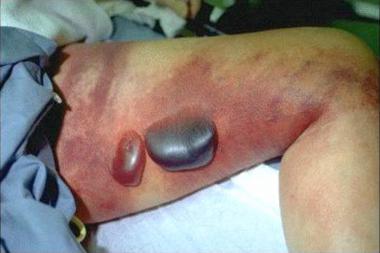 Crepitus can be present due to methane and CO2 production
Similar to cellulitis however:
Intense pain
Fever
Induration of the skin
Skip lesions (noncontinuous islands of infected tissue).
HOW DO WE CONFIRM A DIAGNOSIS?
A clinical diagnosis is initially made (based on the features outlined above) however surgical analysis can confirm the diagnosis. It can reveal the presence of necrotic, grey tissues that seperate easily (even with blunt finger dissection).
HOW DO WE TREAT IT?
Intravenous antibiotics are commonly used to treat this condition.
Surgical debridement of infected tissues is critical.
HOW WELL DO THE PATIENTS DO?
This is a surgical emergency, and the prognosis of the patient depends greatly on how quickly this condition is managed.
WAS THERE A WAY TO PREVENT IT?
Preventing the initial infection will prevent this condition from arising.
WHAT ELSE ARE WE WORRIED ABOUT?
Sepsis is common in patients with necrotizing fasciitis.
OTHER HY FACTS?
Cellulitis can progress to necrotizing fasciitis.
ARCHIVE OF STANDARDIZED EXAM QUESTIONS 
This archive compiles standardized exam questions that relate to this topic.
FURTHER READING
Page Updated: 05.13.2016