jWHAT IS IT?
Glucose-6-Phosphate Dehydrogenase (G6PD) Deficiency: is an X-linked recessive disorder which results in the decreased activity of the G6PD enzyme. This enzyme protects red blood cells from oxidative stress. This enzyme deficiency leads to decreased synthesis of NADPH (reduced form of nicotinamide adenine dinucleotide phosphate) and glutathione (antioxidants) from the pentose phosphate pathway. Normally, NADPH helps restore glutathione stores so that glutathione can then reduce reactive oxygen species (H2O2) to less harmful compounds (H2O).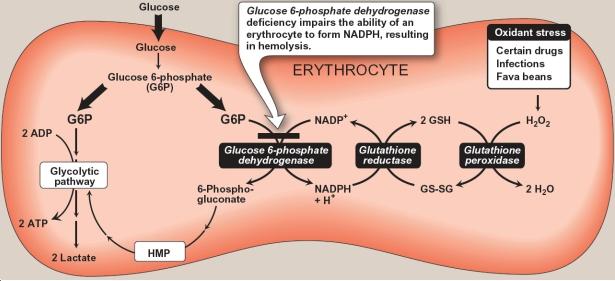 WHY IS IT A PROBLEM?
These patients become sensitized to hemolysis from oxidative stress (simply because they don't have as much NADPH/glutathione to protect the cells). Sources of oxidative stress include:
Infection (most common)—acute viral or bacterial infections
Drugs sulfonamides (trimethoprim-sulfamethoxazole), dapsone, primaquine, chloroquine, nitrofurantoin
Acidosis (e.g., diabetic ketoacidosis [DKA])
Fava beans (historically, this condition was called favism).
WHAT MAKES US SUSPECT IT?
Risk factors: common in black, middle eastern, and mediterranean indivduals
*Most are asymptomatic
Clinical presentation (after hemolysis): fatigue and dark (Coca cola colored urine) and back pain.
Past medical history: History of neonatal jaundice and cholelithiasis (formation of gallstones)
Episodic signs of anemia (can be seen with splenomegaly and jaundice)
HOW DO WE CONFIRM A DIAGNOSIS?
Genetic testing: mutation of glucose-6-phosphatase, catalytic subunit (G6PC) gene located on chromosome 17q21
*Measure G6PD enzyme activity after hemolytic attack (may be falsely elevated or normal in times of hemolysis). The value will be decreased.
Blood labs: Decreased Hb and Hct, normal MCV (consistent with hemolytic anemia). Heinz bodies and/or bite cells on peripheral smear. Heinz bodies are removed from RBCs by splenic macrophages (giving about the bite cells).
Heinz bodies: darkly staining regions in blood cells that are composed of hemoglobin precipitates. Oxidized hemoglobin-SH groups which ultimately leads to hemoglobin precipitation.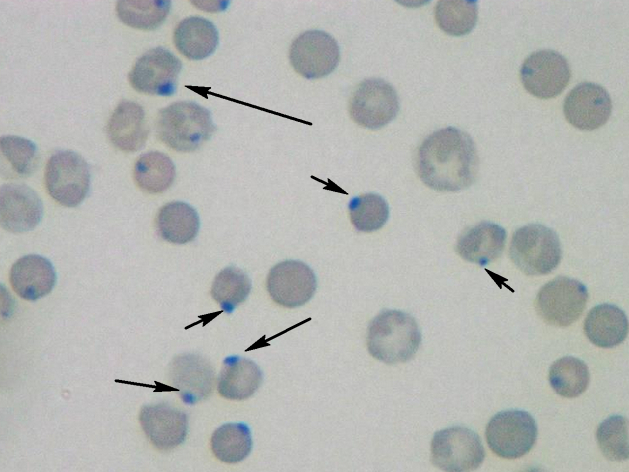 Degmacyte: red blood cells that have had heinz bodies removed by splenic macrophages.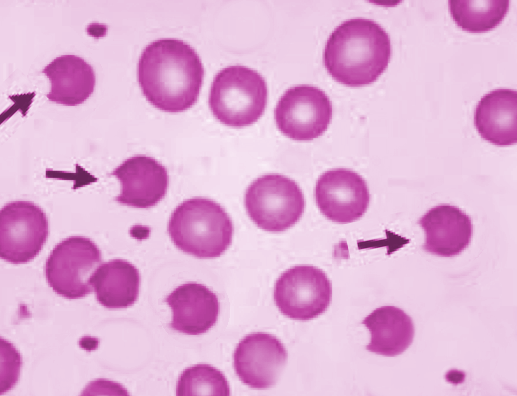 HOW DO WE TREAT IT?
No specific treatment needed. Avoidance of triggers of hemolysis (see below) is preferred method of clinical management.
HOW WELL DO THE PATIENTS DO?
If triggers for hemolysis are avoided patients do well.
WAS THERE A WAY TO PREVENT IT?
The deficiency is genetic and can not be prevented, however the some causes of hemolysis are preventible.
WHAT ELSE ARE WE WORRIED ABOUT?
Red blood cell destruction can be triggered by infections, severe stress, certain foods (such as fava beans), and certain drugs, including (source):
Antimalarial drugs.
Aspirin.
Nitrofurantoin.
Nonsteroidal anti-inflammatory drugs (NSAIDs)
Quinidine.
Quinine.
Sulfa drugs.
OTHER HY FACTS?
NADPH deficiency could potentially disturb biosynthesis pathways for cholesterol, fatty acids, and steroids (all of which require NADPH).
This is the most common human enzyme deficiency and is thought to increase malarial resistance.
ARCHIVE OF STANDARDIZED EXAM QUESTIONS
This archive compiles standardized exam questions that relate to this topic.
Page updated: 12.10.2015