WHAT IS IT? 
Melanoma is a type of skin malignancy (often caused by an activating mutation in the BRAF kinase) that has 4 major subtypes:
Super cial spreading
Nodular
Lentigo maligna
Acral lentiginous
WHY IS IT A PROBLEM?
Given the origin of this malignancy (melanoma is derived from melanocytes were once neural crest cells) this malignancy is highly metastatic.
WHAT MAKES US SUSPECT IT?
Risk factors: sunlight exposure, fair skin, xeroderma pigmentosum, dysplastic nevus syndrome, albinism
Suspicious looking moles: Look for the ABCD's when characterizing moles:
Asymmetry
Border irregularity (scalloping etc)
Color variation (the more colors the more likely it is melanoma
Diameter (the larger the more likely melanoma, >6 mm)
Evolution (moles that change over time are more likely to be melanoma)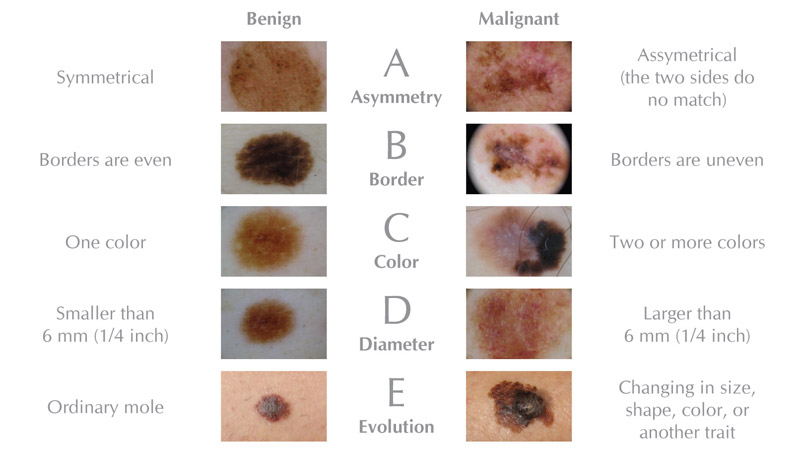 HOW DO WE CONFIRM A DIAGNOSIS?
Biopsy of melanoma will stain positive for S-100 on histology.

HOW DO WE RULE OTHER DIAGNOSES OUT?
Histology with specific stains
HOW DO WE TREAT IT? 
Primary treatment is surgical resection of the affected area (with white margins)
Vemurafenib: this is a small molecule inhibitor of the BRAF oncogene that is positive in melanoma. Typically patients who benefit from this medication have the BRAF V600E
INF-α will help with with disease free survival but not overall survival.
Aldesleukin (IL-2): this recombinant cytokine is used for metastatic melanoma.
Hydroxyurea 
HOW WELL DO THE PATIENTS DO?
This will depend on the nature of the patient's melanoma. The depth of the of the tumor is directly related to the prognosis (the deeper it is in patients, the worse they do).
WAS THERE A WAY TO PREVENT IT?
Avoiding sunburns can help lower the risk of melanoma due to the linking of UVB exposure to skin cancer. Using proper sun protection (i.e. sunscreen) is
WHAT ELSE ARE WE WORRIED ABOUT?
Metastasis to other parts of the body is common in melanoma: skin, subcutaneous sites, distant lymph nodes, lungs, gastrointestinal tract, adrenal glands, brain, and liver.
OTHER HY FACTS?
Loss of the tumor suppressor factor p16 is linked to melanoma formation. This gene codes for Cyclin-dependent kinase inhibitor 2A.
Dysplastic nevus (moles) can be precursors for melanoma although most melanoma does not arise from precursor dysplastic moles.
FURTHER READING
Page Updated:04.13.2016