WHAT IS IT? 
Carpal tunnel release (CTR) is a surgical procedure where the transverse carpal ligament is completely cut.
WHY DO WE DO IT?
CTR is the surgical treatment for carpal tunnel syndrome. It is not the first line therapy for this condition, however is indicated when the condition is refractory to other interventions.
HOW DO WE DO IT?
There are some variations on the different ways one could do a carpal tunnel release, however often 1-2 incisions are made (in the palm of the hand, and below the wrist) so that the flexor retinaculum (transverse carpal ligament) can be competently cut.
WHAT ARE SOME POSSIBLE COMPLICATIONS?
Ulnar nerve palsy is a possibility because of the anatomical proximity of the ulnar nerve tot he flexor retinaculum.
OTHER INFO
Some important anatomy to keep in mind is shown below: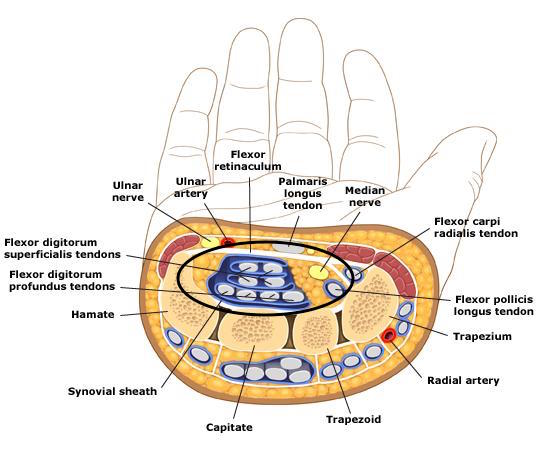 Anatomy of carpal tunnel (circled) and associated structures (source)
Page Updated: 03.15.16