WHAT IS IT? 
Leiomyomata uteri (uterine leiomyoma/fibroid) is a neoplasm that involves the smooth muscle of the uterus (arises form the myometrium) and is the most common tumor in females.  These are commonly referred to as fibroids.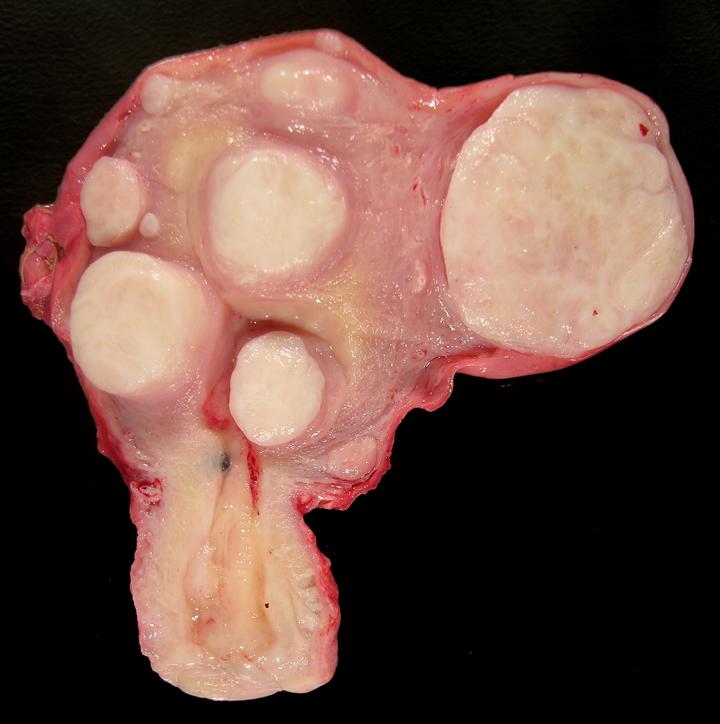 WHAT CAUSES IT?
This is an estrogen dependent tumor (size increases with pregnancy and decreases with menopause).
WHY IS IT A PROBLEM?
Leiomyoma is usually not precancerous (does not progress to malignant leiomyosarcoma), however it does present often with multiple discrete tumors that can cause uterine bleeding or result in a miscarriage.
WHAT MAKES US SUSPECT IT?
Risk factors
African ancestry, peak occurrence at 20-40 years old (pre-menopausal common given estrogen dependence)
Initial Presentation
Vaginal bleeding can be described by the patient (abnormal uterine bleeding, post menopausal bleeding, menorrhagia)
Abdominal pressure 
Urinary symptoms including urgency/frequency due to the mass effect fibroids upon the bladder.
Constipation can also be caused by the mass effect of the fibroids on the intestines
**Can commonly be asymptomatic**
History Of Present Illness
Bleeding: heavy menses may often be characteristic of uterine fibroids
Physical Exam Findings
Pelvic exam might be notable for a palpable mass (depending on the location of the fibroid/fibroids) and also an enlarged uterus.
HOW DO WE CONFIRM A DIAGNOSIS?
Transvaginal ultrasound can be used to identify these tumors.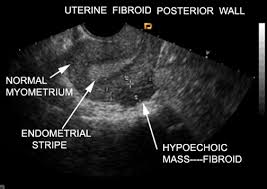 MRI may be useful in diagnosing fibroids that are difficult to assess via ultrasound.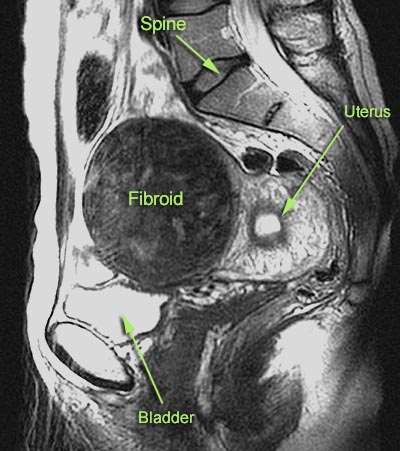 Histology/biopsy (if concern about endometrial cancer) will reveal whorled patterns of smooth muscle borders (that resemble for the most part "normal" muscle cells. Can be stained with smooth muscle actin.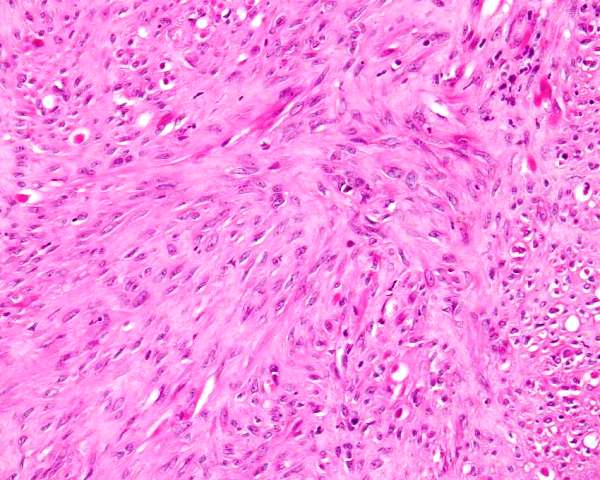 HOW DO WE RULE OTHER DIAGNOSES OUT?
Pain is rarely caused by these benign fibroids. Patients with pain should be evaluated for other causes of the patient's symptoms (such as ovarian torsion or endometriosis)
Possible malignancy can be evaluated by biopsy and histological analysis of the mass.
HOW DO WE TREAT IT?
If this condition is symptomatic in the patient, there are a number of ways that we can permanently treat it (pharmacological therapy is generally not suitable long term).
Hysterectomy
Myomectomy
Endometrial ablation
Uterine artery embolization
HOW WELL DO THE PATIENTS DO?
This generally is not a pre-cancerous condition and patients generally do quite well (surgical options are curative).
WAS THERE A WAY TO PREVENT IT? 
N/A
WHAT ELSE ARE WE WORRIED ABOUT? 
Iron deficiency anemia can be caused by severe bleeding from these tumors. A CBC can be ordered to evaluate status of hemoglobin in the patient.
Obstruction during delivery can be caused due to the mass effect of these tumors
OTHER HY FACTS?
FURTHER READING
Page Updated: 07.16.2016