WHAT IS IT?
Hypertrophic cardiomyopathy (HOCM): Massive hypertrophy of the left ventricle of the heart (asymmetrical hypertrophy of the ventricular septum). It is usually due to genetic mutations in sarcomere proteins (most common form is autosomal dominant). Commonly this is caused by a ß-myoisn heavy chain mutation.
WHY IS IT A PROLEM?
This type of hypertrophy will reduce the compliance of the heart, making it more difficult to fill (diastolic dysfunction). A subsequent consequence of this is decreased cardiac output (due to decreased pre-load).
Sudden death can occur due to ventricular arrhythmias!
WHAT MAKES US SUSPECT IT?
Risk factors: family history
Symptoms consistent with decreased cardiac output
Syncope with exercise: Subaortic hypertrophy of the ventricular septum results in functional aortic stenosis.
Fourth heart sound (S4) commonly present
LV outflow obstruction murmur: a systolic murmur is heard in a classic crescendo-decresendo pattern that is very similar to aortic stenosis. The difference in pathology here is that the actual cause of the murmur in HCOM is the narrowing of outflow not at the aortic valve, but prior to it (between the ventricle and the leaflet of the mitral valve).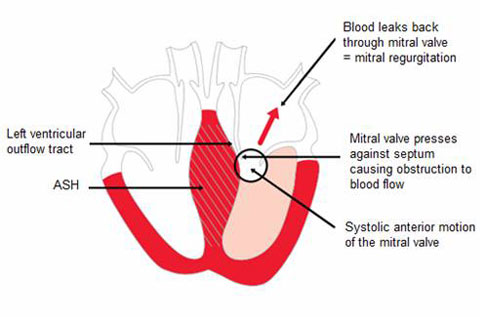 Looking at the image above we must appreciate that anything that decrease pre-load (and effectively brings the valve and ventricle wall/septum together) will increase the sound of the murmur. The table below shows how these patterns are different than atrial stenosis.


*Valsalva maneuver: produced by asking the patient to "bear down" (technically defined as forceful exhalation with the nose, mouth, and glottis closed). The Valsalva maneuver in- creases intrathoracic pressure, which decreases venous return to the hear
Mitral regurgitation can also be present (holosystolic murmur)
HOW DO WE CONFIRM A DIAGNOSIS?
EKG: typically shows left ventricular hypertrophy and left atrial enlargement. Prominent Q waves are common in the inferior and lateral leads, representing amplified forces of initial depolarization of the hypertrophied septum directed away from those leads. In some patients, diffuse T wave inversions are present, which can predate clinical, echocardiographic, or other electrocardiographic manifestations of HCM. Atrial and ventricular arrhythmias are frequent, especially atrial fibrillation. Ventricular arrhythmias are particularly ominous because they may herald ventricular fibrillation and sudden death, even in previously asymptomatic patients. Keep in mind that the EKG can be variable in presentation and the below image is only one example: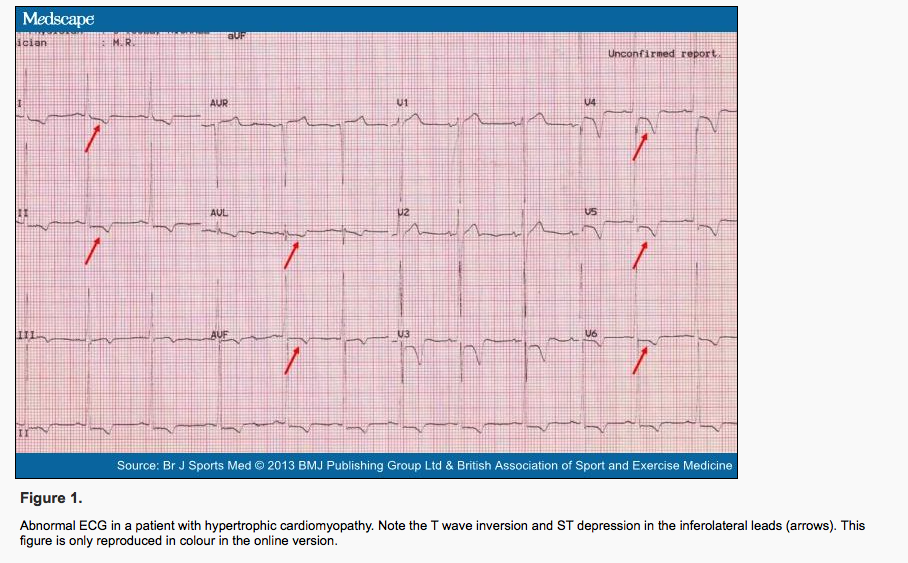 Echocardiography this is an ultrasound of the heart and is very helpful in the evaluation of HCM. The degree of LV hypertrophy can be measured and regions of asymmetrical wall thickness can be readily identified.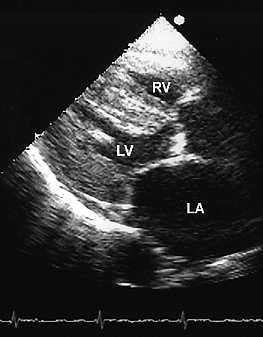 Biopsy shows myofiber hypertrophy with disarray. Hypertrophy from pressure overload will be organized and look much different than this genetic condition. A biopsy of the cardiac tissue below shows a very disorganized arrangement that is a classic presentation for this genetic condition.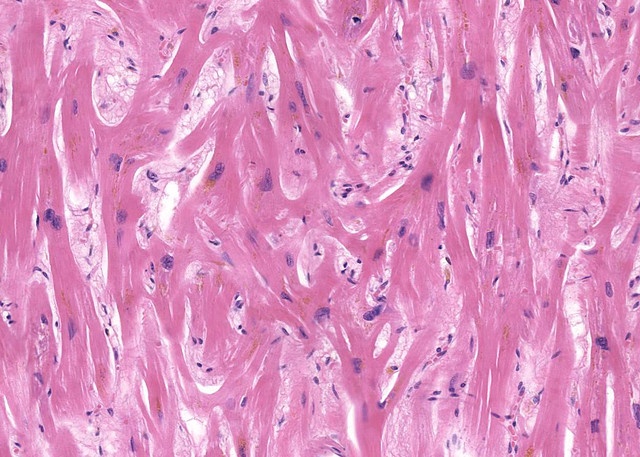 Genetic testing: this can especially useful if the causal mutation in a family lineage has previously been identified.
HOW DO WE TREAT IT?
Beta blockers: they (1) reduce myocardial oxygen demand by slowing the heart rate/force of contraction (these will lessen angina and dyspnea); (2) decrease left ventricle outflow gradient during exercise by reducing the force of contraction (this increases chamber size, thus separating the anterior leaflet of the mitral valve from the enlarged septum); (3) increase passive diastolic ventricular filling time given the decreased heart rate.
Calcium channel antagonists can reduce ventricular stiffness and are sometimes useful in improving exercise capacity in patients who fail to respond to beta?-blockers.
Patients who develop pulmonary congestion may benefit from mild diuretic therapy, but these drugs must be administered cautiously to avoid volume depletion; reduced intravascular volume decreases LV size and could exacerbate outflow tract obstruction.
***Vasodilators (including nitrates) similarly reduce LV size and should be avoided.
HOW WELL DO PATIENTS DO?
Rate of sudden death about 5% in hospital populations (ref)
Different mutations have different phenotypes.
WAS THERE A WAY TO PREVENT IT?
For the most part this is a genetic conditions and can not be prevented.
Avoiding excessively strenuous exercise is important for patients who have this condition in order to avoid sudden death!
WHAT ELSE ARE WE WORRIED ABOUT?
Friedreich ataxia: is associated with this condition. This is a neuro-degenritive disease so it is important to keep an eye out for cerebellar ataxia, sensory loss, and muscle weakness when seeing patients with HCOM.
OTHER HY FACTS?
60-70% of cases are familial, autosomal dominant
ARCHIVE OF STANDARDIZED EXAM QUESTIONS
This archive compiles standardized exam questions that relate to this topic.
Page Updated: 04.28.2017