WHAT IS IT?
Pioglitazone is a thiazolidinedione (TZD) medication that increases insulin sensitivity in peripheral tissues. This is conducted by binding to (and activating) the PPAR-γ nuclear transcription regulator. Activating the PPAR-γ transcription factor leads to increased synthesis of GLUT-4 glucose channels and other genes involved in insulin sensitivity.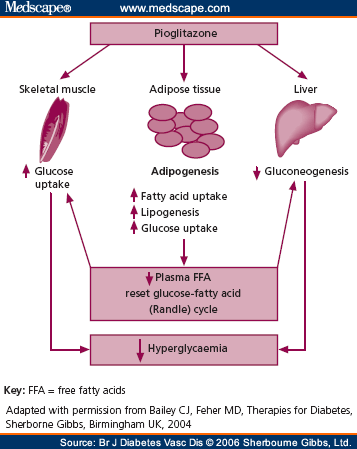 WHEN DO WE USE IT? 
Type 2 diabetes mellitus (used as monotherapy or in combination with other medications)
WHEN DO WE AVOID USING IT?
Patients who have congestive heart failure (becasue this medication can worsen CHF).
HOW IS IT ADMINISTERED?
Oral administration (without regard to meals). Metabolized by the liver.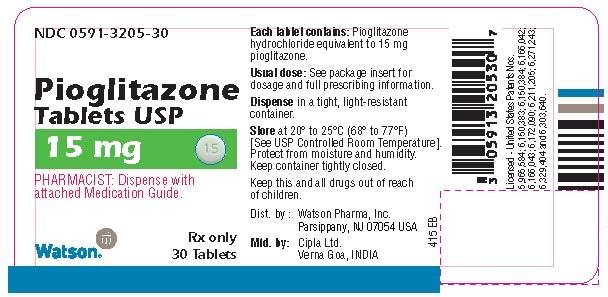 HOW IS IT DOSED?
Source of information: this dosing information is straight from the prescribing information.
Initially dose: given 15 or 30 mg once daily.
Increasing dose: if starting does is not sufficient, increase the dosage slowly to a maximum of 45 mg daily.
**No dosing adjustment needed for patients with hepatic/renal impairment (if given as a monotherapy).**
WHAT ARE THE SIDE EFFECTS/TOXICITY?
Water retention is a side effect of this medication that can lead to:
weight gain
edema
heart failure
Other side effects can include: hepatotoxicity (from older preparations of medications, not the newer ones) and increased risk of fracture.
ANYTHING ELSE TO KEEP IN MIND?
Belongs to a class of drugs that are also called glitazone drugs
FURTHER READING
Page Updated: 07.31.16