OVERVIEW
This guide is meant to serve as a quick reference for building a differential for a patient who presents with hypercalcemia. Remember that normal serum values for hypercalcemia are:  8.4-10.2 mg/dL.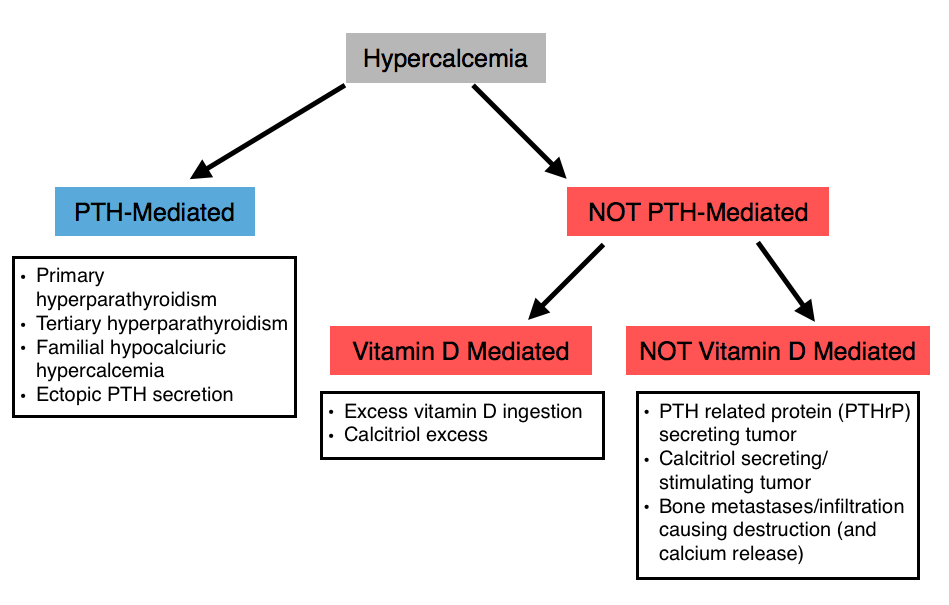 ARE PTH LEVELS HIGH?
One of the first characterizations to make in a patient with hypercalcemia is to check serum levels for PTH to characterize if PTH is responsible for the elevated levels of calcium. If PTH is elevated, then conditions such as (but NOT limited to) hyperparathyroidism can be the underlying cause of the hypercalcemia.
WHAT IF PTH LEVELS ARE NOT ELEVATED?
If PTH is not the reason for hypercalcemia, we must turn our attention to vitamin D. Keep in mind that the inactive form (25-hydroxy vitamin D) is measured routinely clinically.
High vitamin D levels can be caused by excessive ingestion of vitamin D (among other things).
Low vitamin D levels suggest an alternative mechanism of hypercalcemia. This can induced things like PTHrP (parathyroid hormone related protein) secreting tumors, and bone metastases that induce the breakdown of bone (among other things).
Page Updated: 02.22.2016