OVERVIEW
This page is designed to organize content that is relevant to the topic of splenic laceration (often called a "splenic lac"). This term is used in medicine, and it is important that to become familiar with it.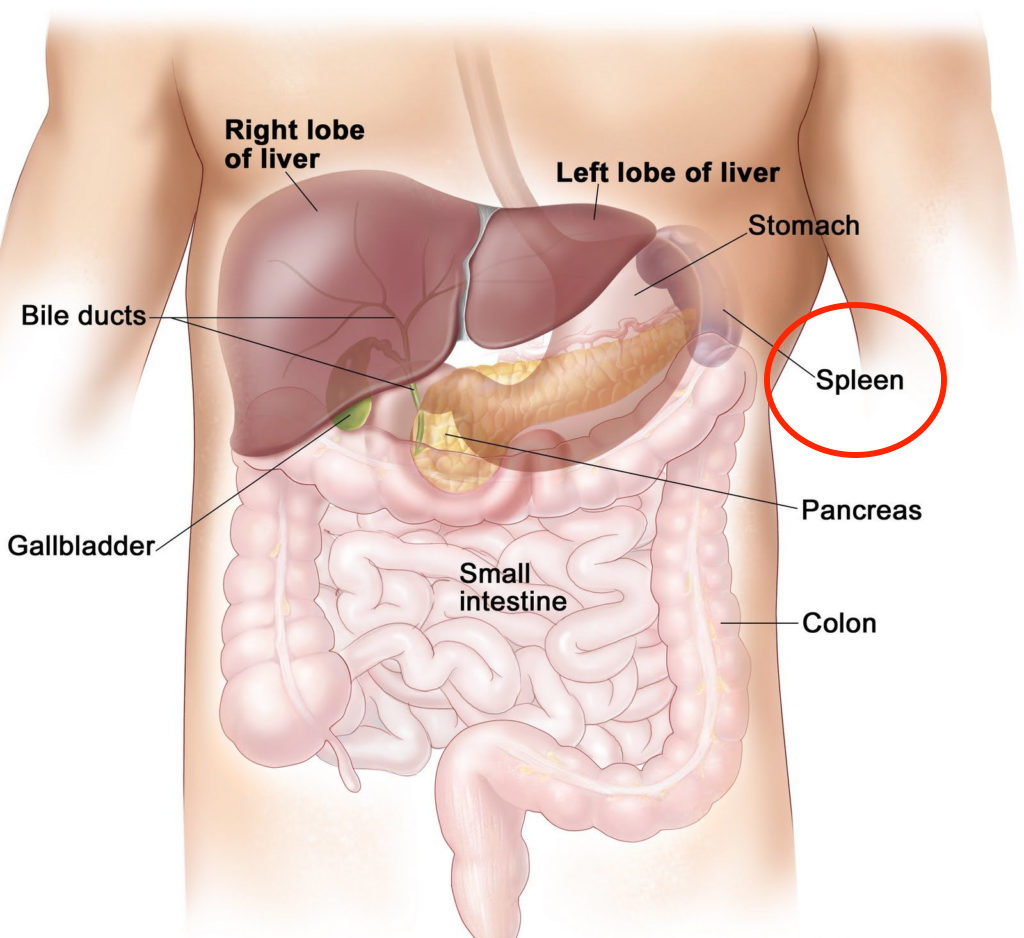 WHAT EXACTLY IS IT?
Before going any farther, let us make sure we clearly define the "medical problem". A splenic laceration is fairly self descriptive and refers to a specific type of injury (tearing/laceration) that is sustained by the spleen. There is a specific grading system that is used to classify these types of injuries that has been instituted by the American Association for the Surgery of Trauma (AAST). It is as follows
Grade 1:
Capsular laceration that is less then 1 cm in depth
Grade 2:
Laceration 1-3 cm in length not involving the trabecular vessels.
Grade 3:
Laceration greater then 3 cm in depth or one that involves trabecular vessels
Grade 4:
Laceration of segmental or hila vessels that produce major devascularization of the spleen (> 25% of spleen)
Grade 5:
A completely shattered spleen
WHY IS IT A PROBLEM?
Damage to the spleen can result in internal bleeding that can threaten the life of the patient in question. Often times splenic laceration will occur in the setting of a traumatic event and controlling the patients bleeding from the spleen can be required to care effectively for the patient.
HOW DO WE DIAGNOSE THIS CONDITION?
Splenic lacerations will realistically most often be diagnosed on radiological imaging during the workup of a patient. With this in mind, it is useful to appreciate which studies in particular may show this condition:
Ultrasound:
Often times patients who come in with trauma will receive a FAST scan to evaluate for the presence of free fluid. One of the first
CT Scans (Ideally With Contrast In Portal Venous Phase):
HOW DO WE TREAT IT? 
There are a finite number of ways to address this type of injury in a patient. They are the following.
1.) Non-operative management:
This is the most conservative approach. The patient will not receive and operation/procedure and instead will only receive supportive therapy. Serial CBCs will often be collected on the patient to evaluate for magnitude of blood loss and the patient will be transfused appropriately to maintain a reasonable hemoglobin level.
2.) Splenectomy: 
While it may seem dramatic, sometimes non-operative management is not practical (in patient's losing significant amounts of blood/with higher grade splenic lacerations) and the patient may need to have their spleen removed surgically to control the bleeding.
3.) Splenic artery embolization:
Often times a surgical splenectomy can be avoided by emboli zing the splenic artery using interventional radiology techniques.
HOW DO WE TREAT IT? 
Page Updated: 08/31/2018