OVERVIEW
This page is dedicated to discussing a radiological finding that can be detected on a renal ultrasound with doppler: reversed diastolic flow in the renal artery.
WHAT IS IT?
Reversed diastolic flow in the renal artery is fairly descriptive and refers to retrograde flow in the renal artery during diastole (i.e flow of blood back towards to the aorta during diastole). This is seen on the doppler tracing that is recorded during the ultrasound as a signal that is observed on the negative axis of the tracing (see example below).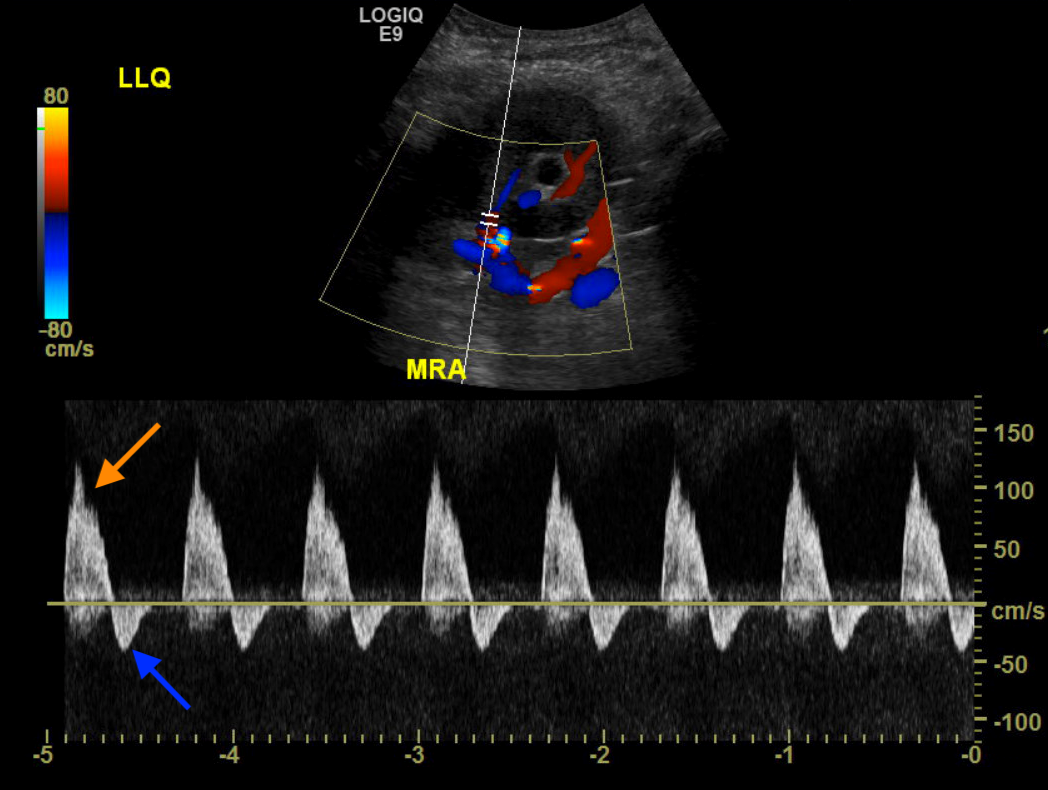 WHY IS THIS FINDING CONCERNING?
The presence of this finding is quite abnormal and suggests that a significant pathology exists involving the renal system that has compromised the delivery blood flow to the kidney. Normally blood should not flow away from the kidney during diastole. The long term consequences of this reversed flow state can include ischemia and damage of the involved kidney.
DIFFERENTIAL DIAGNOSIS FOR THIS FINDING
When this finding is seen on imaging the following differential should be considered:
Renal vein thrombosis: outflow obstruction can lead to increased pressures within the renal vasculature, and ultimately this finding on doppler ultrasound.
Renal artery thrombosis: while more rare, it is possible a thrombus that has formed directly in the renal artery is responsible for this finding.
Peri-nephric fluid collections: hematomas, urinomas, and/or lymphoceles can collect around the kidney in question and compress renal vessels (leading to a reversal of flow)
Other external compression of renal vessels: this can include any processes that compress the renal artery or the renal vein.
KEY FEATURES TO LOOK FOR WHEN CHARACTERIZING THE FINDING
When seeing reversed diastolic flow in the renal artery, there are a few important radiological features one should look at to try and characterize the finding. Many of these features deal with characterizing the etiology of this finding.
Patency of the renal vessels: both the renal artery and vein can be evaluated to ensure that they are patent in their entirety. Flow volumes of the renal artery can be calculated to evaluate for stenosis.
Presence of thrombus in any of the renal vessels
Presence of fluid collections around the renal system
Compression of renal vessels by other surrounding structures 
Page Updated: 08.01.2018