WHAT IS IT?
Fludrocortisone is a synthetic mineralocorticoid replacement (that also has glucocorticoid activity, see prednisone). As a mineral corticoid, fludrocortisone acts on the distal nephron of the kidney to absorb sodium, while increases the urinary excretion of potassium and hydrogen (emulating endogenous aldosterone activity).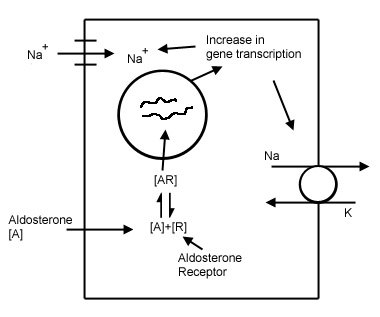 WHEN DO WE USE IT? 
Addison disease (i.e. when endogenous mineralocorticoid activity is impaired)
WHEN DO WE AVOID USING IT?
Any time there is NOT a mineralocorticoid deficiency the use of this potent medication is usually contraindicated.
Systemic fungal infections are a contraindication.
*Corticosteroids cross the placenta and are distributed into milk
HOW IS IT ADMINISTERED?
Orally. Metabolized in most tissues, however primarily metabolized by the liver into inorganic compounds.

WHAT ARE THE SIDE EFFECTS/TOXICITY?
Hypertension, edema, cardiac enlargement, CHF, potassium loss, hypokalemic alkalosis.
ANYTHING ELSE TO KEEP IN MIND?
This is a very potent mineralocorticoid AND glucocorticoid (more potent mineralocorticoid)
FURTHER READING
Page Updated: 02.15.2016