WHAT IS IT?
Desmopressin (DDAVP) is synthetic analog of vasopressin/anti-diuretic hormone/ADH. Administration will increase the amount of water that is resorbed in the collecting duct of the nephron.
Desmopressin will also cause the release of factor VIII and vWF from endothelial cells.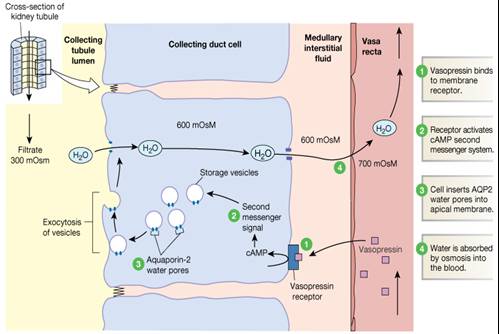 WHEN DO WE USE IT? 
Central diabetes insipidus, von Willebrand disease, hemophilia A, enuresis (that is refractory to behavior modification/enuresis alarms)
*Had been used in the past for bedwetting however currently seems to not be indicated for such usage
WHEN DO WE AVOID USING IT?
Nephrogenic diabetes insipidus, patients how have hyponatremia/history of hyponatremia.
HOW IS IT ADMINISTERED?
Desmopressin acetate can be administered nasally, orally, sub-cutaneously, or intravenously. Excreted principally in the urine.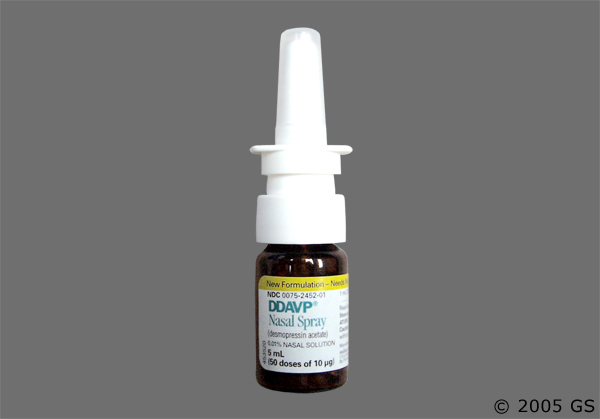 WHAT ARE THE SIDE EFFECTS/TOXICITY?
Hyponatremia can be caused with overuse.
ANYTHING ELSE TO KEEP IN MIND?
Vasopressin is normally synthesized by the hypothalamus and released by the posterior pituitary.
The response of the patient to desmopressin can help diagnose central vs. nephrogenic diabetes insipidus.
FURTHER READING
Page Updated: 02.15.2016