OVERVIEW
This page is dedicated to providing a practical guide to how one should pick the correct antibiotic(s) to use in the setting of an intra-abdominal infection. 
It is improtant to keep in mind that this is a general guide, and that the topic of intra-abdominal infection can be specified into further categories.
WHAT IS AN INTRA-ABDOMINAL INFECTION

?
A intra-abdominal infection is a broad category that can include the following conditions below (that all can share some features of management when it comes to antibiotics):
Cholecystitis
Appendicitis
Diverticulitis
Colitis
Gastroenteritis
Intra-abdominal abscess
GI tract perforation
Peritonitis/"acute abdomen"
Pelvic inflammatory disease
HOW DO WE DECIDE THAT A PATIENT HAS  AN INTRA-ABDOMINAL INFECTION

?
The decision on when exactly to diagnose someone with an intra-abdominal infection will vary and depends on the specific type of infection that the patient has.
WHAT ARE THE COMMON  PATHOGENS THAT CAUSE AN INTRA-ABDOMINAL INFECTION?
When thinking about this category of infection, the types of pathogens responsible can be divided into a few seperate categories:
1.) Gram Negative Rods:
2.) Anarobes:
3.) Pseudomonas:
4.) Enterococcus:
* Generally speaking gram negative rods and anaerobes should almost always be covered with antibiotic treatment regiments for intra-abdominal infections. 
STARTING ANTIBIOTIC THERAPY: WHAT ARE THE TREATMENT OPTIONS?
There are a number of options when it comes to which antibiotics can be used to treat abdominal infections. The table below summarizes some options and their coverage of the categories of pathogens discussed above.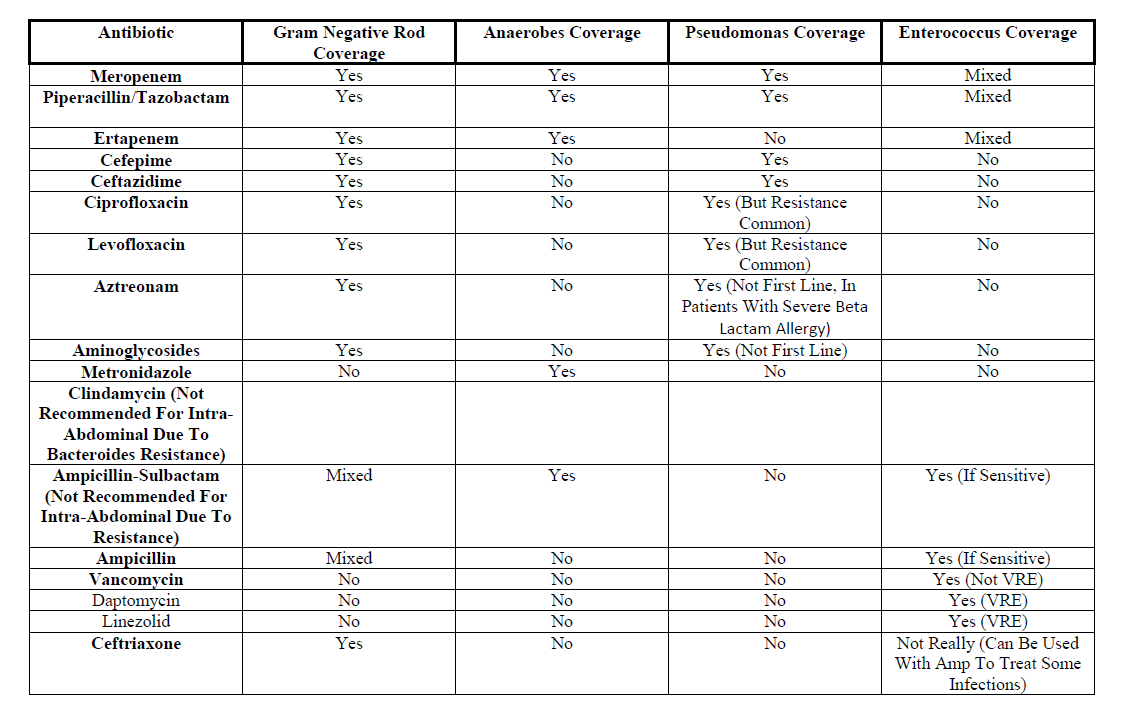 Page Updated: 10.01.2017