WHAT IS IT? 
Rhabdomyolysis is a condition characterized by skeletal muscle breakdown and necrosis. This can be caused by a variety of things including: crush injury (compression damage to the muscles), extreme exercise, and medication toxicity.
WHY IS IT A PROBLEM?
This breakdown of skeletal muscle will release many of its intracellular components (electrolytes, creatine kinase, lactate dehydrogenase, and myoglobin) into the circulation. This will lead to a various different physiological consequences including:
Hyperkalemia (release of intracellular potassium)
Kidney damage (from the delivery of myoglobin to the nephron which leads to their damage)
WHAT MAKES US SUSPECT IT?
Risk factors: extreme strenuous exercise, medications with rhabdomyolysis toxicity
"Classic Triad" is reported in a fraction of patients (~10%) 
Muscle pain (wide range in severity)
Weakness/swelling of injured muscles
Tea-colored urine (pink, reddish-brown, or black) that signifies myoglobinuria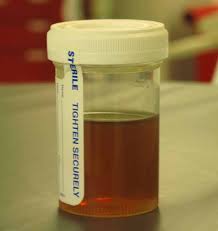 HOW DO WE CONFIRM A DIAGNOSIS?
Positive blood on dipstick, however no RBCs on microscopy.
Elevated serum creatinine kinase 
HOW DO WE RULE OTHER DIAGNOSES OUT?
The absence of visible RBCs on microscopy can help rule out other conditions hat are cause by hematuria
HOW DO WE TREAT IT? 
Treat underlying cause (i.e. stop medications that cause the condition)
IV fluids namely isotonic saline should be started quickly to prevent kidney damage (by decreasing kidney resorption of myoglobin)
Manage potassium! This is critical given the lethality of hyperkalemia. Potassium can be reduced with administration of insulin and glucose.
Renal replacement therapy may be needed in severe cases.
HOW WELL DO THE PATIENTS DO?
The mortality of this condition ranges from 1.7% to 46% and depends entirely on the clinical context of the patient's presentation (source)
WAS THERE A WAY TO PREVENT IT? 
Avoiding excessive exercise and medications with related toxicity can prevent rhabdomyolysis
WHAT ELSE ARE WE WORRIED ABOUT? 
Kidney damage and cardiac arrest (hyperkalemia) are serious complications that can be caused by rhabdomyolysis.
OTHER HY FACTS?
Daptomycin is an antibiotic (lipopetptide that disrupts cell membrane of gram-positive cocci) that can cause rhabdomyolysis
ARCHIVE OF STANDARDIZED EXAM QUESTIONS 
This archive compiles standardized exam questions that relate to this topic.
FURTHER READING
Page Updated: 02.09.2016