WHAT IS IT?
Acetazolamide is a noncompetitive reversible inhibitor of the carbonic anhydrase enzyme. It causes the loss of sodium bicarbonate in the filtrate, and will also lead to decreased total bicarbonate (HCO3−) stores. This medication exercises its activity on the proximal convoluted tubule.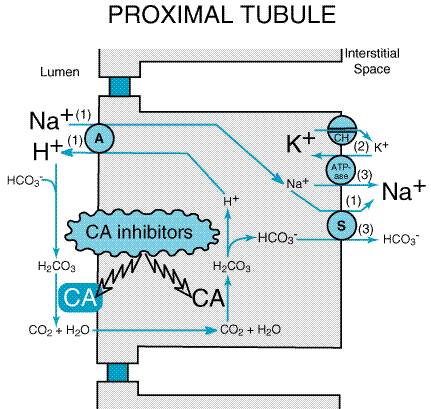 Secondarily blockage of this pathway will impede the sodium/hydrogen exchanger which can prevent sodium resorption
WHEN DO WE USE IT?
This medication is used for a variety of different reasons:
Glaucoma (decreases aqueous humor synthesis via inhibiting carbonic anhydrase)
To promote urinary alkalization (prevents stone formation in the filtrate)
Treating metabolic alkalosis
Altitude sickness (respiratory alkalosis is caused by hyperventilation at high temperatures, which results in extra bicarbonate)
Pseudotumor cerebri which is a condition of idiopathic intracranial hypertension. Acetazolamide decreases CSF production (by decreasing choroid plexus anhydrase) which helps decrease intracranial pressure.
Ménière's disease can be managed with this diuretic to combat fluid buildup in the ear
WHEN DO WE AVOID USING IT?
Patients who have metabolic acidosis/acidemia should generally avoid a medication like this (that will only further elevate serum pH)
HOW IS IT ADMINISTERED?
Either orally or by IV injection. Absorbed in the GI, secreted in the urine as an uncharged molecule.
*Intramuscular injection is painful and should be avoided!

WHAT ARE THE SIDE EFFECTS/TOXICITY?
Normal anion gap metabolic acidosis can be caused by bicarbonate loss.
NH3 toxcicity
Sulfa allergy: Acetazolamide is a sulfa drug, and individuals can have a type 1 hypersensitivity to sulfa medications.
ANYTHING ELSE TO KEEP IN MIND?
Acetazolamide is one of the few diuretics that will not increase urine NaCl
FURTHER READING
Page Updated: 02.07.2016