WHAT IS IT?
Pulmonary anthrax is a lower respiratory infection by the bacteria Bacillus anthracis (gram positive rods). It is caused by the inhalation of the bacterial spores from the
WHY IS IT A PROBLEM?
The responsible pathogen produces an anthrax toxin (which is a 3 part toxin). These three protein components act together to impart their physiological effects. Assembled complexes containing the toxin components are endocytosed. In the endosome, the enzymatic components of the toxin translocate into the cytoplasm of a target cell. Once in the cytosol, the enzymatic components of the toxin disrupts various immune cell functions, namely cellular signaling and cell migration. The toxin may even induce cell lysis, as is observed for macrophage cells. Anthrax toxin allows the bacteria to evade the immune system, proliferate, and ultimately kill the host animal.
WHAT MAKES US SUSPECT IT?
Risk factors: occupational history (wool handling):
Presents with: fever, chest pain, and hemoptysis.
HOW DO WE CONFIRM A DIAGNOSIS?
Chesk X-ray: will reveal mediastinal widening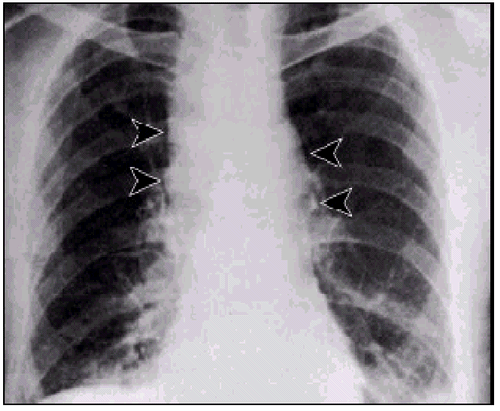 Gram stain of specimen can be conducted (as well as follow up PCR confirmation). B anthracis is an aerobic organism that can be grown on standard culture media and forms non-hemolyzing adherent colonies. On microscopy it forms long chains that are described as being "serpentine" or "medusa head" on appearance.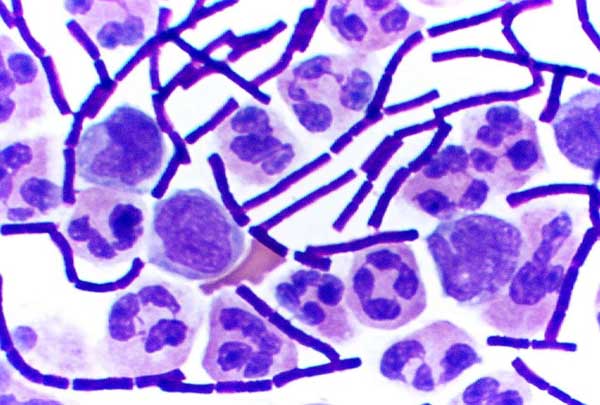 Best method of confirmatory test is the Ascoli test: Method to detect anthrax that uses a precipitin test (antibody that creates a visible precipitate when reacting with antigen) with antiserum and tissue extract.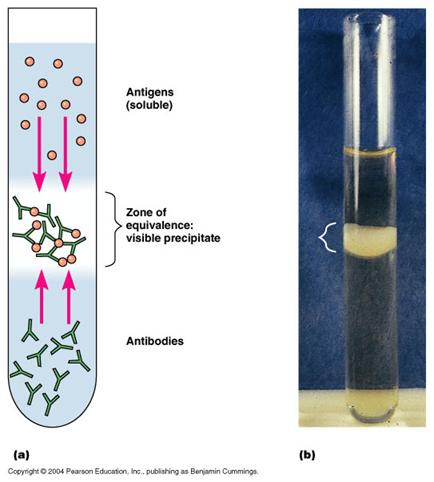 HOW DO WE RULE OTHER DIAGNOSES OUT?
The bacterial culture/PCR will help to specify which pathogen is casual for the pulmonary symptoms.
HOW DO WE TREAT IT?
*Early antibiotic treatment of anthrax is essential; delay significantly lessens chances for survival.
Treatment for anthrax infection and other bacterial infections includes large doses of intravenous and oral antibiotics, such as fluoroquinolones (ciprofloxacin), doxycycline, erythromycin, vancomycin, or penicillin. FDA-approved agents include ciprofloxacin, doxycycline, and penicillin. First and second generation fluoroquinolones selectively inhibit the topoisomerase II ligase domain, leaving the two nuclease domains intact.
*Raxibacumab injection to treat inhalational anthrax. Raxibacumab is a monoclonal antibody that neutralizes toxins produced by B. anthracis that can cause massive and irreversible tissue injury and death. A monoclonal antibody is a protein that closely resembles a human antibody, and identifies and neutralizes foreign material such as bacteria and viruse
HOW WELL DO THE PATIENTS DO?
Rapid treatment is essential because this condition is deadly! Patients are able to make full recoveries if treated quickly.
WAS THERE A WAY TO PREVENT IT?
Preventing exposure to B anthracis spores is the key to avoiding this infection.
WHAT ELSE ARE WE WORRIED ABOUT?
Spread of the infection! B anthracis spores can infect others who come into contact with the patient
OTHER HY FACTS?
Currently administered human anthrax vaccines include acellular (United States) and live spore (Russia) varieties
The only bacterium with a polypeptide capsule (contains d-glutamate). This capsule is antiphagocytic.
Pulmonary anthrax is also known as "wool sorters disease" because exposure from handling animal products such as animal hair, infected animal hides, hide-based clothing products or wool has been associated with infection by Bacillus anthracis. Goat hair is the most commonly implicated exposure in contraction of anthrax.
FURTHER READING
Page Updated: 02.04.2016