WHAT IS IT? 
Polycystic ovarian syndrome (PCOS) is a disorder in which there is increased LH and decreased FSH released from the pituitary. Because of the increased LH, there is increased testosterone, which is converted into estrogen in adipose tissue (this is why patients with PCOS are at increased risk of endometrial cancer). This estrogen has negative feedback on the production of FSH, thus decreasing FSH levels, which results in follicular degeneration and bilateral cystic ovaries.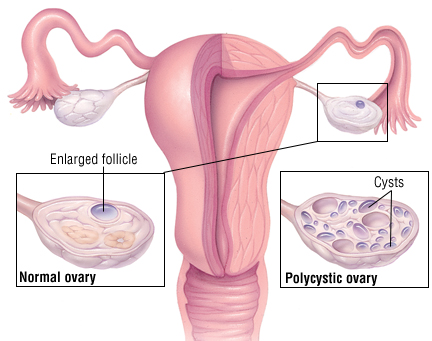 WHY IS IT A PROBLEM?
This type of hormonal imbalance can cause obesity, insulin resistance, hirsutism (male like hair growth), amenorrhea, and infertility. These hormonal changes in PCOS result in a decreased rate of follicular maturation which in turn results in the accumulation of enraptured follicles (these are the "cysts").
WHAT MAKES US SUSPECT IT?
Risk Factors:
Family history of PCOS, insulin receptor gene mutations.
Chief Complaints Raised By Patients:
Inability to conceive (infertility)
Irregular/absent periods (amenorrhea/secondary amenorrhea)
Unwanted hair growth
Acne
Obesity
*About 20% of patients do not have symptoms
Physical Exam:
General appearance: it may quickly be noticed that patients have the following features
Hirsutism
Acne
Obese body habitus
HOW DO WE CONFIRM A DIAGNOSIS?
Diagnosis suggested in adults if 2 of the following present (Endocrine Society Weak recommendation, Moderate-quality evidence)
androgen excess
ovulatory dysfunction
polycystic ovaries
Test for hyperandrogenemia: can measure free testosterone.
Gonadotropin levels (luteinizing hormone [LH], follicle-stimulating hormone [FSH]):  This will determine cause of amenorrhea.
LH will be elevated
FSH will be decreased
Higher LH:FSH ratio in patients with PCOS
Pelvic ultrasound: multiple cysts will be present as the name implies.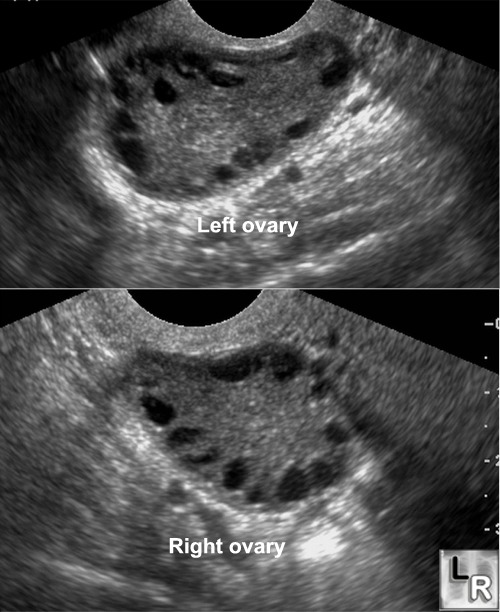 Histological analysis: while not necessarily diagnostic, if one was to conduct histology on the endometrial tissue, hyperplasia could be seen.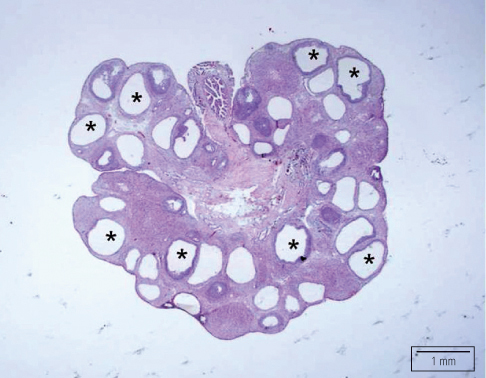 HOW DO WE RULE OTHER DIAGNOSES OUT?
Ultrasound of the ovaries can help rule out other diagnosis (given the visualization of many cysts within the kidney)
HOW DO WE TREAT IT? 
Weight loss
Combination of hormonal contraceptives: Combination oral contraceptive pills (OCPs) are usually the first choice for treating hirsutism in PCOS. OCPs work by suppressing LH secretion from the pituitary, thereby decreasing ovarian androgen production. They also increase sex hormone-binding globulin synthesis by the liver. decreasing free testosterone levels.
Clomiphene citrate can used because it is an estrogen receptor blocker (in the hypothalamus) which will lead to decreased negative feedback, increasing FSH levels.
Antiandrogens can also be used to treat androgen excess which include:
Ketoconazole: inhibits 17,20-desmolase which ultimately inhibits steroid synthesis.
Spironolactone: inhibits 17-alpha-hydoxylase and 17,20-desmolase which ultimately inhibits steroid binding
Metformin (if patient has hyperglycemia/diabetes)
HOW WELL DO THE PATIENTS DO?
Patients generally do quite well, however more severe illness can lead to infertility.
WAS THERE A WAY TO PREVENT IT? 
Prevention methods for this condition are currently unknown.
WHAT ELSE ARE WE WORRIED ABOUT? 
Endometrial cancer: increased conversion of testosterone into estrogen in the adipose tissue is why women with PCOS are at increase risk for endometrial cancer.
Gynecomastia/amenorrhea: antiandrogen therapy can cause these side effects in the patient.
OTHER HY FACTS?
PCOS is the most common cause of hirsutism
ARCHIVE OF STANDARDIZED EXAM QUESTIONS
Here is a collection of questions that relates to PCOS
FURTHER READING
Page Updated: 02.04.2016