WHAT IS IT?
Neurofibromatosis type 1 (NF1): Neurocutaneous autosomal dominant genetic disorder with highly variable manifestations. This is also called von Recklinghausen disease. Caused by a mutation in the NF1 gene that codes for a Ras GTPase activating protein (neurofibromin). This gene is a tumor suppressor!
WHY IS IT A PROBLEM?
The loss of this tumor suppressor gene leads to the formation of neurofibromas in the skin derived from neural crest cells (uncontrolled cellular proliferation)
WHAT MAKES US SUSPECT IT?
Risk factors: family history (race, ethnicity and gender are NOT risk factors).
Cafe au lait macules: patients present with these very commonly for this condition.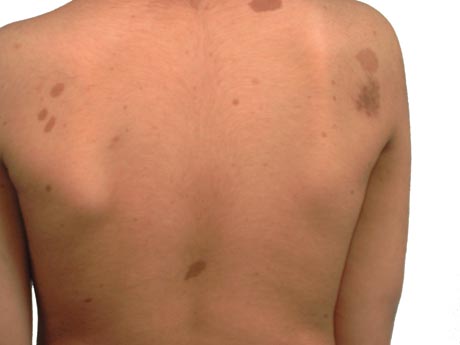 Neurofibromas: Short, sessile, or pedunculated lesions that vary in size. They are commonly multiple and distributed throughout the body. A hallmark of this disease.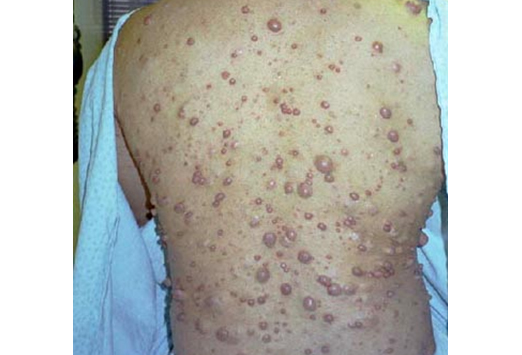 Lish nodules: pigmented, asymptomatic hamartomas (focal malformation) of the iris.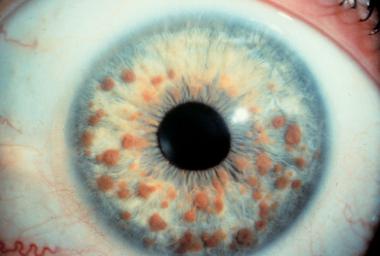 HOW DO WE CONFIRM A DIAGNOSIS?
Diagnosis made clinically using National Institutes of Health (NIH) diagnostic criteria for neurofibromatosis type 1, comprised of ≥ 2 of following:
neurofibromas
≥ 6 cafe au lait macules/spots
freckling in axillary or inguinal areas
optic glioma
≥ 2 Lisch nodules
distinctive osseous lesion which include sphenoid dysplasia or bowing of long bones with or without pseudoarthrosis
first degree relative with neurofibromatosis type 1 (diagnosed using above criteria)
HOW DO WE RULE OTHER DIAGNOSES OUT?
Mutation analyses is rarely indicated, but can be used to confirm diagnosis definitely by identifying casual mutation in gene NF1
HOW DO WE TREAT IT?
Depending on the number or localization of tumors, treatment options include: surgery, chemotherapy, imatnib, and sometimes radiation therapy.
HOW WELL DO THE PATIENTS DO?
Life expectancy in patients with neurofibromatosis type 1 may be 8-20 years shorter than general population
WAS THERE A WAY TO PREVENT IT?
No this is a genetic condition.
WHAT ELSE ARE WE WORRIED ABOUT?
Pheochromocytoma (tumor of chromatin cells) is associated with Neurofibromatosis type 1
OTHER HY FACTS?
Chromosme 17 houses the NF1 gene
ARCHIVE OF STANDARDIZED EXAM QUESTIONS
This archive compiles standardized exam questions that relate to this topic.
FURTHER READING
Page Updated: 02.04.2016