WHAT IS IT? 
Genital hepres are painful penile, vulvar, or cervical vesicles and ulcers usually caused by the Herpes simplex virus 2 (although can also be caused by HSV-1).
WHY IS IT A PROBLEM?
The sores are painful and the infection is lifelong. Systemic symptoms (such as fevers) may also be present. The virus lives in a latent state in neural ganglia and reactivates under conditions of immunocompromise or stress, leading to a few vesicular lesions at the site of primary infection, usually without systemic symptom
WHAT MAKES US SUSPECT IT?
Risk factors: high number of sexual partners, early age of first intercourse, past history of STDs
Clinical presentation: painful vesicles found in the genital region.
Male patient: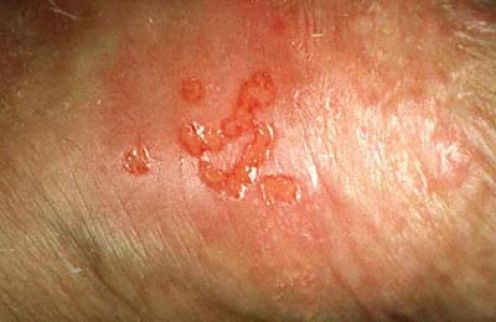 Female patient: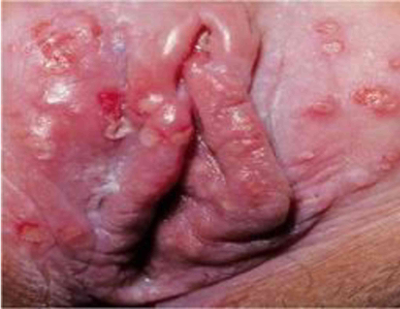 HOW DO WE CONFIRM A DIAGNOSIS?
Tzanck test: a smear of an opened skin vesicle to detect multi-nucleated giant cells commonly seen in HSV-1, HSV-2, and VZV infection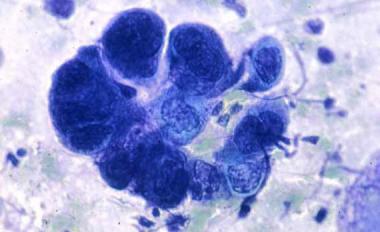 PCR analysis will ultimately be diagnostic for this condition.
HOW DO WE RULE OTHER DIAGNOSES OUT?
It is important to keep in mind that the Tzanck smear can not distinguish between different types of the herpes virus, and that PCR analysis is needed to distinguish which specific type of virus is causing the infection.
HOW DO WE TREAT IT? 
Antivirals ( such as Acyclovir): these can be guanosine analogs that are monophosphorylated by HSV/VZV thymidine kinase (not phosphorylated in normal cells => specific). These ultimately inhibit viral DNA polymerase.
*Depending on the patient, treatment may be prescribed only for outbreaks (if they are rare) or daily (for patients who have a history of frequent outbreaks).
HOW WELL DO THE PATIENTS DO?
Infection is life long, and most patients do experience recurrence however symptoms can be managed well with medication.
WAS THERE A WAY TO PREVENT IT? 
Using protection (i.e. condoms) during sexual activity can prevent some infections.
WHAT ELSE ARE WE WORRIED ABOUT? 
Properly educating patients about sexually transmitted diseases is important.
OTHER HY FACTS?
FURTHER READING
Page Updated: 02.03.2016