WHAT IS IT? 
Cholesteatomas are collections of squamous cell debris that form a mass (sometimes described as pearly) behind the tympanic membrane. They can either be congenital or can be an acquired primary lesion following infection, trauma, or surgery of the middle ear. Primary cholesteatomas result of chronic negative pressure in the middle ear causing retraction pockets in the tympanic membrane that become cystic; as the squamous cell debris accumulates, a cholesteatoma is formed. Secondary cholesteatomas occur after squamous epithelium migrates to or is implanted in the middle ear ('skin in the wrong place").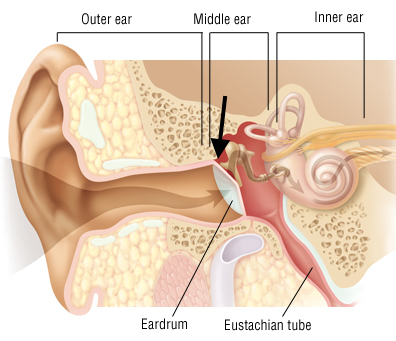 WHY IS IT A PROBLEM?
They can cause hearing loss due to erosion in auditory ossicles. They can produce lytic enzymes that are responsible for this erosion. lf a mass grows sufficiently large. it can erode into the vestibular apparatus or facial nerve, causing vertigo or facial palsies.
WHAT MAKES US SUSPECT IT?
Risk factors: male child (age ~4,5), down syndrome, turner syndorme, cleft palate, craniofacial anomaly, family history of chronic middle ear disease/cholesteatoma.
Chief concern (CC): may be asymptomatic in early stage. Most common early symptoms include
hearing loss
intermittent ear discharge (otorrhea)
HOW DO WE CONFIRM A DIAGNOSIS?
Diagnosis of acquired cholesteatoma established by visual examination showing retraction pocket or granular tissue on surface of drum (otoscopy)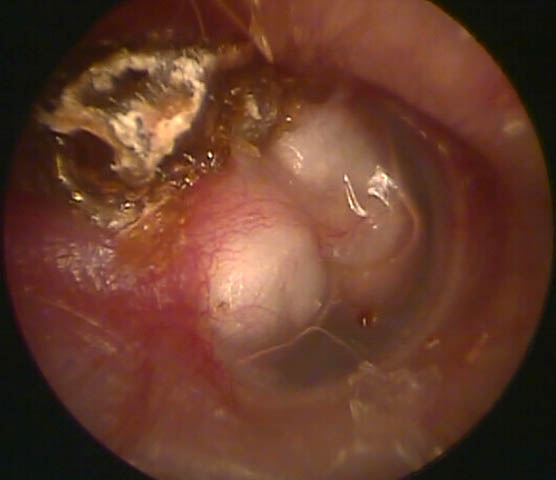 HOW DO WE TREAT IT? 
Mastoid surgery is treatment of choice (to remove cholesteatoma) and subsequent reconstruction surgery of the ossicles and tympanic membrane.
HOW WELL DO THE PATIENTS DO?
Recurrence and residual lesions post-surgery is common
WAS THERE A WAY TO PREVENT IT? 
Prevention methods for this condition are not clear
WHAT ELSE ARE WE WORRIED ABOUT? 
Progression leading to permanent hearing loss or facial palsy.
OTHER HY FACTS?
FURTHER READING
Page Updated: 02.02.2106