WHAT IS IT?
Aspiration pneumonia is a infection of lung parenchyma that is caused by aspiration of a large amount of either oropharyngeal or gastric materials.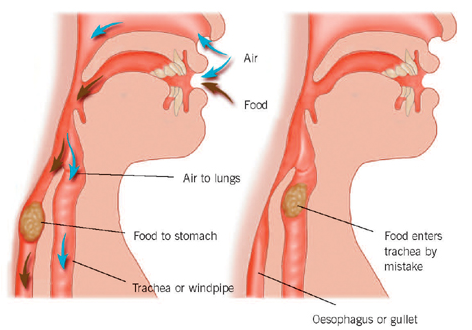 Common associated pathogens:
Enterobacteriaceae (such as E.coli)
Anaerobes (e.g., Peptostreptococcus, Fusobacterium, Prevotella, Bacteroides)
WHY IS IT A PROBLEM?
Aspiration of large amounts of oropharyngeal or gastric materials not only will cause a local infection (by giving pathogens access to the lungs) but also can impair respitory function (further exacerbated by the host's immune response).
WHAT MAKES US SUSPECT IT?
Risk factors: hospitalization, chronic institutionalization, alcohol intoxication, poor dentition, dysphagia
Presentation: fever, cough, malaise, sputum.
Pulmonary exam findings:
Increased respiration rate (tachypnea)
Decreased breath sounds
Rales and/or wheezing sometimes heard on auscultation.
Fremitus and dullness to percussion can be observed over area of auscultation.
HOW DO WE CONFIRM A DIAGNOSIS?
Hypoxemia (acute new onset): patients can have decreased O2 saturations and other signs of low blood O2 levels (arterial blood gasses can show decreases in O2)
CBC: increased WBC count on a completely blood count.
X-ray: chest imaging can show infiltrates in gravity dependent lobes of the lung (inferior segment of right upper lobe or apical segment of lower lobe). Where the aspirate goes depends on the position of the patient (sitting up or supine)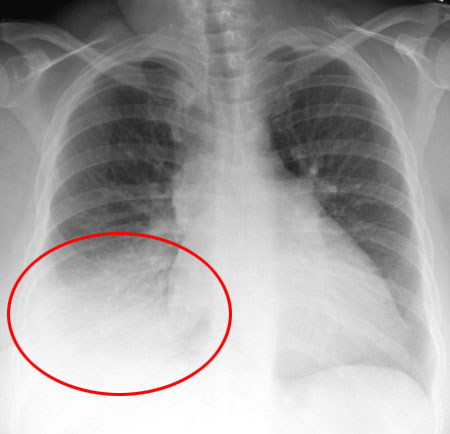 Sputum culture: this can be conducted to determine the casual pathogen responsible for infection.
HOW DO WE RULE OTHER DIAGNOSES OUT?
The patient history, combined with imaging/sputum cultures can be very beneficial in ruling out other possible causes for the patient's clinical presentation.
HOW DO WE TREAT IT?
*Antibiotics tailored to the causal pathogen
Clindamycin: bacteriostatic antibiotic that blocks peptide transfer at 50S ribosomal subunit. Used to treat anaerobic infections.
*Suction away any visible contents in the airway
HOW WELL DO THE PATIENTS DO?
The mortality rate for aspiration pneumonia seems to be higher compared to community/hospital acquired pneumonia (source)
WAS THERE A WAY TO PREVENT IT?
Preventing the act of aspiration can prevent the infection (in the case of aspiration pneumonia)
Tube feedings for those with dysphasia
Soft diets
Proper oral hygiene decreases risk of colonization
WHAT ELSE ARE WE WORRIED ABOUT?
Lung abscess: this localized collection of pus can be caused by the act of aspiration. Usually due to anaerobic bacteria (that colonize the oropharynx)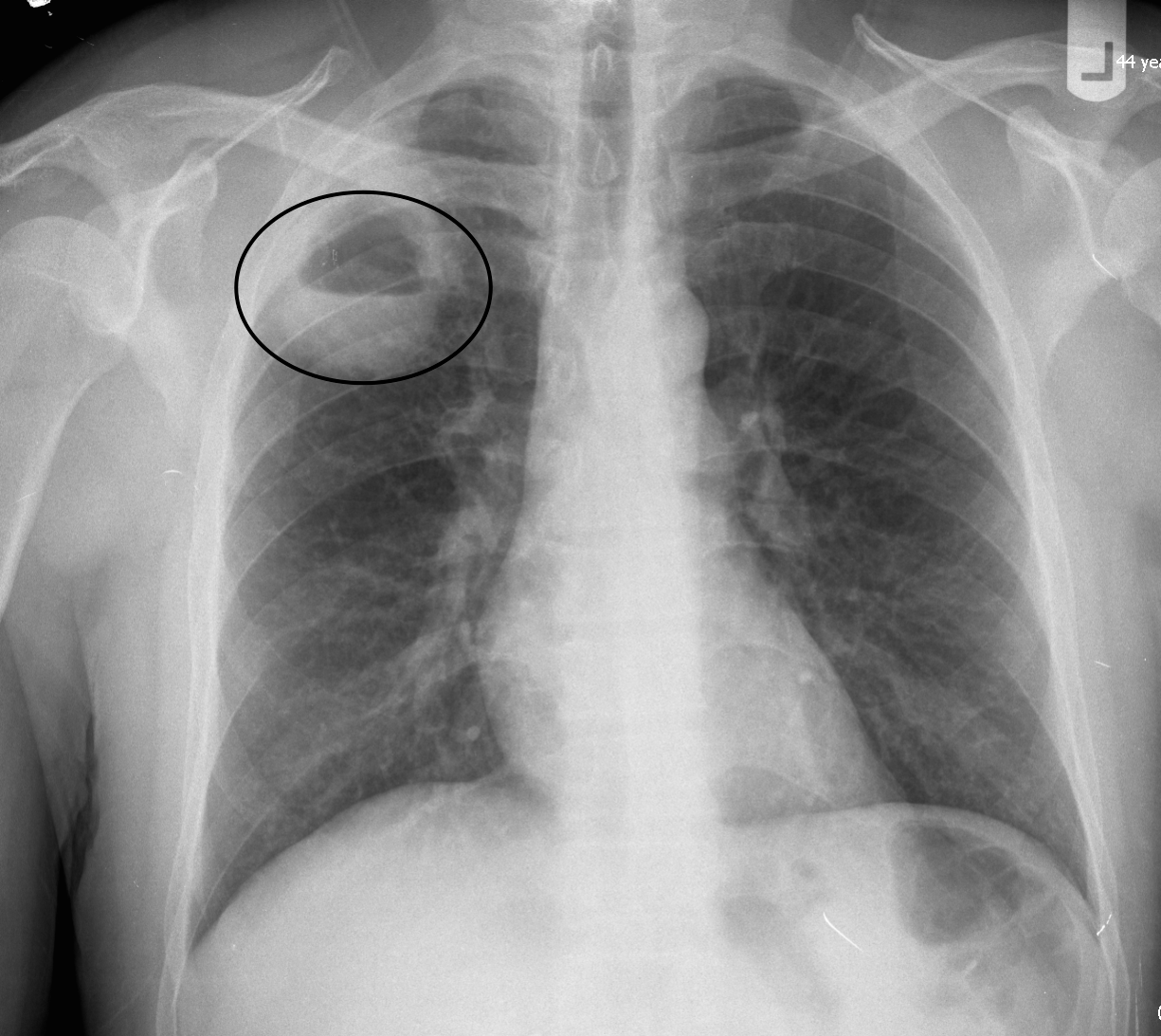 OTHER HY FACTS?
Anaerobic bacteria that reside in the oropharynx are the most common cause
The act of aspiration is usually not witnessed in cases of aspiration pneumonia.
When sitting up the patient most likely will aspirate into the base of the lower lobes.
When recumbent (lying down) the patient will most likely aspirate into the posterior segment of the right upper lobe.
FURTHER READING
Page Updated: 02.01.2016