NEURAL PATHWAY
The superior gluteal nerve arises from the sacral plexus.
Brings of L4, L5, S-1 (Ventral rami) → Sacral Plexus → Superior Gluteal Nerve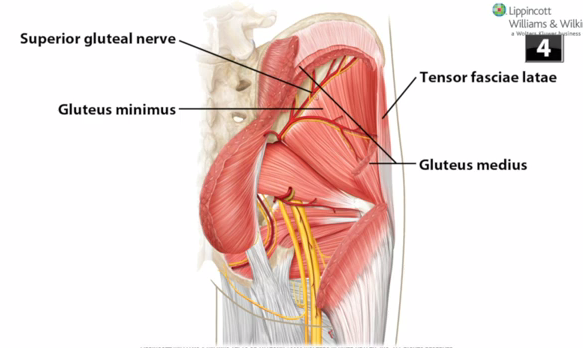 FUNCTION
Innervates the gluteal medius:
CAUSE OF INJURY
Injections to the superolateral quadrant of the buttocks.
CLINICAL PRESENTATION OF INJURY
Trendelenburg sign /gait (gluteal medium gait); the hip contralateral to the injury drops down when the leg contralateral to the injured side is raised off the ground.
OTHER INFO
It exits the pelvis through the greater sciatic foramen above the level of the priformis.
Page Updated: 04.08.2017