WHAT IS IT?
Amiloride is a potassium sparing diuretics (potassium is not secreatd in the urine). Amiloride works by directly blocking the epithelial sodium channel (ENaC) which ends up inhibiting sodium reabsorption in the distal convoluted tubules, connecting tubules, and collecting ducts in the kidneys. It blocks the resorption of lithium (which is why it is often used for patients who are taking lithium for bipolar disorder).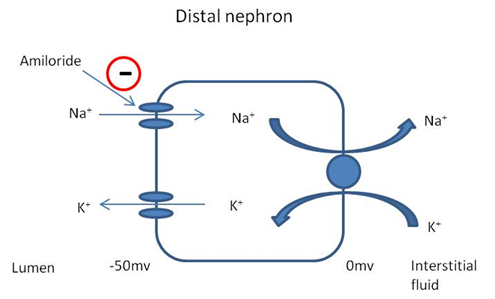 WHEN DO WE USE IT? 
In cases of hypokalemia/concern for hypokalemia.
Hyperaldosteronism, hypokalemia , heart failure, nephrogenic diabetes insipidus, Liddle syndrome
WHEN DO WE AVOID USING IT?
Individuals with hyperkalemia may benefit from the usage of a different diuretic (potassium wasting).
Addison disease is contraindicated with this medication.
HOW IS IT ADMINISTERED?
Given orally with food.

WHAT ARE THE SIDE EFFECTS/TOXICITY?
Hyperkalemia: that can lead to cardiac arryithmias.
ANYTHING ELSE TO KEEP IN MIND?
WHO has listed this as one of the most essential medications (source)
FURTHER READING
Page Updated: 01.29.2016