WHAT IS IT?
An abdominal aortic aneurysm (AAA) refers to refers to a localized pathological dilation of the aorta. It most commonly occurs between the renal arresters and the iliac bifurcation.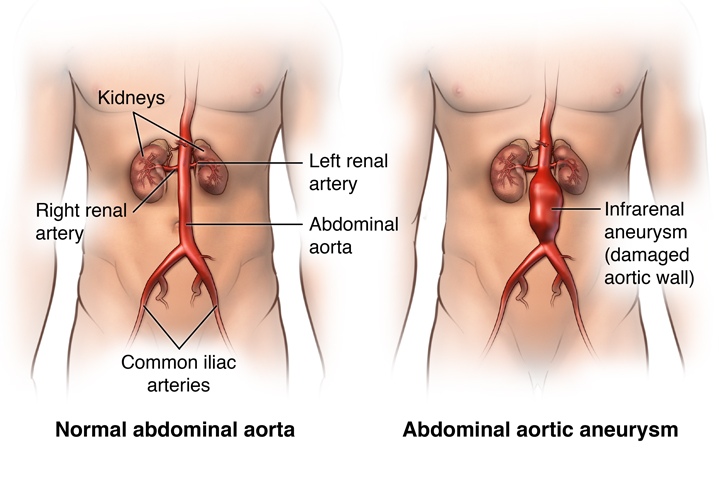 WHAT CAUSES IT?
AAA are thought to be most commonly caused by atherosclerosis in the setting of elevated blood pressure. Atherosclerosis can weaken the inner aortic wall, and as blood pressures increase this can lead to a loss of structural integrity, causing a dilation of this vessel.
WHY IS IT CONCERNING MEDICALLY?
AAAs are often life threatening and can also be difficult to detect on a clinical workup (many are discovered incidentally). Because the area of the aneurysm has lost structural integrity, it can be at high risk for rupture. Given how much blood the aorta contains this type of rupture can be fatal.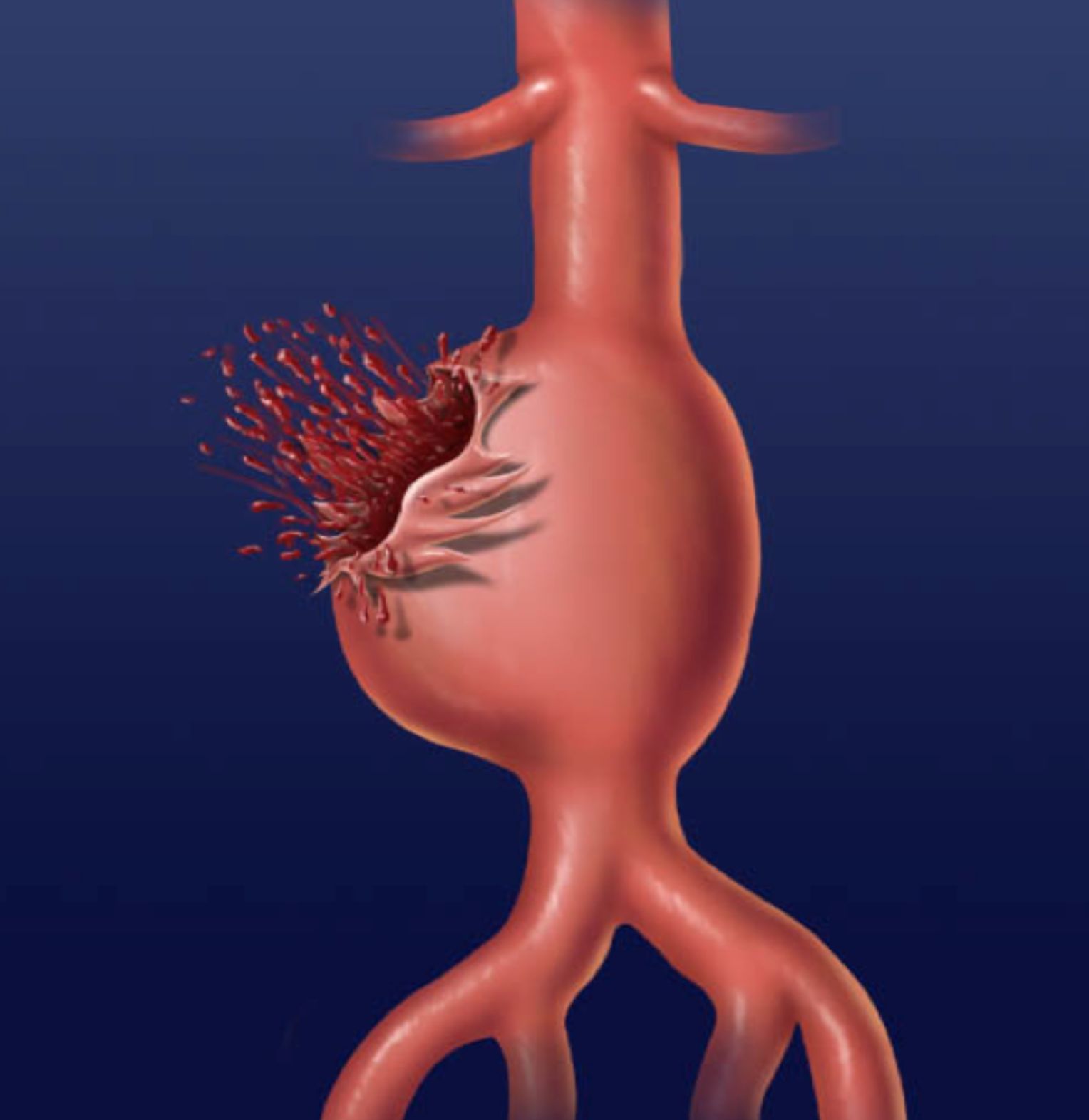 Many patients with a AAA will rupture the aorta and a large percentage of these patients may die despite reaching the hospital.
WHAT IS THE INTIAL PRESENTATION?
Patient Chief Complaints:
Often asymptomatic: patients may not have a chief complaint (or may present with an entirely unrelated medical issue)
Severe back/flank/abdominal pain: can occur (especially in the setting of a rupture or a large aneurysm)
Shortness of breath can be a presentation during rupture of an AAA
Detected Medical Problems:

Tachycardia and hypotension can be observed in a ruptured AAA due to large volumes of blood loss
Pulsatile abdominal mass: this may be detected during the abodminal exam
Dilated aortic aneurysm (>3.0 cm diameter) on abdominal ultrasound: a dilated abdominal aorta may be detected during a AAA ultrasound screening or a abodminla ultrasound that has been conducted for another reason.
WHAT ARE IMPORTANT ELEMENTS OF THE MEDICAL HISTORY?
Risk Factors:
Older age
Male sex
Smoking history
Family history of AAA
Hypertension
Atherosclerosis
Medical History:
Asking specific questions to assess the above risk factors (such as smoking habits, past diagnosis of AAA in the family, known history of hypertension) can be important to evaluate when taking the medical history.
WHAT ARE IMPORTANT FEATURES OF THE PHYSICAL EXAM?
Vital Signs:
These can be variable however a few common scenarios that may be seen in AAA patients are listed below:
Hypertension: this can be common in patients who have a AAA that has not ruptured
Hypotension and tachycardia: may be seen in patients who have ruptured a AAA
Abdominal Exam:
A pulsatile, midline abodminla mass is the textbook finding for AAA (although it might not always be present)
Abdominal bruit might be heard over the area of the aneurysm
CLINICAL WORKUP: 

IMAGING
Transabdominal ultrasound:
The aorta can generally be visualized easily using on a transabdominal ultrasound study. Patients suspected to have a AAA can be screened with an ultrasound initially.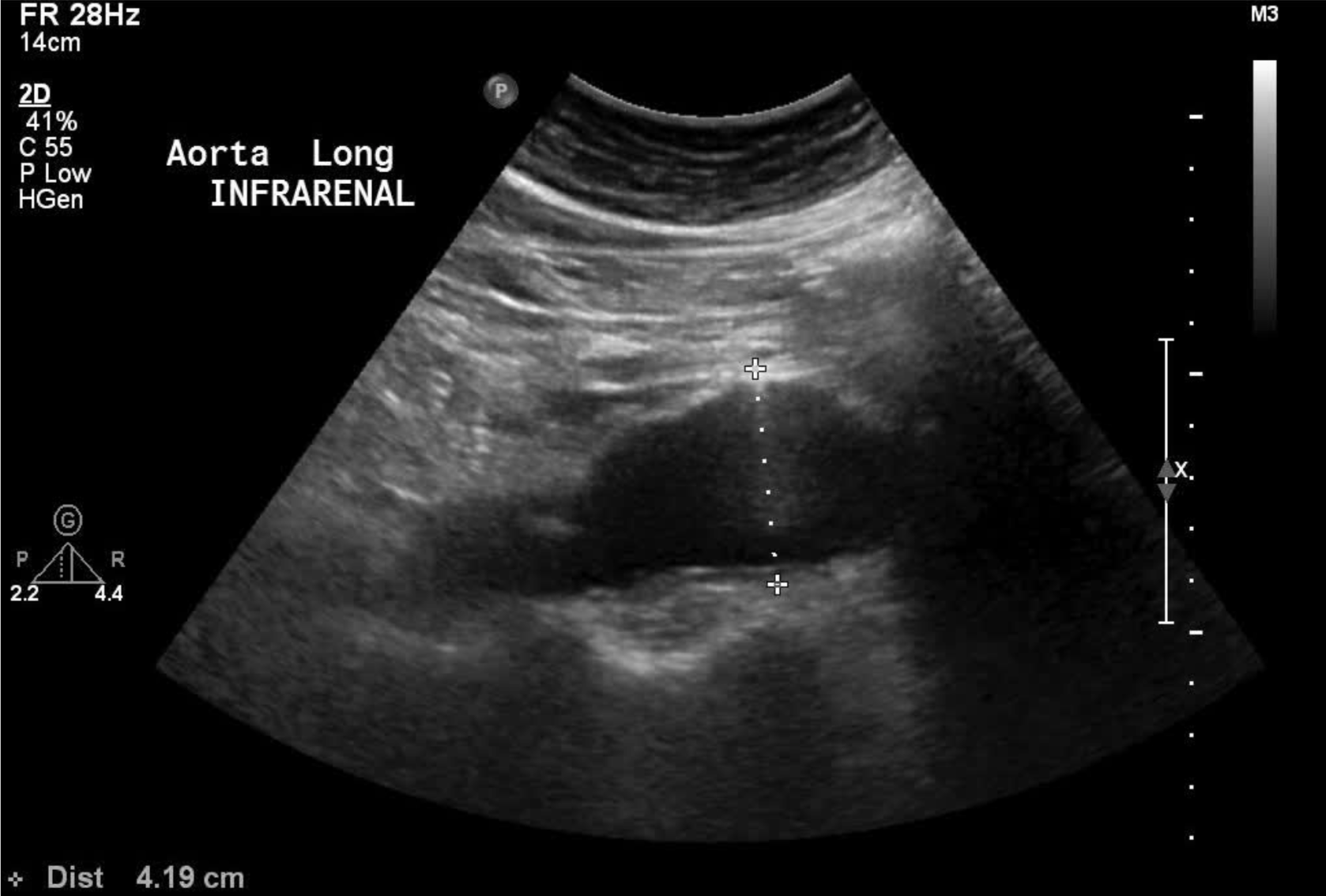 Abdominal CT Scan:
The aorta can be very clearly visualized and characterized on an abdominal CT scan (especially in the setting of IV contrast).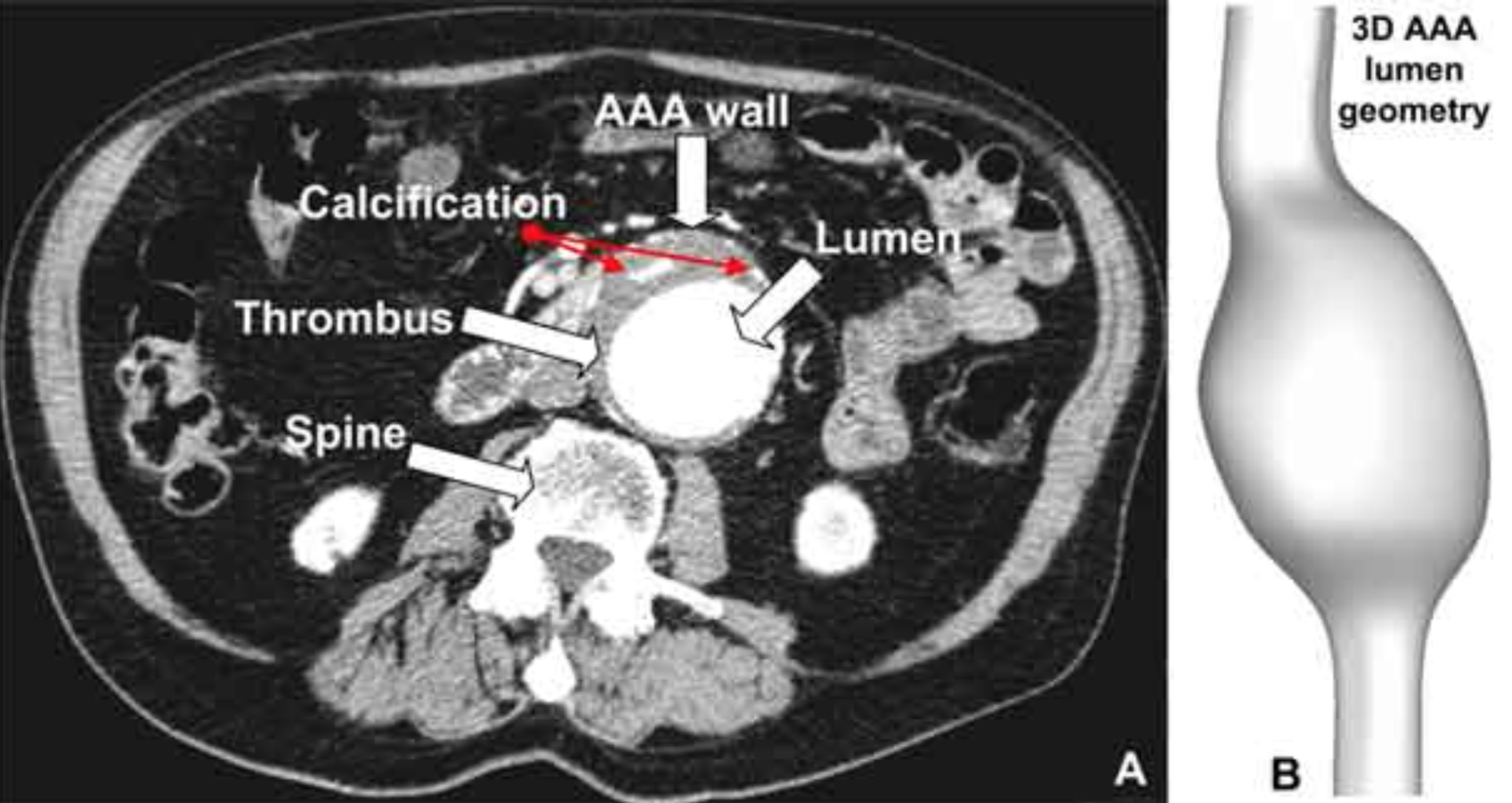 HOW DO WE NARROW THE DIFFERENTIAL?
Patients who have an abdominal aortic diameter larger then 3 cm are given the diagnosis of a AAA (normal size is 1-3 cm).
WHAT IS OUR THRESHOLD FOR DIAGNOSING THIS CONDITION?
Patients who present with back/flank/or abdominal pain (all possible chief complaints) will have very large differentials to sort through. In brief abdominal imaging will be an important part of narrowing the differential when considering AAAs (specifically with ultrasound that can be done quickly to screen for a AAA).
PATIENT MANAGMENT: OVERVIEW
Not all patients with a AAA will require surgical intervention. An AAA that is greater than 5.5cm, an expansion of 1cm per year, or certain symptomatic patients should undergo immediate surgery. Smaller and stable AAAs (especially int he absence of symptoms) can be watched closely.
PATIENT MANAGEMENT: PROCEDURAL INTERVENTIONS
There are various surgical/procedural options to consider when thinking about repairing a AAA.
PATIENT MANAGEMENT: NON-SURGICAL OBSERVATION
Small asymptomatic AAAs that are not expanding quickly are usually not managed surgically and are observed. This is most often by transabdominal AAA ultrasound screening every six months.
PATIENT MANAGEMENT: PROPHYLACTIC MEASURES
The United States Preventative Services Task Force (USPSTF) states that anyone of the age 65-75 years old who have smoked cigarettes should be screened for a AAA with an abdominal ultrasound.
COULD THIS HAVE BEEN PREVENTED?
Smoking cessation is a major part of prevention. As well as control of the major risk factors such as hypertension and heart disease, weight loss.
ARCHIVE OF STANDARDIZED EXAM QUESTIONS 
This archive compiles standardized exam questions that relate to this topic.
ACKNOWLEDGEMENTS
A very special thanks goes to Ben Sinyor for contributing to this page.
Page Updated: 03.31.2018