WHAT IS IT?
Aortic regurgitation refers a pathological condition where there is reflux of blood from the aorta into the left ventricle.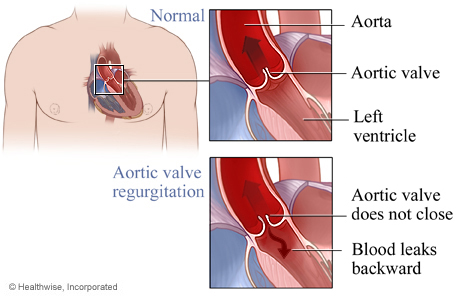 WHAT CAUSES IT?
Various disease processes can cause aortic regurgitation:
WHY IS IT CONCERNING MEDICALLY?
WHAT IS THE INTIAL PRESENTATION?
Patient Chief Complaints:
Detected Medical Problems:

WHAT ARE IMPORTANT ELEMENTS OF THE MEDICAL HISTORY?
Risk Factors:
Medical History:
WHAT ARE IMPORTANT FEATURES OF THE PHYSICAL EXAM?
Vital Signs:
Widened pulse pressures can be observed: larger gap between systolic and diastolic blood pressures
Cardiovascular Exam:
CLINICAL WORKUP: SERUM STUDIES
CLINICAL WORKUP: IMAGING
CLINICAL WORKUP: OTHER
HOW DO WE NARROW THE DIFFERENTIAL?
Conditions that present similarly and how to exclude them:
WHAT IS OUR THRESHOLD FOR DIAGNOSING THIS CONDITION?
PATIENT MANAGMENT: SYMPTOM RELEIF
PATIENT MANAGEMENT: DISEASE TREATMENT
PATIENT MANAGEMENT: PROPHYLACTIC MEASURES
COULD THIS HAVE BEEN PREVENTED?
ARCHIVE OF STANDARDIZED EXAM QUESTIONS 
This archive compiles standardized exam questions that relate to this topic.
Page Updated: 02.23.2017