NEURAL PATHWAY
Superficial peroneal nerve (superficial fibular nerve): is one of the branches of the common peroneal nerve (aka common fibular nerve)
Dorsal branches of L4,L5,S1,and S2 →1st and 2nd sacral nerves (sacral plexus) → sciatic nerve → common peroneal→superficial peroneal nerve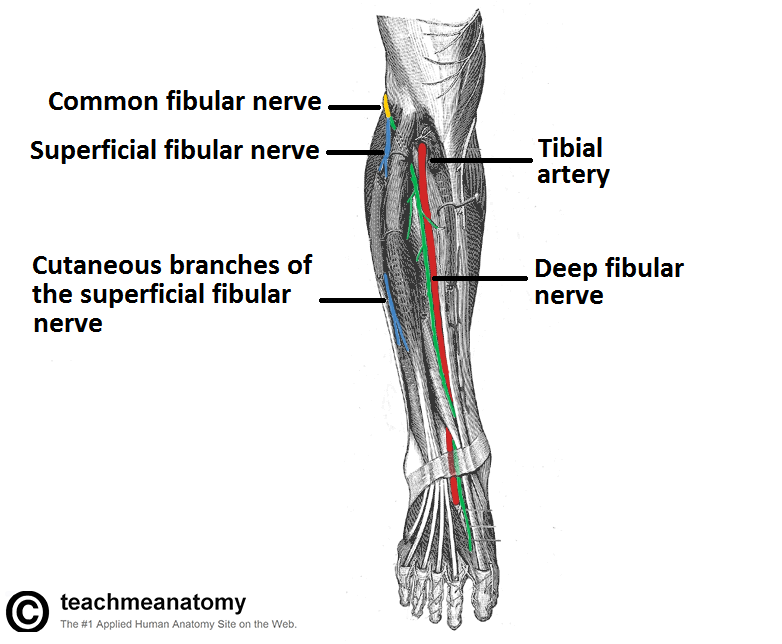 *Branches into the medial dorsal cutaneous nerve and the intermediate dorsal cutaneous nerve
FUNCTION
Motor: innervates the peroneus longus and peroneus brevis muscles (eversion of the foot)
Sensation: sensation over lateral aspects of the leg/dorsum of the foot.
CAUSE OF INJURY
Direct damage or compression of the nerve can cause issues (no common specific causes identified YET for this page). Damage to the common peroneal nerve will lead to loss of this nerve's function.
CLINICAL PRESNENTATION
Inability to evert the foot
Loss of sensation over dorsum of the foot: excluding the first webspace that is innervated by the deep peroneal nerve.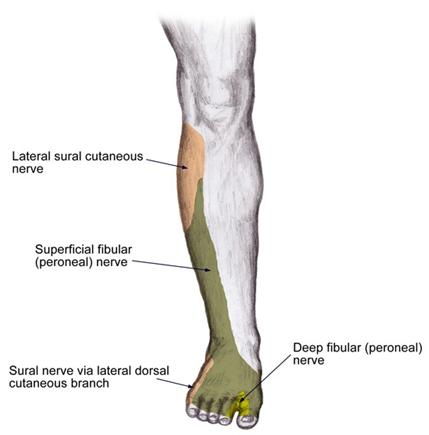 OTHER INFO
Page Updated: 01.23.2016