OVERVIEW
A peritonsillar abscess is a fairly self descriptive condition (it refers to a abscess that is located near the tonsils).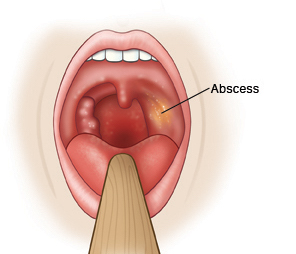 WHAT MAKES US SUSPECT IT?
HEENT Exam (Physical Exam): a deviated/displaced uvula is often seen in patients who have a peritonsillar abscess.
ARCHIVE OF STANDARDIZED EXAM QUESTIONS
This archive compiles standardized exam questions that relate to this topic.
Page Updated: 12.11.2016