OVERVIEW
Legg-Calvé-Perthes disease is a hip disorder that is characterized by ischemic necrosis (avascular necrosis) of the growing femoral head. It can lead to a permanent hip deformity.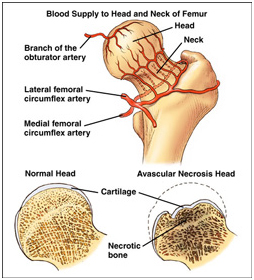 WHAT CAUSES IT?
This condition is idiopathic however some suspected precipitants include:
Steroid usage
Trauma
Infection
WHAT MAKES US SUSPECT IT?
Risk Factors:
Male sex, ages where epiphyses are most rapidly growing (children ages 4-8)
Initial Presentation:
Limp
Hip pain
Limited hip mobility
History Of Present Illness:
Insidious onset
A minor trauma is often what marks the start of symptoms
Pain is activity related and is relieved by rest.
Musculoskeletal Exam (Physical Exam):
Limited hip motion: particularly abduction and medial rotation
CLINICAL WORKUP
X-Ray Imaging: AP and frog-leg lateral positions are useful for margin the diagnosis. The X-ray findings will correlate with the progression and extent of necrosis.
Early stages: effusion of the joint, widening of the joint space, periarticular swelling
Few weeks: decreased bone density around the joint, collapse of the femoral head present
Later stages: replacement of necrotic bone by new bone
Page Updated: 12.09.2016